ACC Spotlight: How Clemson, Pitt match up in recruiting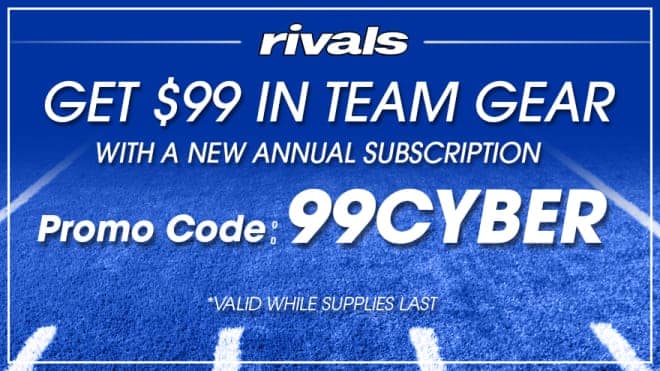 Clemson was favored to make it back to the ACC Championship Game prior to the season, so it shouldn't be a surprise to see the Tigers in Charlotte this coming weekend. The Tigers' opponent, however, is very surprising. The Coastal Division of the ACC took some wild twists and turns, but after a difficult 2017 campaign Pittsburgh prevailed.
The differences between these two teams don't end there. Take a look at how teams' recruiting backgrounds compare.
RELATED: Farrell breaks down ACC title game



Regional biases  
Pittsburgh and Clemson largely keep to their own states and their boarding states when recruiting, but there is some variance. Clemson has signed 28 prospects from South Carolina, 23 from Georgia, and 14 from North Carolina going back to the 2014 recruiting class - a total of 65. Over that same span, Pittsburgh has signed 34 prospects from Pennsylvania, 16 from Ohio, nine from New Jersey, four from New York, two from Maryland, and two from Delaware - a total of 67.
There are nine common states that the two teams have signed players from since 2014. The one that stands out is Florida. Clemson signed 13 Floridians and Pittsburgh signed 17 since the 2014 recruiting class.
For Clemson, five-stars Deon Cain and Ray-Ray McCloud were major playmakers and have since moved onto the NFL. But Trayvon Mullen, T.J. Chase, Xavier Thomas and a few others were highly sought-after recruits who are playing in key moments for the Tigers. All of those players hail from the Sunshine State.
The players Pitt has recruited from Florida have not been as highly rated as the ones Clemson has landed, but they have been key players for the Planthers. V'lique Carter has provided some explosive plays this year, and Rashad Weaver is starting for the Panthers. Keyshon Camp had started a few games this year but sustained a season-ending injury at the end of last month.
Status for 2019 recruiting class  
Clemson and Pittsburgh seem to be on two different planets as far as their success on the recruiting trail goes. The Tigers have the fourth overall recruiting class and the Panthers sit at No. 38. Pittsburgh's last three recruiting classes have finished in the 30s, while Clemson has had top 15 classes going back to the 2010 recruiting class.
Clemson's 2019 recruiting class has plenty of headliners in Rivals100 prospects Andrew Booth, Frank Ladson, Joe Ngata, Sheridan Jones and many others. Dabo Swinney's squad currently holds 24 commitments, and he's hoping to finish strong with commitments from five-stars Quavaris Crouch and Clay Webb. The Tigers are also in good position with Will Putnam and Trevor Keegan.
Looking at Pittsburgh's commitment list, there isn't a four-star to be found. But a few of the Panthers' commits have played well this season and they could be poised for a move up the rankings next week.

This recruiting class is heavy on defensive players, so the next few commitments could come on the offensive side of the ball. Look for the Panthers to really push for local wide receiver Will Gipson. The Panthers just extended an offer and are in good position to get him. Pittsburgh is also chasing Gipson's teammate, four-star defensive back Marlin Devonshire. The offensive line will also be a focus as we get closer to the December signing period.
Limited crossover  
The nicknames for the Clemson and Pittsburgh teams are both various species of cats, but that is essentially where the similarities end. There aren't more than a couple prospects that both teams have heavily recruited over the last few years. The biggest name that people will recognize is K'Von Wallace. Pitt was going after Wallace early in the recruiting process and kept consistent pressure on him to commit, but he blew up late in the process and Clemson swooped in and pulled him out of Virginia.
There is one prospect committed to Pittsburgh in the 2019 recruiting class with strong ties to Clemson, but an offer from the Tigers never materialized. Panther quarterback commit Davis Beville went to a few camps at Clemson to work out for the coaching staff, and his father even played for the Tigers. Clemson obviously went in a different direction in its quarterback recruiting efforts in this class, and it ended up helping the Panthers.
Fans of both these teams will also remember Rivals100 linebacker Drew Singleton out of New Jersey. Pittsburgh and Clemson were among his top contenders before he committed to Michigan.
Comparing starting lineups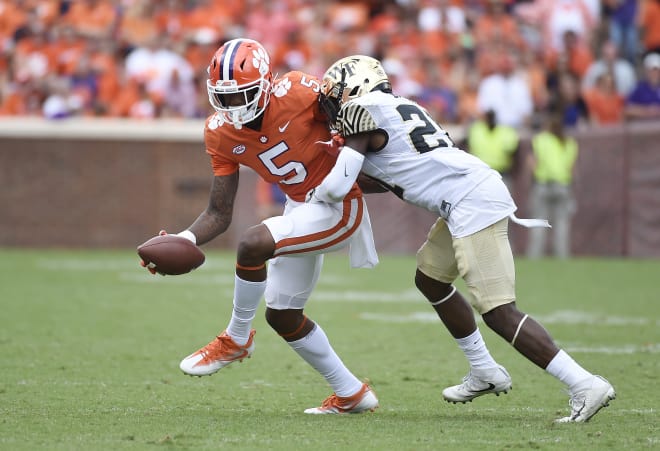 The first thing that stands out when looking back at each of the starters as recruits is the number of five-stars Clemson has, particularly on defense. Christian Wilkins and Dexter Lawrence are two former five-stars on the defensive line, along with a former five-star at linebacker in Tre Lamar and a defensive back in AJ Terrell. The talent disparity at those positions is enormous. Pittsburgh defensive end Dewayne Hendrix, a transfer from Tennessee, and defensive back Damar Hamlin were both highly rated four-stars, but it's difficult to compare them to the firepower Clemson brings to the table.
Offensively, freshman phenom and former No. 1 prospect in the Rivals100 Trevor Lawrence is thriving as Clemson's starting quarterback. He has a multitude of weapons at wide receiver, and former five-star Tee Higgins has hooked up with Lawrence to provide plenty of explosive plays throughout the year. Pittsburgh's starting wide receiver corps features two former three-stars in Aaron Mathews and Maurice Ffrench and a two-star in Rafael Araujo-Lopes. The Panthers' quarterback, former three-star Kenny Pickett, has figured out ways to distribute the ball to his speedy receivers, but a lot will be asked of him this weekend.
Breaking Down ACC Title Game
| | Clemson | Pitt |
| --- | --- | --- |
| Five-star starters | 6 | 0 |
| Four-star starters | 7 | 4 |
| Three-star starters | 8 | 10 |
| 2015 national class rank | 4 | 70 |
| 2016 national class rank | 6 | 31 |
| 2017 national class rank | 22 | 38 |
| 2018 national class rank | 8 | 36 |