SEC Spotlight: How Alabama, Georgia match up in recruiting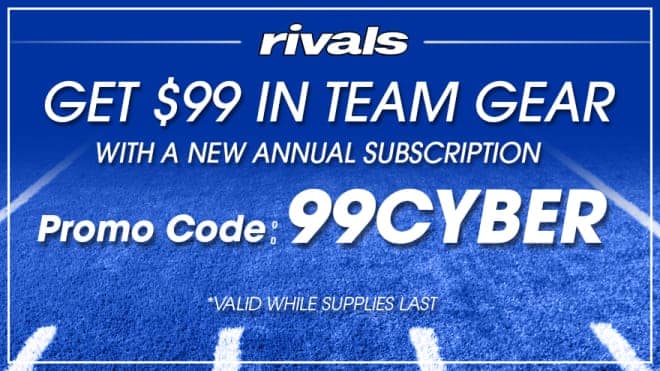 COMPARING THE STARTING LINEUPS
Both Alabama and Georgia have loaded rosters. The biggest difference is a lot of the Bulldogs' top talent are underclassmen. Kirby Smart has not had time to build his roster like Nick Saban has, but that gap has really closed the last couple of years.
Georgia finished with the No. 1 recruiting class in the country last year. Alabama had won six of the previous seven recruiting national titles, finishing No. 2 to USC in 2015.
Out of the Crimson Tide's starting 22, nine are former five-star prospects. There are a few three-stars sprinkled in depending on what personnel unit they come out in, but it is a very strong, loaded four and five-star group regardless of who starts the game.
On the other side, the Bulldogs will start four players that were five-stars on Rivals.com. Two are sophomores, in quarterback Jake Fromm and offensive tackle Isaiah Wilson. Smart and his staff are working to match Saban's roster, and it is starting to look very comparable with you examine the full 85, but there is still some separation favoring the reigning national champions.
Looking at the recruiting rankings, there is no question that Alabama has the advantage in this game. Georgia is close, and the gap is much closer than it was in years past, but the Crimson Tide has a decent advantage when looking at the players who will play meaningful snaps this weekend.
FLIPS FAVOR GEORGIA
Since Smart took over at Georgia in December 2015, there have been more crossover battles, but while Smart was working for Saban, five-star wide receiver Devonta Smith committed to the Bulldogs. He committed to Georgia when Mark Richt was leading the program. In the end though, Smith ended up signing with the Crimson Tide and that recruiting victory has already paid off. He scored the winning touchdown in overtime to get Alabama the 2017 national title.
Smith is the one on most minds because of the play he made in January, but Georgia has flipped some, too. Fromm leads the Georgia offense, and at one time, he was committed to Alabama. Smart helped recruit Fromm when he was with the Crimson Tide, and as soon as he took over in Athens, Fromm was the No. 1 quarterback target. It took Smart a little over three months to get him away from Saban.
Looking back a little further; Jonathan Ledbetter, a four-star in the 2015 class was at one time committed to Alabama, but signed with Georgia. He is the leader of that Bulldogs defense. Then in 2016, Georgia changed Tyler Simmons' mind, making him part of Smart's inaugural class.
In the 2018 class, the Bulldogs saw five-star defensive end Adam Anderson and Rivals100 linebacker Quay Walker verbally commit to Alabama at different times. Georgia kept fighting though, and Anderson signed with the program in December, then Walker followed in February.
CURRENT RECRUITING BATTLES
With the Early Signing Period rapidly approaching, each program has won their share of head-to-head battles, while some are still ongoing.
The biggest wins for Georgia over Alabama on the recruiting trail this cycle so far are with five-star edge rusher Nolan Smith, four-star defensive lineman Travon Walker, four-star linebacker Trezman Marshall and four-star linebacker Rion Davis.
For the Crimson Tide, they recruit a little more nationally than Georgia, so they may not have had quite as many direct wins over Georgia, but one was King Mwikuta, a four-star hybrid out of the Peach State. Georgia offered guys like offensive tackles Amari Kight and Pierce Quick, defensive linemen Byron Young and Justin Eboigbe, along with kicker Will Reichard, but not too many of those recruitments got too heated between the programs.
There are two prospects that Saban and Smart are currently fighting over that should decide in December.
Clay Webb is the No. 1 center in the country and he is located in Oxford, Ala., so keeping him home makes him that much more important to the Crimson Tide. Webb has not, and will not say much about his recruitment, so do not expect to hear much from him until he announces his decision Dec. 10. Clemson is in this too, so it is not just a two-team race, although some think Alabama and Georgia are ahead of the Tigers at this time.
Nakobe Dean is the No. 1 inside linebacker in the country and he visited Alabama this past weekend and Georgia two weeks before. The Crimson Tide received his first official visit over the summer, and some feel Saban's program has the edge as we get ready to enter December. This is going to be a war. Dean will lead his team, Horn Lake, Miss., into action Friday to play for a state title before he has his eye on the TV Saturday watching the SEC Championship Game. His recruitment is expected to end Dec. 19.
We shouldn't leave Smith out despite his commitment to Georgia. Yeah, Nolan Smith. He took his official visit to Alabama over the weekend. This isn't a battle like the ones for Dean and Webb, but Georgia still has to work hard to keep Smith in its recruiting class. He will take all five visits, but it has been said from the beginning; if there is a school that could potentially flip him, it is Alabama.
STATUS FOR THE 2019 CLASS
Alabama is back in the spot it is most familiar with under Saban: on top. Georgia knocked the Crimson Tide off a year ago, but to repeat that, it has some major work to do. Alabama will close strong, but can the Bulldogs close stronger?
Heading into this week, Alabama has 21 commits with Georgia sitting at 17. The Crimson Tide are expected to sign over 25, while the Bulldogs are trying to get to that number. Both programs are still in play for numerous highly regarded prospects.
Alabama could be viewed the leader for guys like Dean, five-star running back Trey Sanders, five-star defensive lineman Ishmael Sopsher and Rivals100 offensive lineman Evan Neal. The Crimson Tide are trending favorably for others at this time too.
Things look a little more fluid for Georgia, at least from the outside looking in. Can the Bulldogs get five-star Jadon Haselwood back? He is the No. 1 prospect in their state, so he is important to this class if they want to challenge Alabama. They do appear to sit in a nice spot for Sunshine State defensive backs Tyrique Stevenson and Kaiir Elam. Dean and Webb have been mentioned. Adding another quarterback and running back appear to be things the staff is focused on as well.
If it goes as expected, Georgia will likely add a couple more prospects than Alabama between now and National Signing Day in February, but the Crimson Tide will be tough to beat out in the recruiting rankings this cycle. Look for both programs to finish in the top-five, maybe top-three in the 2019 Rivals.com Team Recruiting Rankings.