Wright's Takeaways: Spring visit to IMG Academy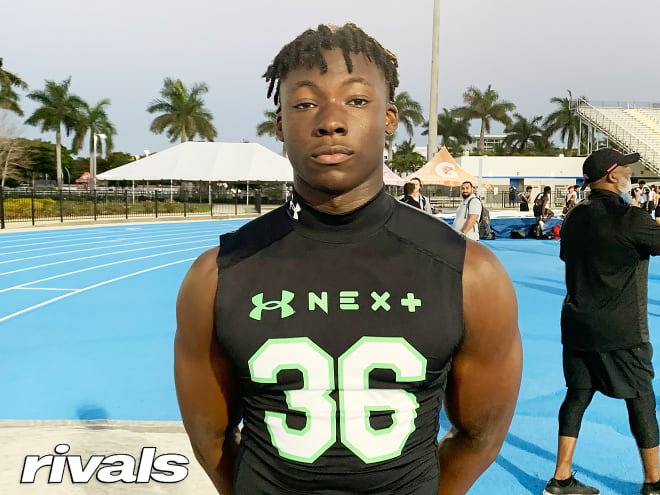 One can't argue against success, and on the gridiron few high school teams have been as accomplished as IMG Academy. The Bradenton (Fla.) based squad is going through spring conditioning preparing for spring ball. When the pads come on, sparks will fly and college coaches will be in attendance checking in on all the high-profile talent lining the roster.
BEST LINEBACKER CORPS IN THE NATION
*****  
CLASS OF 2024 QB JAYDEN BRADFORD IS THE REAL DEAL
This offseason Jayden Bradford made the move from South Carolina's Chapin High School to IMG. During his sophomore season, Bradford was working the field against 5A defenses throwing for over 2,000 yards with 22 scores while covering 300-plus on the ground taking five visits into the end zone. At the Rivals Camp Series in Charlotte, Bradford shined. On Tuesday, Bradford continued to look every bit the four-star quarterback doing quarterback drills with former NFL Pro Bowl QB Jeff Blake.
On the recruiting front, Bradford took a mid-March visit to Georgia and has made multiple stops in Columbia to see the Gamecocks.
*****  
CARNELL TATE IS A LEADER ON THE FIELD
The five-star status for 2023 receiver Carnell Tate has not gone to his head. Through all the conditioning drills, Tate was giving max effort leading the team. Late in the session, when everyone was tired and ready to be done, he kept pushing himself leading by example.
On March 15, Tate announced a top-five of Georgia, Notre Dame, Ohio State, Tennessee and LSU. One official has been taken to Tennessee with one to LSU this weekend.
*****  
BEAST MODE COMING FOR SAMUEL M'PEMBA
Being a two-way player, the freak athletic plays have always been on display for M'Pemba. Nearing his senior season, the focus has shifted away from possibly playing tight end at the next level to being a defensive end. With that focus, his 6-foot, 4-inch, frame is adding mass. As the weight has been added, M'Pemba is filling in becoming college ready, but has done so without losing his twitch, burst or speed. Offensive tackles will get roasted and quarterbacks playing the Ascenders will get crushed this fall.
M'Pemba has all the offers wanted and has started to formulate his top schools by taking unofficial visits this spring. Florida twice, Missouri, Michigan, Notre Dame, Miami and Georgia have hosted M'Pemba. Possible future stops include LSU, Alabama, Penn State and Oregon.
*****
FRANCIS MAUIGOA CONTINUES TO DEVELOP
When the pads come on this spring, seeing M'Pemba at end go against four-star offensive tackle Francis Mauigioa play after play would be worth the price of admission. As M'Pemba builds upon his frame, so does Mauigoa. The second-rated offensive tackle in the 2023 class is easily 6-foot, 5-inches, 330 pounds, a solid 330 pounds. After seeing Mauigoa perform at camps and move during drills at IMG, his bend and footwork are catching up to the dominating physicality he brings to the field. Mauigoa will continue to be in the conversation as one of the best at his position teetering on five-star status.
Mauigoa returned to Bradenton after a busy weekend that kicked off on Thursday seeing Florida's Orange and Blue Game followed by a trip to East Lansing to watch Michigan State's spring showdown. The recruiting process is still wide open for the four-star, a top schools list has not been announced and no official visits have been set.