Will top Texas prospects stay in Lone Star State?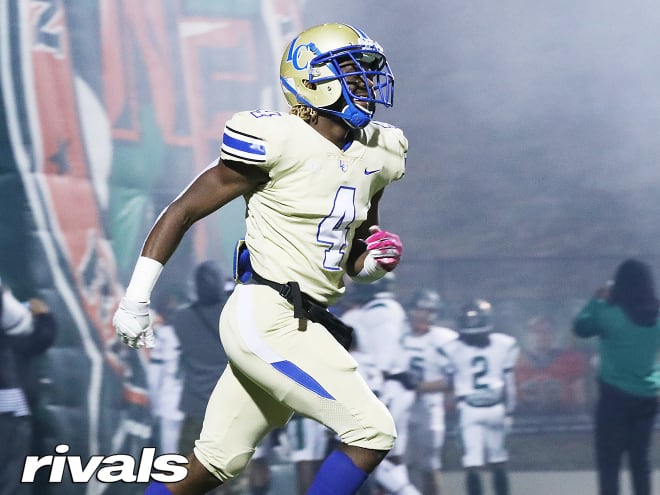 The state of Texas has seen a large number of players leave the state recently when choosing their college. In April's NFL Draft, only three of the 14 Texas-based players who were selected in the first two rounds went to college in Texas. Last year, 49 of Texas' top-100 prospects signed with out-of-state programs. That number could've been larger if Lorando Johnson (LSU commitment) or Nick Patterson (Princeton commitment) signed last February.
Upon further review, six of the state's best players signed with out-of-state programs. Five-star Jaxon Smith-Njigba enrolled at Ohio State last spring; Alabama nabbed Drew Sanders and Jase McClellan; EJ Smith signed with Stanford over Texas A&M and Josh White and Jahari Rogers inked with LSU and Florida, respectively.
Of the Texas top-100, three did not sign (Johnson, Patterson, Tyler Bailey). Jahdae Barron, a three-star cornerback who signed with Baylor, has since been added to the Longhorns' 2020 class. That left just more than 50 percent of Lone Star State prospects to sign out-of-state and the rest at Texas, Texas A&M, Baylor, Texas Tech, TCU, SMU and even Stephen F. Austin.
In 2021, six of the state's top-10 prospects are already committed, and that includes five-star Tunmise Adeleye, who is originally from Katy, Texas and is set to play his senior season at IMG Academy. Of those six, three are committed to out-of-state programs (Adeleye, Donovan Jackson, Quaydarius Davis). The others are all Texas commitments (Billy Bowman Jr., Jalen Milroe, Ja'Tavion Sanders).
There are 15 more uncommitted prospects from Texas inside the Rivals250. We examine if scales will tip toward the in-state or out-of-state schools as we inch further along in the 2021 class.
The scoop: Wheaton keeps his recruitment close to the vest and rarely tips his hand. The last we heard, he was in the process of mapping out official visits for the fall. He made visits to Oklahoma and Texas right before the dead period and was at LSU a few weeks before that. Both the Sooners and Tigers are real threats and Alabama is in it, too, but can they hold off the Longhorns?
The pick: In-state
The scoop: Foster made multiple visits up to Oklahoma at the beginning of the spring and has a lead group featuring the Sooners, Longhorns, Aggies, Tigers and Ducks. Within his top five, there's a top-tier of Oklahoma, Texas and Texas A&M. He's an Aggie legacy and his brother played in College Station, and his best friend and teammate Hayden Conner is already committed to Texas, but did the Sooners begin to separate this spring?
The pick: Out-of-state
The scoop: There's a case to be made that this five-star is the most important recruit for the Longhorns in the 2021 class. Tommy and his brother James are both Longhorns legacies. They have been made top priorities by the staff for some time already and many penciled Texas as the team to beat before their recruitments took off. Multiple trips to Tuscaloosa and a strong connection with Kyle Flood and Nick Saban has put Alabama in a strong position entering the summer.
The pick: Out-of-state
The scoop: A one-time Alabama commitment, McCutchin reopened his recruitment while on an unofficial visit to Oklahoma. Both the Tide and the Sooners are frontrunners for the state's top cornerback, but don't discount Georgia, Florida or LSU just yet either.
The pick: Out-of-state
The scoop: Johnson is a top priority for several schools and he's anxious to make visits after the dead period expires. Texas, Texas A&M, Oklahoma and LSU round out Johnson's lead group of schools and teams like Georgia, Alabama and Stanford remain strongly in the mix. He's originally from Louisiana and his father played for the Tigers, but now he's a productive Texas high school football back he's effectively garnered the attention of the state's big powers.
The pick: In-state
The scoop: For an elite-level offensive tackle, Byrd is not very well-traveled. He has talked about trips to Oklahoma, Georgia, Auburn and LSU at different times, but he's steadily visited Texas and SMU, and much more of the latter in recent months. SMU has a four-star prospect committed in quarterback Preston Stone; can Sonny Dykes catch lightning in a bottle twice in the same cycle?
The pick: In-state
The scoop: A big, athletic defensive lineman who also keeps his recruiting interests close to the vest, Burris remains a top target for Texas and Texas A&M and has strong ties to Alabama and Oklahoma. Right now, the Sooners have picked up some momentum, but they be able to hold off the in-state schools for one of the state's best defensive linemen?
The pick: Out-of-state
The scoop: Coffey has flirted with committing on multiple occasions dating back to the end of last season. Texas has routinely been a top contender, but a West Coast swing in the spring opened his eyes up to Oregon and Washington. LSU was supposed to host Coffey for a visit before the dead period and Baylor's new staff -- which is comprised largely of former LSU assistants and coordinators -- has surged in recent months. Coffey is set to announce his decision on June 15.
The pick: In-state
The scoop: Turner squeezed in a visit to Alabama right before the dead period and has routinely visited Texas and Texas A&M over the past two years. He also included Georgia and LSU in his top five, and a decision will likely follow if and when the four-star defensive end can visit some of these schools. However, there's a feeling that Longhorns are the clear favorite
The pick: In-state
The scoop: Blackshire has flirted with committing on multiple occasions only to eventually hold off. Last summer, LSU and Alabama were battling over the linebacker. He then took visits to Texas A&M and Oklahoma, and when it appeared Blackshire was set to announce his decision, he released another lead group of schools that also included Baylor and Illinois.
The pick: Out-of-state
The scoop: Jackson publicly declared the Razorbacks as the team to beat after a visit to Arkansas and a full-court press from the Arkansas staff. Then, Texas offered. The dead period has left Jackson to examine his options virtually, but we've seen Texas, Texas A&M and TCU also surge for the four-star receiver. Arkansas had momentum and remains a contender, but there's more to be sorted out now.
The pick: In-state
The scoop: Ibraheem intends to announce his decision on June 15, the same day as his close friend JD Coffey. Ibraheem has made a habit out of visiting Austin and his previously scheduled visit to LSU was nixed amid the dead period. Besides that, TCU and Alabama have also hosted the four-star cornerback before.
The pick: In-state
The scoop: Valdez is one of the top playmakers in the state and he's a must-get for several Big 12 programs, namely Oklahoma State and Texas Tech. Michigan was the first to offer Valdez, but the dead period has further delayed his opportunity to venture into the Midwest. Arkansas has been gaining steam amid these virtual recruiting efforts as well.
The pick: In-state
The scoop: Another speedy playmaker in the Houston area, Knox recently trimmed his list of options down to seven, but this has shaped up as a two-team race between Texas and Mississippi State for some time. Texas A&M and TCU are also in this, but Knox was blown away by the offer from Texas and has very strong connections at State.
The pick: Out-of-state
The scoop: Like Tommy, James is a top priority for the Longhorns to plug in at center. Nothing has changed on that front and Texas is continuing to find ways to keep this legacy in-state. Alabama's offer cause James' attention in a big way and he's visited Alabama and Auburn a good bit. LSU is also very active in recruiting the four-star lineman. This feels like Texas vs. Alabama moving forward.
The pick: Out-of-state