What I Liked: Pylon 7-on-7 National Championships
ATLANTA, Ga. – The 2018 Pylon 7-on-7 National Championships, held at Mercedes-Benz Stadium – where I will make my much-anticipated return in just over week for the Rivals100 Five-Star Challenge presented by adidas – concluded with a tourney win from Florida-based Strong Arm Athletics.
Congratulations to them, however I am the Texas recruiting analyst and was primarily concerned with the four teams that were in the tourney repping the Lone Star State: Fast Houston, Goon Squad, Texas Swoosh, and TrueBuzz Athletics. All four teams were loaded with top talent and had pretty strong showings during the two-day event.
Here are some of the things that I liked after watching them take on some of the best 7-on-7 teams from around the country ...
... JALEN CATALON'S RANGE AT THE SAFETY POSITION
Earlier in the spring when I saw Jalen Catalon at the Dallas Under Armour camp, he fared reasonably well in one-on-one reps against receivers, but really found his groove in the halved 7-on-7 drill they did that was basically two receivers against two defensive backs. He showed that same kind of effectiveness all weekend long as a helper over the top in coverage making play after play. Oftentimes, he managed to get both hands on the ball when making 'deflections' so given the same opportunities again, it seemed to be a 50-50 shot those would've been interceptions the next time around.
I can't remember the context, exactly, but I remembered someone telling me recently that Catalon hadn't tested well at some event and called his speed into question a bit. Maybe long speed isn't going to be his top plus quality, but the quickness that he shows not just in diagnosing where a ball is headed and his equal ability to close on that spot and make a play on it was really impressive. He's not the most traditional-looking prospect for a highly-ranked safety, but it's tough to argue with his instincts and propensity to mess things up for receivers looking to make big plays downfield.
... DYLAN WRIGHT'S RETURN TO ACTION FOLLOWING FOOT SURGERY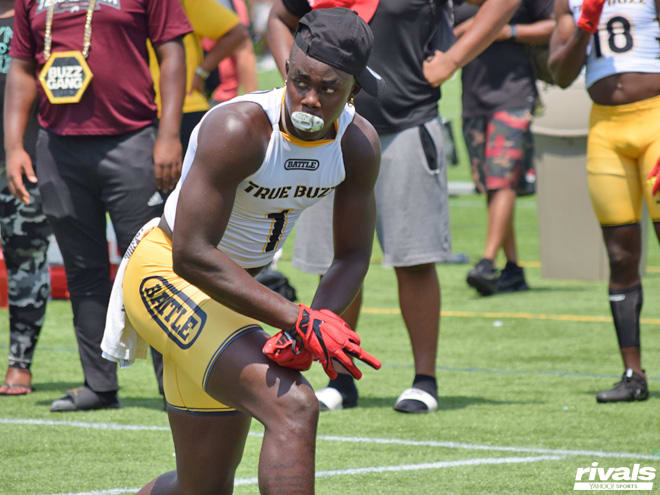 We're not too far removed from the days when Rivals250 wide receiver Dylan Wright had been posting some slightly gruesome pictures of his injured toe on social media – detailing both an injury and recovery that kept him off the field for much of the spring. Although I had seen that he's been back on the field and participating in this workout or that, it was good to see him in a relatively competitive environment where he could really show off how far he's come since his surgery to repair it. Wright had one of the top highlights of the afternoon on the first day with a breezy one-handed touchdown catch in the back corner of the end zone on a fade route, and won a couple of other jump-ball scenarios as well.
Perhaps more importantly, he looked confident and comfortable pushing hard off the line and breaking to make cuts, hitches and other moves that involve pretty intense starts and stops. He told me after the first day that he still feels some soreness running around, which is to be expected, as he completes treatments to get back to 100-percent. But if you didn't know that he had been hurt and coming back, you wouldn't know he had been hurt and coming back.
... FAST HOUSTON LIVING UP TO ITS MONIKER
On a player-to-player basis, Fast Houston might not have as many highly-ranked prospects across the board as some of the other teams that were competing over the weekend, but in the end, it was the team that advanced furthest among the cast from Texas. On offense, three-star wide receiver Korey King may have been the fastest player overall that I saw all weekend. Also on the outside, Rahsee Rice continued showing why he's been one of the most consistent vertical threats at wide receiver all spring, and just has a way about him where if he can just get a half-step behind his defender, the chances are pretty high he's going to make an over-shoulder catch – even in pretty tight windows.
Defensively, LSU commit Marcel Brooks was out running at safety and really throwing himself around. Even though he's still thought to project primarily as a linebacker, he's shown across most levels of competition that he enjoys playing with the whole field downhill from him because he can cover so much ground so quickly and make plays in space. This isn't exactly a speed-centric observation, but Dwight McGlothern also had a pretty nice weekend overall at corner from what I saw watching him. When he starts playing with confidence, he's a really fun player to watch.
... WATCHING COLLIN SULLIVAN, DAVON GRAHAM, DYLAN JANTZ AND TREJAN BRIDGES AT WIDE RECEIVER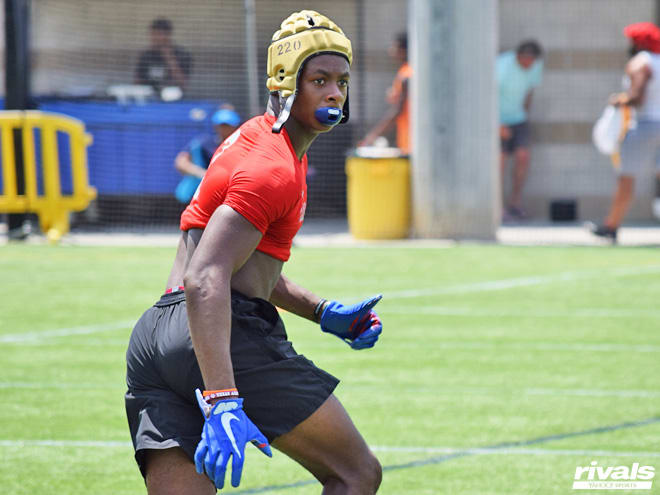 Even though Texas Swoosh was snake-bit early on by a controversial loss to Fast Houston in its first group game (which kind of put them in a rut for the rest of the weekend that they really couldn't get out of), it was still a lot of fun to watch the receivers on the team work as a unit – mostly because of how well-balanced of a group it was. Trejan Bridges was his usual self as a big-moment, big-playmaking receiver. I think by the time that Collin Sullivan graduates, he is going to be a guy that is going to play with a lot of torque and run power that is going to make him very difficult to manage off the line similar to Theo Wease. And Davon Graham is has been showing all spring how athletically gifted he is as well.
I owe Dylan Jantz a bit of an apology after speaking to him earlier in the spring and not having the time to write something discussing how solid of a wide receiver he is, so I'll do it now. Going back to last summer's Prime 21 event, he has been a guy that has just got results as a sure-handed, heady, slot receiver and he showed up again with more of those same qualities this past weekend. He's had a tough time getting teams to take a chance on him and I personally don't think that he's helped at his high school, where he is asked to be more of a Swiss Army knife on offense than doing what he's best at. He shouldn't be without a committable offer at this point and depending on what's on his schedule this summer, should find some team that can put him to good use.