Week Five: Lawrence vs. Fields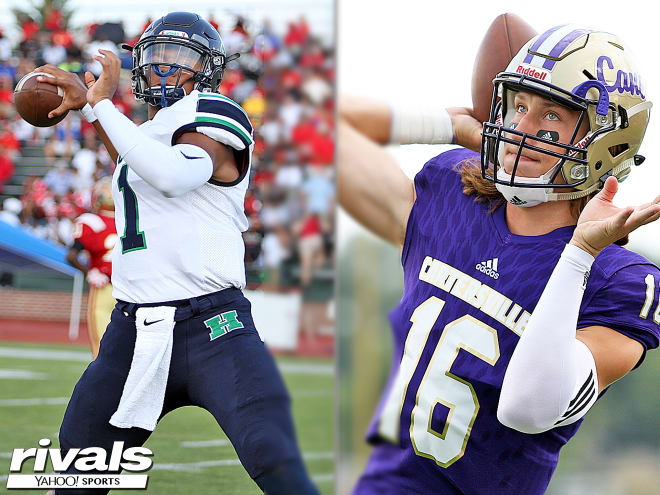 The top two prospects in the country were back in action this weekend and both led their teams to victory. One played all four quarters, the other needed just one second-half series before calling it a night.
Trevor Lawrence took care of Cedartown (Ga.) on his home turf. Justin Fields traveled to Acworth (Ga.) Allatoona to get his victory.
Lets dig in to see just how well the top two prospects in the 2018 Rivals 100 performed in week five.
It was just another night for Lawrence. He led Cartersville out of the locker room in the second half on a six-play drive that led to a field goal to put his team up 41-0. That was it for Lawrence's night.
On the first drive of the game, Lawrence rolled to his left, threw a 62-yard touchdown pass down the sideline across his body. It was another one of those plays and it was just the beginning.
At halftime, Cartersville was up 38-0 and Lawrence had completed 14-of-17 passes for 298 yards and three touchdowns. He added a rushing touchdown as well and finished 16-of-21 with 326 yards passing and 68 yards rushing in just over one half of play.
Lawrence, the top prospect in the country continued to make it look easy. He has a great supporting cast and they are all clicking right now. Cartersville has now won 35-straight games.

It was not quite as easy for Fields, but his team was in control from the beginning, and in the end, he led his team to another victory. After Allatoona scored on Harrison's second-team defense with 1.8 seconds to go in the game, the final score was 27-10.
Fields, like always, made his plays in this game. He is built like a high school linebacker and it paid off in this game. He took some big hits, he was pressured often, but he played a key role in each of Harrison's four touchdowns.
He finished with two passing touchdowns and two rushing touchdowns. When it was 20-3 in the fourth quarter, he hit wide receiver Steven Peterson with a 61-yard touchdown pass that put the game away.
On the ground, he had 98 yards on 18 carries and he completed 7-of-15 passes for 153 yards passing. He showed once again why he is the No. 1 dual-threat quarterback in the country.
His first touchdown pass came when he escaped the rush, extended the play outside the pocket, kept his eyes down the field and as the defense came up because they thought he was going to tuck it and run the ball, he dropped a dime over the top of the defense for a 46-yard touchdown pass.
Who is going to land Fields? Will he stay home and go to Georgia? Will Florida State convince him to be a Seminole? Are Auburn and LSU legitimate contenders? He is keeping many guessing right now, but the momentum seems to be with the Bulldogs, if anyone has it.
Fields continues to carry his team and he and Lawrence are playing a high level week in and week out this season.