Venables named Rivals Recruiter of the Year
RELATED: Mind of Mike | Signing Day Show | Alabama wins title | Biggest winners
Clemson faced a real problem and needed to find a quick solution.
The coaching staff understood there would be some early departures after such a phenomenal 2015 season, but the defense was especially decimated as defensive ends Shaq Lawson and Kevin Dodd and then almost the entire secondary left early for the NFL Draft.
That reality meant coach Dabo Swinney, defensive coordinator Brent Venables and other staff members needed to quickly target top defensive recruits and get them to Clemson within weeks before National Signing Day.
For Venables, who was named the Rivals.com Recruiter of the Year, there were some benefits and positive outcomes in waiting longer to start going after top prospects.
"Because recruiting happens so much earlier, one thing that gets pushed aside is senior season development and that's where some of the best players are late developers," Venables said.
"When you get your roster too full, too soon, you miss out on some great players who are available in November, December, January. It really helped us to have an opportunity to get in on some guys we wouldn't have just because of the nature of the timing and we really think we hit the home run ball with the combination of talent and character."
Venables was crucial to Clemson's recruiting success both early and late and helped the Tigers finish with the fifth-best class behind Alabama, Florida State, Ohio State and Michigan.
Throughout his career, whether at Oklahoma or now at Clemson, Venables has proven to be a phenomenal recruiter, an upbeat coach who can secure top players, and he did it once again this recruiting cycle in a big way.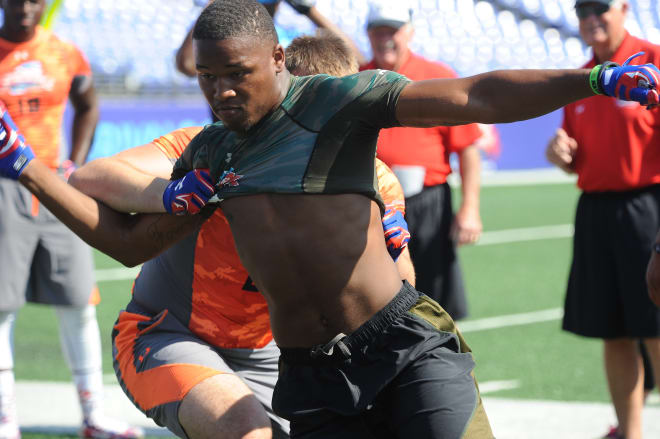 Venables was credited for landing five-star linebacker Rahshaun Smith, four-star defensive end Xavier Kelly, four-star defensive back Trayvon Mullen (to some a Signing Day surprise), three-star defensive back Isaiah Simmons and he was helpful on five-star LB Tre Lamar and five-star DT Dexter Lawrence, the second-best prospect in the 2016 class.
"He's a super high-energy guy, always up and always positive," Rivals.com National Recruiting Director Mike Farrell said.
"He's a very, very friendly, affable, approachable person and that's why he's had so much success recruiting not only at Clemson but at Oklahoma before that and why he's going to be such a great head coaching candidate. The guy loves recruiting and he is just a people person. Whoever gets him as a head coach will be getting a guy who can definitely compete on a recruiting level."
To be fair, Clemson had a lot going for it down the stretch. The Tigers made a run to the national championship game, where they lost to Alabama. But that type of national exposure, combined with a coaching staff that is aggressive on the recruiting trail, paid huge dividends late.
Clemson's success this season definitely helped land top recruits.
"Everybody loves a winner," Venables said. "There were some kids on the fence, so that can sway opinion and get kids excited who want to be a part of what we're doing. They pay attention a little closer and pull the curtains back a little bit to see what all the excitement and all the success is from. That's definitely part of it."
A lot of work had been done early. Many top members of Clemson's recruiting class had been committed for a while as four-star receiver T.J. Chase had been pledged for more than a year. Tavien Feaster, a four-star running back, had been committed for exactly one year.
Kelly and Lamar had been committed since last summer. Smith recommitted at the Under Armour All-America Game and Lawrence made his decision a few weeks before Christmas.
The Tigers –- led by Venables –- also closed strong, especially on Mullen, who was considering some SEC powerhouses as well. Clemson's relationship with the four-star spanning almost two years paid off.
Clemson needed to rebuild in the secondary and Mullen was a major piece to that end.
"We had a lot of departures in the secondary, so we had some guys where we thought we'd have one or two spots, but we had more," Venables said. "We were scrambling to say 'Who are the guys that are available that fit our criteria of what we're looking for?'
"You don't want to reach on a guy, you know, talent without character. You certainly don't want to bring in a guy who can't run and move and tackle. We really felt like we hit the home run ball reaching out to both Simmons and K'Von Wallace.
"We almost had a two-year relationship with Trayvon Mullen, so we've been working him pretty good. That one was going in the fire for a while and then Nolan Turner was a guy who came on the scene during his senior year."
Clemson has momentum heading into the 2017 recruiting cycle. It is coming off a title run, will be one of the top teams -– if not No. 1 overall -– in many preseason polls and there's no question Swinney and his staff have something special going on.
Venables is a huge part of that success.
"There is an innocence about Coach Swinney's philosophy," Venables said. "It's not fabricated and kids can see that. Kids can see a fraud from a million miles away.
"The biggest assets we have are our players. When kids come and parents come, we pull our guys aside and that's always in our favor. Watching from afar, I think people can see the passion coach Swinney has for these players, the love he has for them. It's really easy to see."