Top 10 linebacker recruiting classes for 2017
Rivals.com has spent the last few weeks breaking down each position to see which school did the best on National Signing Day 2017. Today, we take a look at the programs that finished the cycle with the best hauls at linebacker.
TOP 10 CLASSES BY POSITION: QB | RB | WR | TE | OL | DT | DE
1. ALABAMA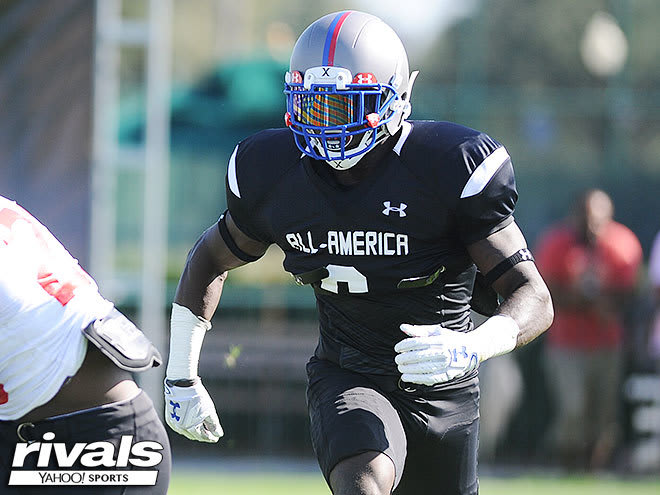 The class: Dylan Moses (five-star), Vandarius Cowan (four-star), Markail Benton (four-star), Chris Allen (four-star)
Analysis: The great Alabama defenses of the past decade have been led by top linebackers, players like Rolando McClain, Dont'a Hightower and C.J. Mosley. The group of linebackers headed to Tuscaloosa as part of the 2017 class will certainly re-stock the cupboard, as the Crimson Tide boast the country's top group at the position. The headliner is five-star Dylan Moses, who bounced between running back and linebacker during his prep career but has settled in on defense. The strength of this class, though, is in the depth of talent at the position. Vandarius Cowan is a Rivals100 prospect, while Markail Benton and Chris Allen are both Rivals250 prospects.
2. MICHIGAN
The class: Jordan Anthony (five-star), Drew Singleton (four-star), Joshua Ross (four-star), Ben Mason (three-star)
Analysis: Jordan Anthony is one of three five-star prospects Michigan signed in 2017 – the most for the Wolverines in a single class. An East Coast native who finished out his prep career at IMG Academy in Florida, Anthony plays that Big Ten style of football and should be an instant impact guy for the Wolverines. Like Alabama, though, this class is highlighted by the depth at the top. Drew Singleton was not far off from five-star status himself, landing at No. 52 in the Rivals100. Four-star Joshua Ross is the brother of former Michigan linebacker James Ross, and three-star Ben Mason is already enrolled and on campus in Ann Arbor.

3. LSU
The class: Jacob Phillips (five-star), Tyler Taylor (four-star), Patrick Queen (four-star)
Analysis: Flipping five-star Jacob Phillips from Oklahoma was the highlight of a very successful Signing Day week in Baton Rouge. The Tigers rallied with four commitments – all Rivals250 prospects – to finish with a top-10 class, and two of those four were linebackers. The wave also swept up four-star linebacker Tyler Taylor, who along with Phillips and fellow Rivals250 prospect Patrick Queen gives LSU a top-three class at the position. Phillips and Taylor are both projected as inside linebackers, while Queen is on the smaller side and has the athleticism to play in space.

4. GEORGIA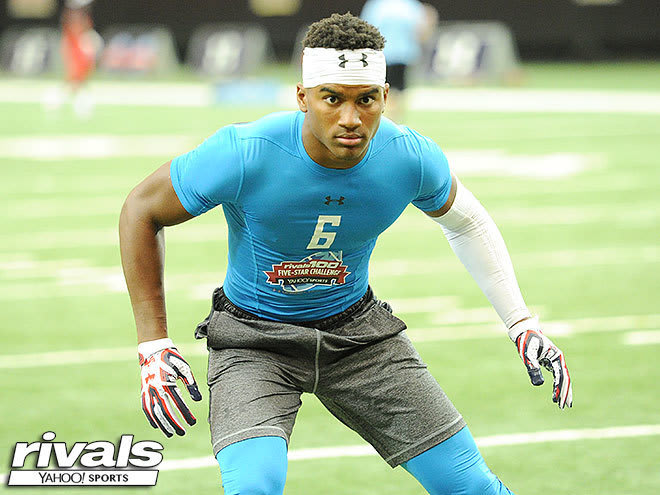 The class: Jaden Hunter (four-star), Nate McBride (four-star), Walter Grant (three-star), Monty Rice (three-star)
Analysis: The SEC domination of this linebacker class ranking continues with a Georgia program that finished No. 3 in the overall 2017 class rankings. One of the cornerstones of that class is Jaden Hunter, the second-longest tenured commitment among the Dawgs' 26 signees, who is also the highest-ranked linebacker prospect in this four-man class. Closely following Hunter in the Rivals100 is fellow Athens-bound linebacker Nate McBride, who was rated a five-star early in the process. The class is rounded out by a pair of three-stars in Walter Grant and Monty Rice, who are both ranked in the inside linebacker position rankings.

5. OHIO STATE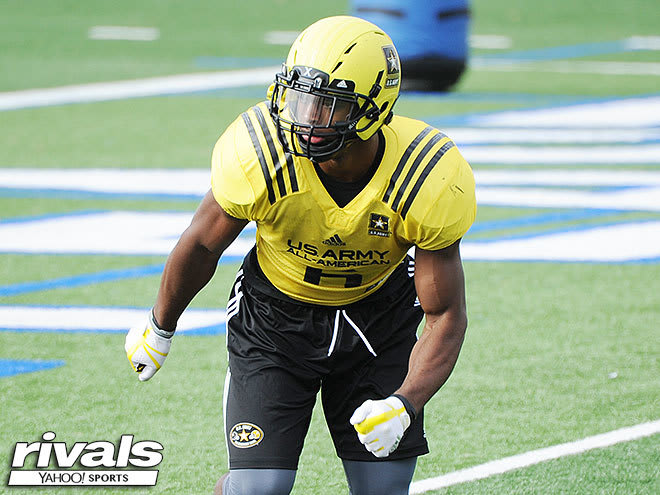 The class: Baron Browning (five-star), Pete Werner (four-star)
Analysis: If you need further proof of this being a historic class for Ohio State, consider this: The linebacker position is the fifth out of seven total we have examined thus far where the Buckeyes rank in the top 10. Considering their class boasted just 21 total prospects, the way they met needs across the board is impressive. At linebacker, the focus was obviously athleticism, as both five-star Baron Browning and four-star Pete Werner score high in that category. Browning is the top-ranked linebacker in the entire 2017 class, checking in at No. 9 in the Rivals100.

6. OKLAHOMA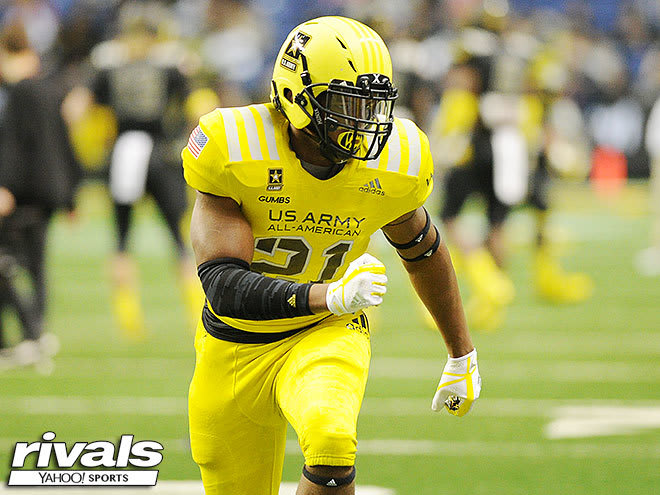 The class: Addison Gumbs (four-star), Levi Draper (four-star), Kenneth Murray (four-star)
Analysis: Like Ohio State, Oklahoma has found itself on a high number of these top position classes, attesting to the way the Sooners met their needs across the board with this 2017 group. Rivals100 prospect Addison Gumbs, the No. 65 overall player in the class, headlines the class. Bob Stoops and Co. went all the way out to California and took Gumbs from the Pac-12's backyard. But Oklahoma also got depth of talent in this class, adding two more four-stars. Levi Draper is from nearby Collinsville, Okla., and was one of the early commits in this class. Kenneth Murray, meanwhile, hopped on board over the summer and is ranked just outside the Rivals250.

7. AUBURN
The class: Tadarian Moultry (four-star), K.J. Britt (four-star), Chandler Wooten (three-star)
Analysis: Teams had to sign a special group to compete among the SEC's top linebacker classes, and Auburn responded by grabbing a pair of prospects ranked among the top 113 players overall in this 2017 class. Their first get was also their highest-ranked prospect in the group. Four-star Tadarian Moultry actually played defensive end in the U.S. Army All-American Bowl and is known for his pass rush ability. Fellow four-star K.J. Britt is the No. 4 ranked inside linebacker and is known as a big-hitter. The four-star duo is complemented by high three-star Chandler Wooten, who ranks as the No. 42 outside linebacker in 2017.

8. TEXAS A&M
The class: Anthony Hines (four-star), Devodrick Johnson (four-star), Santino Marchiol (four-star)
Analysis: Texas A&M secured its spot in the top 10 by landing three four-star prospects. Kevin Sumlin had most of his class wrapped up by the time the Aggies' 2016 season ended, but linebacker was one position they did not have solidified until late. The key was getting in-state four-star Anthony Hines, the No. 100 player overall in the class, into the fold in early December. His commitment was preceded just a month earlier by Dallas four-star Devodrick Johnson. Those two joined another four-star, Santino Marchiol, who is from Colorado but played at IMG Academy in Florida and committed last summer.

9. TEXAS
This class: Gary Johnson (four-star), Marqez Bimage (four-star)
Analysis: Texas does not place a single linebacker in the Rivals250, yet comes in with one of the top-10 2017 classes at that position. How is that possible? Because junior college transfers are not included in the Rivals250, and Texas' headliner at linebacker in this class is Dodge City Community College four-star Gary Johnson, the No. 4 ranked overall JUCO prospect in 2017. Johnson was a major priority for Tom Herman down the stretch, and he beat out the likes of Alabama, Oregon and USC to secure his services. Four-star Marqez Bimage, who ranks just outside the 250, joins Johnson to form the Longhorns' top-10 linebacker class.

10. OLE MISS
This class: Mohamed Sanogo (four-star), Breon Dixon (four-star), Josh Clarke (three-star), Brenden Williams (three-star), Zikerrion Baker (two-star)
Analysis: This ranking concludes with the largest linebacker class in the top 10. Ole Miss only signed 22 prospects in the 2017 class, but nearly a quarter of them were linebackers. The headliners are a pair of four-stars in Mohamed Sanogo and Breon Dixon, who each brings something different to the field. Sanogo is the stout, interior run defender, while Dixon is smaller, more athletic and a guy who excels in space. They complement that duo with Josh Clarke, another athletic outside linebacker type from Louisiana, along with JUCO transfer Brenden Williams and two-star Zikerrion Baker.