Top 10 OL recruiting classes for 2017
Rivals.com has spent the week breaking down each position to see which school did the best on Signing Day 2017. Today, we take a look at the programs that finished the cycle with the best hauls of offensive linemen.
1. ALABAMA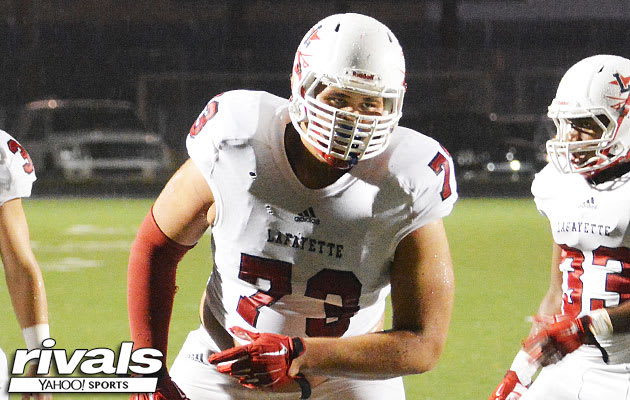 The class: Alex Leatherwood (five-star), Jedrick Wills (five-star), Elliot Baker (five-star), Kendall Randolph (four-star), Hunter Brannon (three-star)
Analysis: Alabama's offensive line class is as good as it gets. The group includes three five-star prospects (two from the high school ranks and one from a California-based junior college). Florida product Leatherwood headlines the group and illustrates Alabama's ability to go into Florida and snatch one of the most coveted prospects in the state – a feat that has never been easy. There's a reason the Tide's 2017 class ranked first in the country, and this group is a massive part of it. Nick Saban landed offensive linemen from four different states this cycle and all five of the program's signees stand 6-foot-4 or taller.
2. GEORGIA
Georgia landed the rare offensive line class that boasts both depth and star power. Massive five-star Wilson, who had a nice week at the Under Armour All-America Game, leads the pack but in-state prospect Johnson would be capable of headline a class at a lot of other schools. The groundwork is certainly in place for UGA to continue its tradition of success running the football. Junior college tackle Hayes is the type of player that could come in and play important snaps from the jump and should do so for a team hoping to take a massive step forward this season.

3. USC
The class: Austin Jackson (four-star), Alijah Vera-Tucker (four-star), Andrew Vorhees (four-star), Brett Neilon (four-star), Jalen McKenzie (three-star)
Analysis: USC's O-line haul lacks a five-star prospect, but landing four four-stars up front is no small accomplishment. The fact that all five of USC's new offensive linemen are from California makes the days of UCLA pushing the Trojans for help along the line seem like a distant memory. McKenzie, the only non-four star of the bunch, finished the cycle on the verge of four-star status and is still seen as a player that could contribute in a hurry if need be.

4. STANFORD
The class: Walker Little (five-star), Foster Sarell (five-star), Drew Dalman (three-star)

Analysis: Stanford's offensive line haul is short on depth, but landing a pair of five-stars lands it high on this list. Little, the No. 2 offensive tackle in the country, spurned a long list of Texas schools to cross state borders and choose Stanford. Washington-based Sarell decided against playing for Pac-12 champion Washington and chose the Cardinal. Quality doesn't always mean quantity and that's the case here.
5. OKLAHOMA
The class: Tyrese Robinson (four-star), Marquis Hayes (four-star), Adrian Ealy (four-star), Creed Humphrey (three-star)
Analysis: Of the four offensive linemen signed by Oklahoma, three were Rivals250 members. The group lacks a single Rivals100 member, but the depth is what matters here. The Sooners' proximity to Texas always helps with lineman, as they were able to again able to drag a lineman across the border. Early stands a towering 6-foot-7 and is a physical marvel that brings long arms and a mean streak to the Sooners' class. Pulling him out of Louisiana should be seen as quite an accomplishment.

6. NOTRE DAME
The class: Robert Hainsey (four-star), Joshua Lugg (four-star), Aaron Banks (four-star), Dillan Gibbons (three-star)

Analysis: Notre Dame's four-member offensive line class lacks a Rivals100 prospect, but the fact that it boasts three players inside the Rivals250 makes it formidable. There are few prospects more battle tested than four-star Hainsey, who spent his high school career competing at major national camps and playing against some of the country's best high schools. The lone three-star of the group, Florida-based Gibbons, was on the verge of four-star status and also has the tools to develop into a mainstay for the Irish.

7. OHIO STATE
The class: Wyatt Davis (five-star), Josh Myers (four-star), Thayer Munford (three-star)

Analysis: Ohio State's place on this list is due to the headliners, not the depth. The Buckeyes landed just three offensive linemen this year, but the marquee tells the story. Five-star Davis, a California product, elected to sign with Ohio State and represents a massive victory for Urban Meyer, who hopes to return to the College Football Playoff in the year ahead. In-state product Myers gives Ohio State a second Rivals100 offensive lineman in its class.

8. MICHIGAN
The class: Cesar Ruiz (four-star), Chuck Filiaga (four-star), Joel Honigford (three-star), Andrew Stueber (three-star), Phillip Paea (three-star)

Analysis: Michigan landed five offensive linemen last cycle. The haul included the country's best pure center in Ruiz. A Rivals100 member, Ruiz is capable of switching between center and guard. He brings versatility to go along with his polished skillset. Landing four-star Filiaga, who spent parts of his high school career in California and Texas, was also a major win for the Wolverines.

9. MIAMI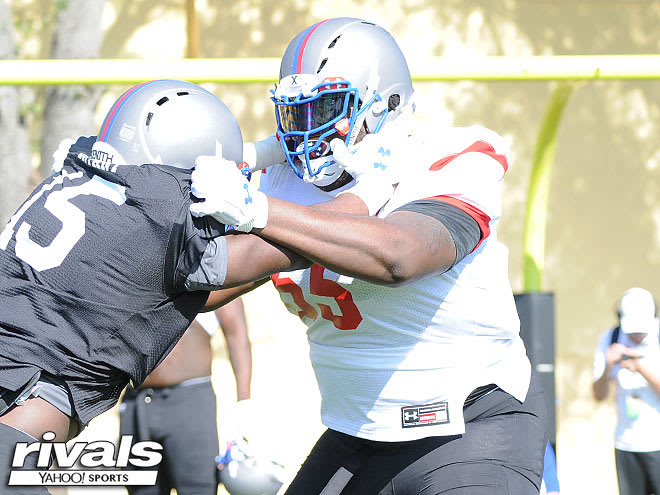 The class: Navaughn Donaldson (four-star), Kai-Leon Herbert (four-star), Zalon'tae Hillery (three-star), Zach Dykstra (three-star), Corey Gaynor (three-star)
The analysis: Miami is at it's best when it locks up local talent, and it did just that with the two headliners of its offensive line class. The Hurricanes held off a furious charge by Florida State to land Miami Central High School product Donaldson and wrestled Herbert away from Florida. There's a touch of depth in the Miami's class as well, as Gaynor could grow into a versatile piece for Miami.

10. FLORIDA
The class: Kadeem Telfort (four-star), Tedarrell Slaton (four-star), TJ Moore (four-star)

Analysis: Florida salvaged its class late in part due to the signing of Rivals250 lineman Slaton, who gave looks to both Michigan and Georgia at various points in the process. All three of the offensive linemen signed by the Gators were four-star prospects. And while the class lacks a Rivals100 prospect, it managed to address a number of holes in struggling UF offense.