Three-Point Stance: Rivals100 Five-Star Challenge scoop and insights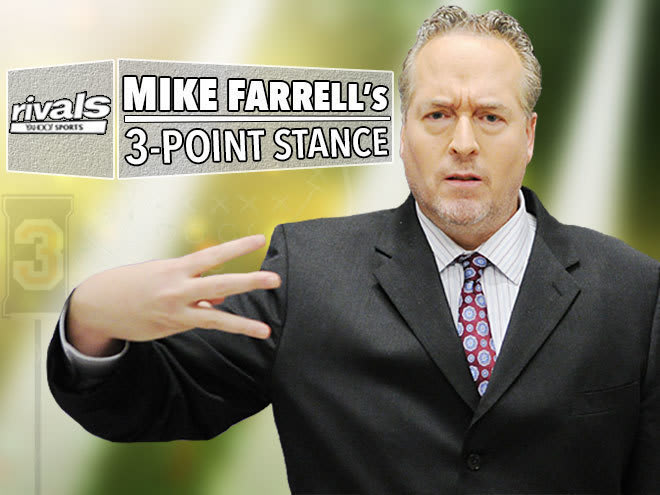 INDIANAPOLIS -- Rivals.com National Recruiting Director Mike Farrell's thought-provoking Three-Point Stance is here with a Rivals100 Five-Star Challenge presented by adidas themed version. Mike gives his impressions on the Rivals100 prospects from 2018, discusses some potential locks to certain schools and adds some odds and ends.
#RIVALSCHALLENGE: Farrell Awards | Southeast spotlight | QBs face recruiting pressure | Complete coverage
1. EVALUATING THE RIVALS100 PROSPECTS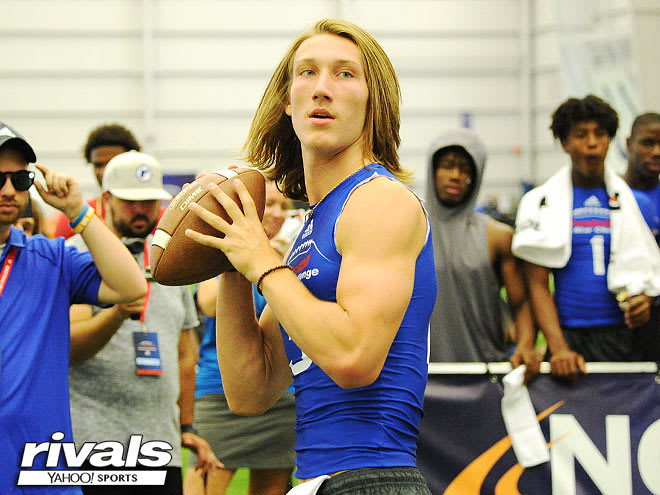 Here's my quick takeaway on the 2018 Rivals100 prospects that were on hand at the Five Star Challenge this past weekend.
No. 1 QB Trevor Lawrence – Impressive as always and flashed that competitor's fire after his team lost its first two games.
No. 4 WR Amon-Ra St. Brown – As dominant as advertised, he is clearly the best wide receiver this year.
No. 7 QB Matt Corral – He struggled a lot, but in his defense he had two flight delays and a couple hours of sleep.
No. 8 QB Justin Fields – Very impressive as he went toe to toe with Lawrence for best quarterback honors.
No. 9 CB Anthony Cook – A little grabby at times, he's still very fluid and his closing speed is great.
No. 15 DE K.J. Henry – He's adding weight, which is good, and looked great in some reps and average in others.
No. 16 RB James Cook – Cook was dominant when he wanted to be. Sometimes he can get bored, and that's what happened in the evening session.
No. 20 WR Terrace Marshall Jr. – Big and fluid and a good route runner, but didn't dominate either session.
No. 22 WR Devonta Jason – Not the fastest receiver out there, but he does everything well. But like Marshall, he didn't dominate.
No. 27 CB Isaac Taylor-Stuart – He has a freaky upside, the sky is the limit on his potential.
No. 29 OT Penei Sewell – Technique is off at times and he could be a guard, but his ceiling is very high.
No. 32 DE Brenton Cox – Bigger each time we see him and can dominate when he wants, but at times can lose focus.
No. 33 LB Amari Gainer – He struggled in space more than I expected but was better in the evening than in the morning.
No. 35 CB Al Blades – Had a great start and a solid finish but I'm still waiting for that breakout performance.
No. 36 WR Brennan Eagles – A big kid who can run, he could be special with a few tweaks to his game.
No. 37 DT Michael Thompson – He was erratic at times, but when he's on his game and gets off the snap well he can crush the pocket.
No. 38 WR Al'Vontre Woodard – Up and down all day, he's a solid route runner with good hands but was inconsistent a bit like Marshall Jr. and Jason.
No. 45 LB Teradja Mitchell – These camps aren't his thing as a huge inside linebacker, but I thought he did well and held his own.
No. 47 DB Derrik Allen – He struggled a bit, especially with faster, sudden receivers and change of direction.
No. 48 DT Rick Sandidge – He killed it in the morning but faded a bit in the afternoon. His ceiling is outstanding, however.
No. 49 RB Jaelen Gill – I loved him. He's fast, he can catch with ease and around the corner he's electric.
No. 51 S Jaiden Woodbey – A big athlete, he played both sides of the ball and was very effective at each position.
No. 53 OG Trey Hill – He's built to dominate in a phone booth and he showed a lot of that in both sessions.
No. 58 LB Solomon Tuliaupupu – Like Mitchell, this isn't an event made for his skill set, but he had a solid day.
No. 59 QB Justin Rogers – His fastball is awesome, he just needs some more touch on his short and intermediate passes.
No. 67 RB Ricky Slade – He didn't have a dominant afternoon as he wasn't targeted that much, but he showed that change of direction in the morning.
No. 77 LB Zakoby McClain – McClain struggled a bit in coverage which was surprising, because that's one of his strengths at linebacker.
No. 80 WR Alontae Taylor – Taylor wasn't as big a factor as expected in the morning or during the 7-on-7 session.
No. 85 OT Nana Asiedu – Asiedu struggled most of the day, just a half step slow out of his stance too often.
No. 88 WR Elijah Moore – Moore flashed his trademark speed, especially in the morning, and had a solid afternoon as well.
No. 90 ATH Cameron Jurgens – Jurgens isn't the fastest tight end but he's a huge target and boxed defenders out fairly well.
No. 93 OT Rasheed Walker – Walker continue to impress each time I see him and I felt he had a consistent day.
No. 99 WR Xavier Williams – Williams gains separation as easily as anyone, but he's still having trouble catching the ball consistently.
No. 100 LB Alston Orji – Orji struggled a bit like most of the linebackers early, but I thought he was solid in the 7-on-7.
2. RECRUITING LOCKS
There were many prospects on hand at the Five-Star Challenge that remain uncommitted, but in talking to sources, other prospects and reading the tea leaves, here are a few 2018 guys I feel are near locks for certain schools…
Rasheed Walker to Penn State - I'd be shocked if he ends up anyplace else after so many visits. I guess it depends on if a different visit blows him away.
Al Blades to Miami – He's selling us on Tennessee now, but if he ends up anyplace but Miami, I'd be stunned.
Brennan Eagles to Texas – Many think this had been a done deal for quite some time, but time will tell.
Kevin Austin to Notre Dame – It could be Duke, but I doubt it. I think he wants academics badly and Notre Dame has the better football in his mind as well.
Ja'Marr Chase to LSU – I don't see him leaving the state when all is said and done.
George Takacs to Notre Dame – Tough to say a lock, but I will boldly predict this anyhow. He's at the very least a heavy lean.
Isaac Taylor-Stuart to USC— He will visit other places, but I don't see him choosing anyone but the Trojans barring something crazy.
Trey Hill to Georgia – He seems to want to wait to decide, but if he ends up anyplace but Georgia I'd be surprised.
Kearis Jackson to Georgia – He has many options and is looking around a bit, but many feel this has been a done deal for the Dawgs for quite some time.
Channing Tindall to South Carolina – Too early to call this? Nope. He stays home and plays for the Gamecocks.
3. BEHIND THE SCENES AT THE FIVE-STAR CHALLENGE
A few things behind the scenes from the weekend.
- I really like Chris Smith, and Georgia fans should be excited about him. This is a hard worker and a kid who has a ton of energy and always wants to challenge himself.
- Clemson is getting a special player in Trevor Lawrence, we all know that. But they are also getting a high character kid who has a great persona off the field but is a nasty competitor on it. Leadership is a huge part of his game - Lawrence has every opportunity to be an egomaniac, and he's the opposite.
- Texas A&M fans are going to love the energy that Leon O'Neal brings to the table. The kid is constantly going and has an amazing positive attitude. Kids gravitate toward him.
- Justin Dedich is a kid I wasn't sold on before the event, but I now think he's going to be a steady, three-year starter at center for whoever gets him. This is a kid who came into the event admittedly intimidated and never backed down and actually rocked everyone he faced at least once.
- James Cook could really go to Georgia or someplace other than Florida State. It's not about the depth chart, it's about following Dalvin at FSU, which is understandably something that would give anyone pause.
- Alabama fans may be worried about a lack of commitments, but that's a bit laughable to commitments Pierce Quick and early 'Bama lean Clay Webb. Listening to the perspective of 2019 kids about Nick Saban's recruiting compared to some of the doomsday folks on message boards and social media is actually quite interesting.
- Tyreke Smith is new to football, so imagine how good he can be in a few years. He reminded me, at least with his balance and agility, of Da'Shawn Hand. He doesn't have the same resume at the same stage, but it's hard to find kids with that kind of natural ability off of contact.