Elite QBs feel pressure of committing early, leading classes
INDIANAPOLIS – Quarterbacks are routinely the first players to commit to a school's recruiting class - there are limited spots for the position each year, and coaches like to lock that position up first so they can build classes around those stars.
But with the recruiting calendar constantly moving up and a routine stream of changes of head coaches or crucial assistants, making an earlier and earlier decision is oftentimes trying for quarterbacks.
It can be overly stressful and that means decisions could be rushed.
"It's definitely hard, especially after you make a decision, all these schools come after you," said five-star quarterback Justin Fields at the Rivals100 Five-Star Challenge presented by adidas.
"It's hard because the coaches want you to commit and recruit other guys. For quarterbacks, committing early is always on your mind."
#RIVALSCHALLENGE: Farrell Awards | Hot teams | Inside decommitments | Complete coverage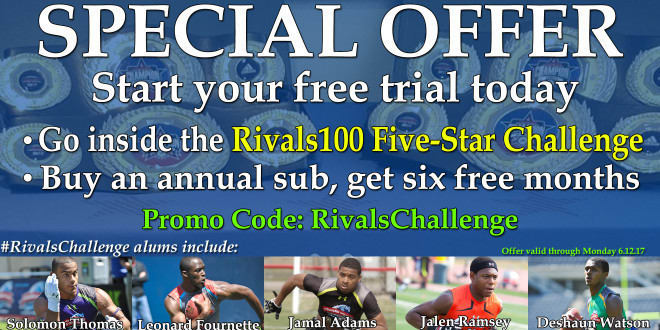 Only two of the top 10 pro-style quarterbacks are uncommitted: Corona (Calif.) Centennial's Tanner McKee and Chandler (Ariz.) Hamilton's Tyler Shough, whose recruitment really didn't get busy until this spring. Both are expected to make a decision by the start of senior year.
Out of the top 10 dual-threat quarterbacks only Fields is undecided, and that's because he recently backed off a commitment to Penn State.
The logic behind Fields stepping off his pledge to the Nittany Lions might sound a little reversed, but a lot of things are topsy-turvy these days when recruiting quarterbacks.
"The reason I decommitted is because I wanted to make sure Penn State was the fit for me," Fields said. "I knew that when I committed, but this is my second go-around to make sure they are the best fit for me."
In essence, one of the reasons the five-star from Kennesaw (Ga.) Harrison committed to Penn State was so the recruiting process could slow down and he'd have an opportunity to really make sure it was the right place for him.
Now, Florida, Georgia, Auburn, Florida State, North Carolina and Ole Miss along with Penn State have captured his attention. It's a hectic time.
For the nation's top player - and thus the top-rated quarterback – Trevor Lawrence, the process was a little less stressful because he did it simply on his terms. The five-star from Cartersville, Ga., committed to Clemson over Florida and Georgia in December, not rushed by anybody.
But it also takes someone with incredible mental fortitude to not be pressured or swayed, one reason Lawrence is such a special recruit.
"Every school does that because they want you to start the class and go off you," Lawrence said. "That's their side of it. I did what I wanted to.
"I felt a rush because I just wanted to get it over with and get it lined up before the end of my junior year."
Top 2020 quarterback Harrison Bailey said he doesn't necessarily feel pressure to commit yet, but he understands an early pledge is likely since his recruiting process was so quickly ramped up. Many national programs are already involved.
The Marietta, Ga., recruit knows that with an early commitment comes potential coaching changes prior to enrollment.
"I'm being recruited by the coaches at the school now, so in like two or three years they could be at another school," Bailey said. "You have to really pay attention and focus. I want to build great relationships with coaches and then it's a plus if the campus is nice and the facilities. I'm just trying to enjoy it."
Sicklerville (N.J.) Timber Creek's Devin Leary committed early to N.C. State, but since Fields backed off his Penn State pledge, the Nittany Lions could seriously pursue the New Jersey signal caller.
Leary has some hard-and-fast rules about recruiting and a decision timetable, but Penn State getting involved in his recruitment has to be intriguing.
"Since my freshman year, something my coach and my dad stressed on me was to go through the process," Leary said. "When it's the right time to commit, you'll know it was the right time.
"I thought it was the perfect time for me to commit to N.C. State. For other quarterbacks, I would agree because I've seen in the past some guys commit just to hold their spot. I'm not really a big fan of that but I've seen it."