While common, backing off of a commitment is far from easy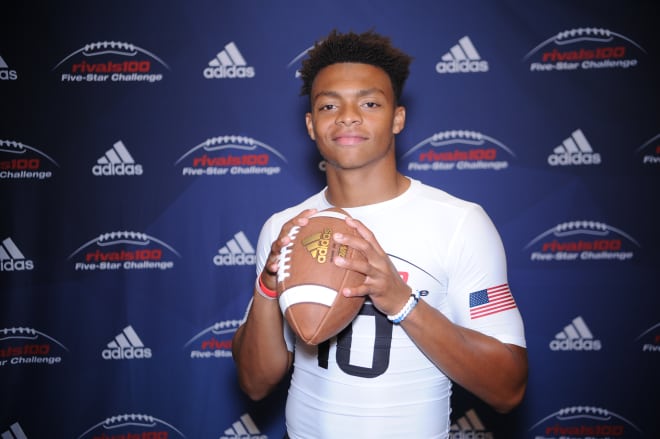 MORE #RIVALSCHALLENGE: Rosters | Morning session thoughts | MVP predictions
INDIANAPOLIS – Justin Fields needed the laugh.
There was plenty of anxiety in the days leading up to and following the five-star quarterback's decommitment from Penn State. Restless nights were common. So were waves of self-doubt. The Twitter insults were rampant, but one in particular provided a break from the whirlwind.
"Some Penn State fan on Twitter called me a 'Walmart Cam Newton,'" Fields said. "I laughed. I had to laugh. That's the one I remember most.
But laughter is rare in the hours and days surrounding a decommitment. Calling an adult with the sole intention of breaking a promise isn't the easiest thing for a high schooler to do. Fields spent days psyching himself into calling Penn State head coach James Franklin. On June 5, he worked up the courage to actually dial the numbers.
"I just said, 'Coach, I have bad news,'" Fields recalled. "He wasn't expecting it. He was speechless. He didn't know what to say. He told me he was disappointed. I know some coaches get mad at guys, but coach Franklin wasn't like that. He wished me the best."
The anxiety is enough to make some prospects skip the call. It's not uncommon for coaching staffs to find out they lost a commit via Twitter, where the notes app often functions as the bearer of bad news.
"That where I went wrong and messed up," said Devonte Jason, who backed off a pledge from LSU. "I didn't call anyone and tell them. I just tweeted it out, then they called me and asked me why I didn't tell them."
The answer to that question, though, is simple. Ask defensive end Kayode Oladele who decomitted from Florida State last month, and he cuts to the point. The logic behind his choice to skip reaching out to the FSU coaches is sound.
Florida State assistant coach Tim Brewster buzzed Oladele's phone minutes after he announced his intention to reopen his recruitment. Oladele described the interaction as mostly pleasant … once they forged through the puddle of initial awkwardness. Brewster wanted an explanation, and he got what he wanted in few words.
"He asked why didn't tell them first," Oladele said. "I was like 'If I told you, you would have talked me out of it and I wouldn't have done it.'"
In the wake of Oladele's decision to back off his commitment to FSU, the feeding frenzy started. The defensive end estimates that he received messages from Miami and Georgia within 10 minutes of his announcement and the calls and texts seemed to multiply from there.
The fallout comes without fail and it comes furiously.
"After I [decomitted], I got some many calls from coaches and reporters that I put my phone down for two days," Fields said. "I didn't even look it, really. It was too much."
Four-star cornerback Al Blades, who had his choice to break his pledge to Miami made easy when the Hurricanes underwent a coaching change, offers advice to anyone planning to decommit in the future.
Blades, not known for mincing words, openly shares his credo. The Florida-based prospect applied it to recruiting as a whole, but it works as a decommitment mantra as well. He's long since come to terms with an uncomfortable truth.
"You just have to realize that none of these people care about you," Blades said. "Especially the fans. The fans just want you at their school. Nobody cares about you."