Rivals100 Five-Star Challenge: MVP predictions
The Rivals100 Five-Star Challenge presented by adidas will be held Friday and Saturday in Indianapolis. Today, we asked our recruiting analysts to make their predictions for the best player at the event.
ROB CASSIDY (Southeast): QB Trevor Lawrence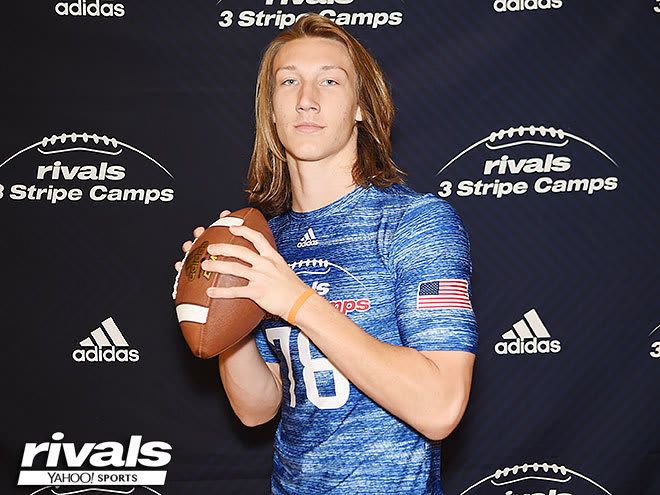 Lawrence is the No. 1 player in the country, and I don't think it's all that close. Not picking him would go against everything I've seen from him over the past few years. Unless Lawrence decides to phone it in, it's his award to lose.
MIKE FARRELL (National): WR Terrace Marshall
I'm going with Terrace Marshall because a wide receiver usually wins this thing. I know Amon-Ra St. Brown will be the favorite, at least at his position, but a lot depends on who is throwing the ball to him. Marshall will have a dominant performance. Either one of these guys can dominate anyone and it will probably come down to who is the most consistent through the morning and into the 7-on-7 tournament in the evening.
ADAM FRIEDMAN (Mid-Atlantic): WR Amon-Ra St. Brown
Overall MVP awards are usually handed out to offensive playmakers because all eyes shift to them once they have the ball in their hands. With that in mind, I'll choose Amon-Ra St. Brown because he does a great job gaining separation from defensive backs and has very sure hands. Quarterbacks will love throwing him the ball because he will give them big windows and he can make tough catches look easy. St. Brown's level of productivity should be enough for him to earn the overall MVP.
ADAM GORNEY (National/West Coast): WR Amon-Ra St. Brown
I keep going back to the Amon-Ra St. Brown well, but I feel really confident that he's going to dominate as he has at every single event since last summer. The five-star and top-rated receiver has a lot of expectations on him, but I've never seen him perform poorly. Ever. Not in games, not in camps, not in 7-on-7. He's highly competitive, a phenomenal route runner and tremendous in one-on-one situations. I'm going with St. Brown but I also have a lot of respect for WR Devonta Jason as well, so that's my backup pick.
JOSH HELMHOLDT (Midwest): WR Amon-Ra St. Brown
There are some strong candidates this year, but after seeing Amon-Ra St. Brown at the Rivals 3 Stripe Camp in L.A., I know he is as strong of a candidate as any. Two characteristics accompany wide receivers who excel in these events and that is the ability to create separation and the knack for making the big play. St. Brown will create the separation through his quickness and route-running, even against this level of defensive back talent. The playmaking ability, I expect, will also show up.
NICK KRUEGER (Texas): RB James Cook
The smart money would be on Amon-Ra St. Brown as an inside-out slot receiver, but James Cook could also potentially take over the camp as well. Both are the type of players that we see consistently succeed at camps like this. Players that line up in the slot and accelerate to space quickly are always the ones that steal the show. Of course, a quarterback has to throw them the ball, and Trevor Lawrence probably has the best combination of experience and natural talent among the group coming to the event.
CHAD SIMMONS (Southeast): QB Justin Fields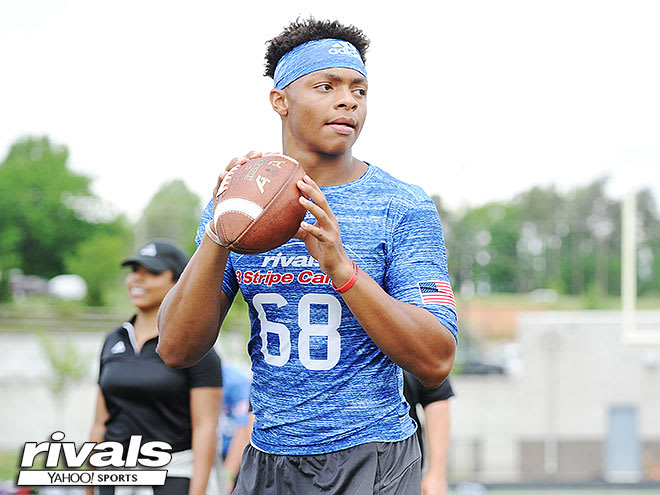 Justin Fields is my pick for MVP. I have seen him throw numerous times this spring at different events and he has been impressive. He is a leader, he can make all of the throws and he will compete as hard as anyone. He is a quarterback, so the ball will be in his hands often and I expect him to impress.
WOODY WOMMACK (Southeast): QB Trevor Lawrence
It's hard to go with anyone but the nation's No. 1 overall player, Trevor Lawrence. The Clemson quarterback commit loves to compete and unlike most traditional camp events, the team aspect will give him a chance to show his leadership skills. He will have a good weekend and show why he's the nation's top player.