Three-Point Stance: Ranking new QBs, top OL classes and more
1. How the new QB starters in the Power Five stack up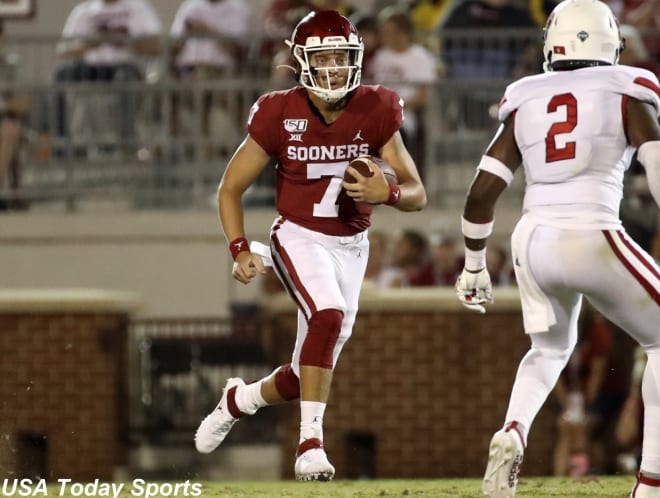 1. D'Eriq King, Miami — King ahead of Spencer Rattler? Only because of what King showed a few seasons ago at Houston, when he threw for nearly 3,000 yards and rushed for nearly 700 while accounting for 50 touchdowns.
2. Spencer Rattler, Oklahoma — Rattler will have some great weapons and should follow in the footsteps of the Heisman winners at OU, but he'll need a year to find his rhythm.
3. KJ Costello, Mississippi State — Costello was solid at Stanford, and he has all the tools to be great in a Mike Leach offense.
4. JT Daniels, Georgia — Daniels has the ability as a former five-star who flashed his potential at USC, and his surrounding cast should be good.
5. Chase Brice, Duke — Brice is a leader and a true team player and he will develop very well under David Cutcliffe.
6. Feleipe Franks, Arkansas — The schedule is rough, but Franks has the live arm and ability to extend the play as we saw at Florida.
7. Myles Brennan, LSU — Brennan is a question mark, but you can't question his targets and the skill around him, even with Ja'Marr Chase opting out.
8. Phil Jurkovec, Boston College — Jurkovec hasn't shown a lot of that high school potential yet in college, so BC is a fresh start for him and the offense should suit him.
9. Jarret Doege, West Virginia — The Bowling Green transfer beat out Austin Kendall in what is considered a surprise by some. But Doege showed some serious potential in the MAC.
10. Brennan Armstrong, Virginia — Replacing Bryce Perkins will be tough but Armstrong is a guy the Cavs are excited about and he can move.
11. Shawn Robinson, others at Missouri — Eli Drinkwitz hasn't named a starter and Robinson has the most experience, but the schedule is brutal and we could see many QBs under center this season.
12. Thomas MacVittie/Miles Kendrick, Kansas — This is still apparently a battle that is raging, and experience is limited.
13. Matthew Downing, TCU — The TCU quarterback situation is a bit of a nightmare, but maybe Downing will surprise.
14. Ken Seals, others at Vanderbilt — This is apparently a four-player battle, but Seals has the most upside.
15. Jeff Sims, Georgia Tech — If he's the starter - as rumored - there will be some serious bumps along the way.
*****
2. Top 10 OL classes since 2017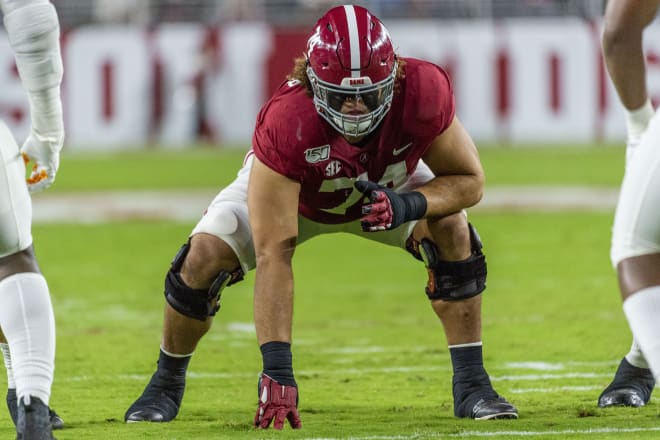 With the commitment of Kingsley Suamataia, the Oregon Ducks have one of the best offensive line classes in 2021. But does it stack up against the best in the last few years? Here's my top 10 since 2017 (on paper only).
1. Alabama 2017 — Alabama had three different five-stars along the offensive line in 2017, led by Jedrick Wills and Alex Leatherwood, with JUCO Elliot Baker also in the mix. Four-star Kendall Randolph was almost overlooked.
2. Georgia 2020 — Five-stars Broderick Jones and Tate Ratledge are an amazing 1-2 combo here, with Sedrick Van Pran and Chad Lindberg providing depth.
3. Georgia 2018 — Cade Mays and Jamaree Salyer headlined an impressive OL grab by Kirby Smart, with Trey Hill and others there as well.
4. Georgia 2017 — This was a huge class, led by five-star Isaiah Wilson and high four-stars Andrew Thomas and Netori Johnson.
5. Alabama 2021 — Tommy Brockermeyer headlines this class, with JC Latham and Terrence Ferguson as high four-stars and James Brockermeyer rounding out the class. It's the best in the country, and I don't think it's that close.
6. Clemson 2020 — Finally, someone other than Alabama and Georgia, right? This class doesn't have a five-star, but Walker Parks was close, and it has five offensive linemen rated as four-stars.
7. Stanford 2017 — I can't leave Stanford off this list, even though the Cardinal took only three linemen in 2017. It just happens two of them were five-stars in Walker Little and Foster Sarell.
8. Tennessee 2019 — Darnell Wright was a five-star and Wanya Morris just missed out on keeping his fifth star. The Vols also added Chris Akporoghene, who was also a four-star.
9. Oregon 2021 — Suamataia is a huge get and he gives Oregon four different four-stars in this class along the OL.
10. Notre Dame 2019 — This may seem odd because John Olmstead is already transferring, but this was a big-time class on paper. Led by Quinn Carroll, this was a class of four different four-stars.
*****
3. Dynamic defensive line duos 
Finally, imagine DE Korey Foreman and DT Maason Smith playing together. It's a scary thought, but it could happen as both are high on Georgia and LSU. But would they be the best DE-DT combination to commit to the same school in the same recruiting cycle? Here are seven amazing combos at these positions (Foreman and Smith would be third on this list if they remain ranked No. 1 and No. 5, respectively, and go to the same school.)
1. Ronald Powell and Sharrif Floyd, Florida, 2010 — It's hard to beat this combo. If Powell had stayed healthy, they would have both been first-rounders.
2. Bryan Bresee and Myles Murphy, Clemson, 2020 — Time will tell how they pan out, but the No. 1 and No. 5 player overall is a nice combo.
3. Marvin Wilson and Josh Kaindoh, Florida State, 2017 — This is the year we get to see both dominate, hopefully, as Kaindoh has fought injuries.
4. Mario Edwards and Eddie Goldman, Florida State, 2012 — OK, this is cheating a bit as both were listed as DTs, but Edwards was really a DE and played that position in college.
5. Carlos Dunlap and Torrey Davis, Florida, 2007 — Davis didn't pan out, but Dunlap had a very good career and this was a huge recruiting win back in the day.
6. Khalil McKenzie and Kyle Phillips, Tennessee, 2015 — Neither lived up to the hype, but it was a great DT-DE combo on paper. Injuries and other things didn't help.
7. Derrick Brown and Marlon Davidson, Auburn, 2016 — Out of all of these duos, Brown and Davidson could be the best in the NFL.