Three-Point Stance: Five-star QB decommits, USC QB recruiting
Rivals.com National Recruiting Director Mike Farrell's thought-provoking Three-Point Stance is here as he breaks down the two recently decommitted five-star quarterbacks, backup plans for USC at quarterback and mid-June surprise teams.
MORE: Farrell's Twitter Tuesday | Five-star WR producing states
1. BREAKING DOWN FIELDS AND CORRAL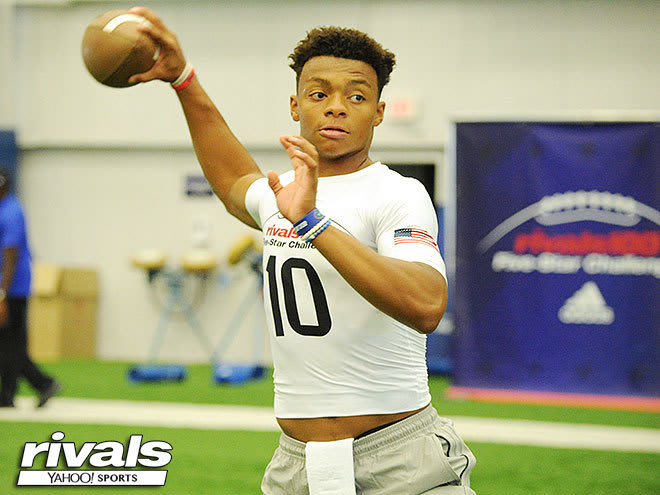 It's late June and there are two recently decommitted five-star quarterback prospects available, which is not exactly a common occurrence in Rivals.com history. So the questions surrounding where Justin Fields and Matt Corral will end up are endless and the intrigue is great, especially since both are looking at some of the same schools. While no one knows where either will commit, here's my best effort at a breakdown.
The players for Fields include home-state school Georgia, Florida, Florida State, Auburn, Penn State (where he was committed before) and USC, to my knowledge. Assuming Penn State won't happen, as re-commitments are highly unlikely in the recruiting world, many feel this will come down to Georgia, Florida and Florida State.
Fields took recent visits to Georgia, Auburn and Florida State and is coming off a two-day visit to Florida. He has obviously seen Penn State and also took a visit to USC a few weeks back according to sources.
Now, this is where things get interesting. Some sources tell me he's a silent commitment to Georgia and has already told Kirby Smart he's coming. Others feel that Florida State has taken the lead after Fields recently visited with Jimbo Fisher at camp, and still others think the Gators have the edge because he's been there at least three times now and the opportunity to play right away is obvious. And still others think a return trip to Los Angeles, where he has some family, is in the works before a final decision is made.
Where do I think he'll end up? No clue. This is one of those situations where only those very close to Fields know what is going on and everyone seems to be hearing what they want to hear. My best guess is still Florida, but I seem to be in the minority there.
After Corral's decommitment from USC, the Trojans are in the mix for other quarterbacks (see below), and Corral has been linked to Georgia (where he visited), Florida and Alabama - and keep an eye out for Nebraska. Georgia could be a real player, here, but obviously the in-state five-star Fields is a higher priority according to sources, while Florida is also all-in on Fields and Alabama is hoping Corral will come and throw for them, as is customary, before taking any commitment.
Nebraska is the interesting one here, as Corral would be a huge get for the Calibraska movement. Nebraska has the kind of atmosphere on a visit, whether it's during the season or even during the summer, where it's not out of the question to see Corral commit. Other schools could be involved, but these are the ones I've heard the most about.


2. WHERE DOES USC TURN AT QUARTERBACK?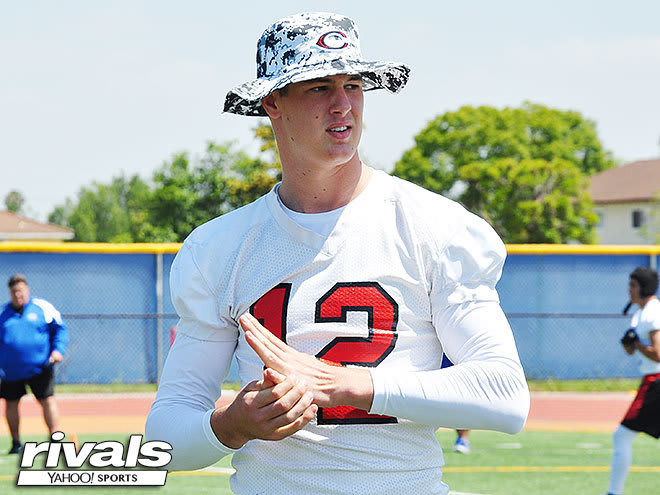 So with USC and Corral parting ways, who will the Trojans target?
It's a fairly short list from what I know, led by Fields, who is a longshot, followed by Utah commitment Jack Tuttle, North Carolina commitment Tyler Shough, uncommitted signal-caller Tanner McKee and UCLA pledge Dorian Thompson-Robinson. Tuttle seems solid to Utah, although the same could have been said for Jack Sears last year, who eventually flipped from Duke to USC, while Shough just committed to UNC, so it's hard to gauge his immediate interest. Thompson-Robinson seems set on UCLA, but time will tell how the season goes for the Bruins.
The most interesting could be McKee, who is expected to take an LDS mission after high school, but that could be two years or one year. If it's one year and he's interested in USC, it could be the right fit. With Sam Darnold expected to be a high pick in the NFL Draft after this season, USC would like to get a quarterback this cycle but apparently won't reach on one if it's not the right fit.

3. SURPRISE RECRUITING TEAMS
It's mid-June in recruiting, so who cares about recruiting rankings, right?
I do because it's my job, and it's always interesting to see which teams are surprising at what many think is the midpoint of the cycle. Here are five teams I didn't expect to see so high in our team rankings at this stage…
Oklahoma State – While much of the attention in the Big 12 has been paid to Texas and Oklahoma with new coaches, Oklahoma State is putting together a very nice class led by wide receiver C.J. Moore and potential future stars Spencer Sanders and Jonathan Shepherd. Each brings serious offensive talent to the program.
Baylor – The best job in recruiting last year was done by Matt Rhule at Baylor, hands down, and he continues to kill it despite all the awfulness surrounding the program. Running backs Stanley Hackett and Joshua Fleeks are a great one-two combo, and defensive end Joshua Landry has excellent upside.
Kansas – I've mentioned Kansas many times before, and they continue to surprise. Not only do they have headliners Devonta Jason and Corione Harris, but players like Tevailance Hunt and Miles Emery, among others, have serious talent.
Minnesota – P.J Fleck hasn't landed his first four-star yet, but the class is loaded with talented three- stars including defensive tackle Elijah Teague and defensive backs Tyrik Henerson and home grown Benjamin Sapp.
Northwestern – Defensive end Devin O'Rourke is the headliner, but keep an eye out for quarterback Jason Whittaker and rangy safety Greg Newsome as well.