Three-Point Stance: Breaking down top Combine performers
1. FORMER UNRANKED AND TWO-STARS THAT IMPRESSED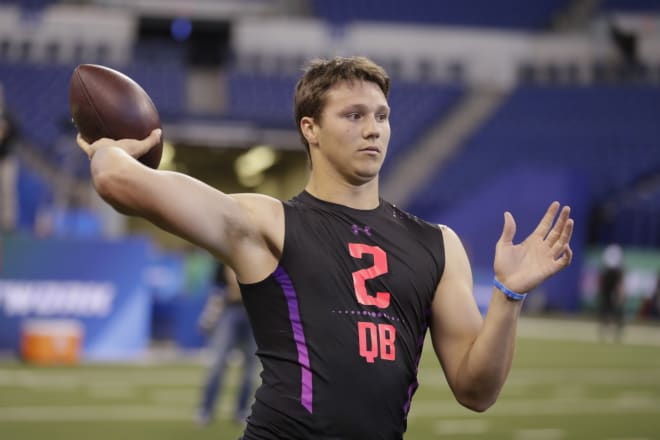 Let's start with the former unranked and two-star prospects, shall we? Here are a few guys that weren't ranked very highly out of high school that had good combines.
Note: These aren't all of the former unranked or two-star prospects, just the ones that stood out to me.
OL Will Hernandez, UTEP – His power numbers were excellent and he's proven himself to be a second- or third-rounder.
QB Josh Allen, Wyoming – The top quarterback in the draft? He could be now.
DE Marcus Davenport, UTSA – He moved closer to Bradley Chubb and should go in the top 10 easily now.
LB Leighton Vander Esch, Boise State – First-rounder? Could be. The Brian Urlacher comparisons are a bit much, but this kid is a stud.
LB Leon Jacobs, Wisconsin – Very good times for a 'tweener people are starting to notice.
DB Parry Nickerson, Tulane – Tied for the fastest 40 time so now scouts are watching his film again.
OL Austin Corbett, Nevada – Moved into the second round? Probably high in the second round.
LB Genard Avery, Memphis – Good testing numbers have him moving up.
2. FORMER THREE-STARS STAND OUT
As expected the three stars have the most representation. Here are the NFL Draft hopefuls from that group that impressed me the most.
WR DJ Chark, LSU – An amazing combine has him possibly a first-rounder.
OL Brian O'Neill, Pitt – Best 40 time of the offensive linemen will make some notice.
OL Desmond Harrison, Texas – Just behind O'Neil in 40 time has boosted his stock.
DB Troy Apke, Penn State – He stunned Deion Sanders with his 4.35 40-yard dash.
QB Baker Mayfield, Oklahoma – He was a three-star, that's correct. And a former walk-on.
LB Shaquem Griffin, UCF – The former three-star has now moved into the middle of the draft.
DE Bradley Chubb, NC State – No. 3 to the Colts, everyone is marking it down.
DT BJ Hill, NC State – No longer just Chubb's teammate. His on-field work was excellent.
WR Byron Pringle, Kansas State – A solid 40 time and testing numbers have him in that third round range.
LB Oren Burks, Vanderbilt – Showed how athletic he can be.
WR Marquez Valdes- Scantling, USF – Former NC State player now hot out of USF because of his 40 time.
WR Keke Couteee, Texas Tech – He's not that big but he's fast and can separate.
OL James Daniels, Iowa – Emerged as one of the best interior linemen in the draft.
WR Jester Weah, Pitt – Very good size and very good numbers.
TE Jordan Thomas, Mississippi State – Huge kid with massive hands.
DT Taven Bryan, Florida – Put up really good numbers as many, aside from me, expected.
DB Avonte Maddox, Pitt – 40 time will make teams take another look.
DB Dane Cruikshank, Arizona – Big kid who ran really well.
DT Vita Vea, Washington – Didn't work out but his bench and 40 numbers were outstanding.
DB Denzel Ward, Ohio State – One of best times around was all he needed.
DT Harrison Phillips, Stanford – Great motor and power numbers.
DT Deadrin Senat, USF – Power numbers will help him.
3. FORMER FOUR- AND FIVE-STARS SHINE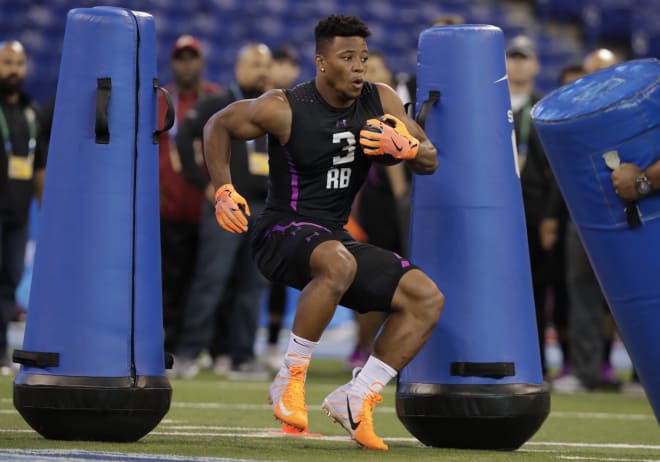 Here are the former four- and five-star prospects that stood out to me in Indianapolis.
RB Saquon Barkley, Penn State – Killed the combine and could be the No. 1 overall pick.
RB Nyheim Hines, NC State – His very good 40 time has scouts looking at him as a change-of-pace middle rounder.
DB Donte Jackson, LSU – Killed the combine with his 40 time and skills.
OL Connor Williams, Texas – Good explosion numbers helped his already high stock.
DE Jalyn Holmes, Ohio State – Great 40 time for his size will have scouts enamored.
OL Kolton Miller, UCLA – Tall kid who tested well. He is still a project but helped himself in Indianapolis.
DE Kylie Fitts, Utah – Fitts looked the part and tested well.
LB Roquan Smith, Georgia – Could he be the No. 2 linebacker behind Tremaine Edmunds or No. 1.
OL Wyatt Teller, Virginia Tech – Had a good showing and helped his stock a bit.
OL Braden Smith, Auburn – Showed off that athleticism we saw in high school.
DE Harold Landry, Boston College – Times were good and showed that ability to flatten.
WR DJ Moore, Maryland – Athletic kid that moved up in the wide receiver ranks.
WR Equanimeous St. Brown, Notre Dame – Big body is intriguing to scouts and he tested pretty well.
LB Tremaine Edmunds, Virginia Tech – Freak of the draft? Maybe even more so than Barkley.
DE Lorenzo Carter, Georgia – Good 40-yard dash time helps him as a hybrid guy.
WR Antonio Callaway, Florida – Off-field stuff aside, he's super explosive.
WR Robert Foster, Alabama – Sub-par career helped by good 40 time.
RB Nick Chubb, Georgia – Great to see his 40 time after that injury a few years ago.
TE Mike Gesicki, Penn State – Most athletic tight end in the draft and could be a first-rounder now.
TE Mark Andrews, Oklahoma – Still my No. 1 tight end and he helped himself with his numbers and on-field work.
RB Sony Michel, Georgia – The steal of the draft if he falls late second or third round?
RB Derrius Guice, LSU – Loved to see his sub 4.5-second 40-yard time.
WR Deon Cain, Clemson – His 40 time was good but there are still questions.
WR Christian Kirk, Texas A&M – Tested exactly where scouts expected, so that means solid second rounder.
WR Calvin Ridley, Alabama – Killed it and is easily the No. 1 wide receiver and top 15 pick.
DE Josh Sweat, Florida State – Had a great combine and could move into round two now.
LB Matthew Thomas, Florida State – Showed effortless motion and really helped solidify mid-round status.
RB Bo Scarbrough, Alabama – Put up power numbers and ran well.
DE Rasheem Green, USC – 'Tweener or sorts still did very well in many areas.
DT Da'Ron Payne, Alabama – No. 2 defensive tackle behind Vea, most likely.
S Derwin James, Florida State – He's a freak and he showed it. James should be top 20 pick.
OL Quenton Nelson, Notre Dame – Nelson is the best OL in the draft and his performance in Indianapolis didn't make anyone think differently.
QB Josh Rosen, UCLA – Some think he struggled, others loved what they saw. I saw a top six pick.
DB Minkah Fitzpatrick, Alabama – He can play six positions or so and tested very well. He'll be a top 10 pick.