NFL Combine: Ten offensive players who improved their stock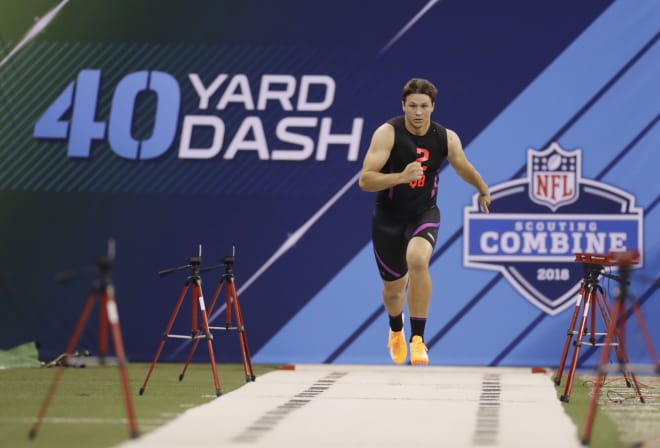 QB JOSH ALLEN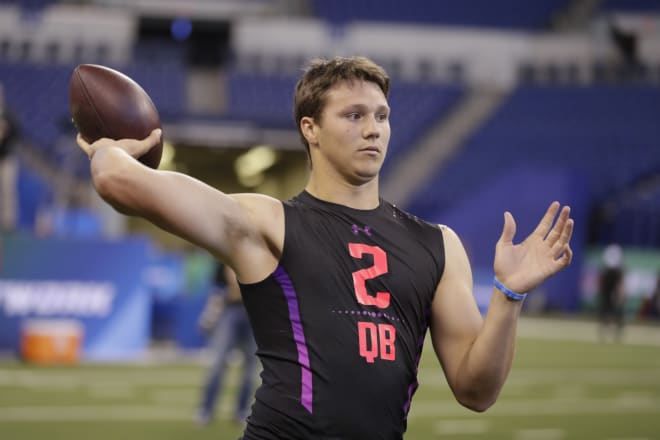 Recruiting: Allen put up big numbers during his time at Reedley (Calif.) C.C., and it helped land him offers from Wyoming and Eastern Michigan. He announced his commitment to the Cowboys a week before Christmas 2014. Indiana was showing interest.
Combine buzz: Competing against Josh Rosen, Baker Mayfield and Lamar Jackson, Allen showed off tremendous physical ability, a huge arm and the arm talent many NFL executives are excited about. One 60-yard pass on the money at the combine was a big standout. Allen showed in Indianapolis he could be the top QB taken in the NFL Draft.
Farrell's take: I'm still not sold on Allen, but I will admit I was impressed. He's huge, his delivery is compact and quick and his arm is a rocket. However, it's easy to look great without a pass rush or a defense coming at you, and his film against FBS teams is not great. Out of high school, there was nothing remarkable about Allen, aside from his height. He attended a high school of around 600 students and never really got any looks despite putting up solid numbers, as there were questions about his ability to handle the rush at the next level. His JUCO year did wonders for him, but still most chose to ignore him, including Rivals.com, as we had him as a two-star.
RB NYHEIM HINES 
Recruiting: Hines committed to NC State in December of his senior season after finishing with 6,242 rushing yards, 7,299 total yards and 126 touchdowns, all school records. The Wolfpack were considered the longtime leader, but Wake Forest, Virginia Tech, West Virginia, North Carolina and others were involved.
Combine buzz: Hines ran the fastest 40-yard dash among running backs at 4.38 seconds, which could pique the interest of many NFL teams. It's not expected the NC State running back will shoot to the top of draft boards, but there's no doubt he's going to move up ahead of others who weren't as impressive in Indianapolis.
Farrell's take: After a solid career at NC State and showing off his speed in the ACC, his time is not a huge surprise, but it certainly helps his stock. He was a prolific stat-stuffer out of high school who lacked size but still cracked our Rivals100 despite his 5-foot-8 stature. He can be an excellent change-of-pace back and receiver in the NFL and might have pushed into Round 3 or so.

RB SONY MICHEL  
Recruiting: Georgia beat out Miami and Notre Dame for Michel's commitment in the spring before his senior season. Florida, Florida State and many others were also involved.
Combine buzz: Twenty-two bench press reps were especially impressive for Michel, who is starting to draw some Alvin Kamara comparisons, and Michel also ran 4.54 seconds in the 40. The Georgia running back could move to second or third on boards behind Saquon Barkley, for sure, and possibly Derrius Guice.
Farrell's take: The former five-star did very well at the combine and flashed many of the skills we saw out of high school. Many think he could be this year's Kamara, a guy who slips out of the first round and becomes a steal in Round 2 or 3. Michel was a star as an eighth-grader and was a clear five-star for us because he had size, speed, he could catch the ball and he was a willing blocker. Someone will be getting a well-rounded player.

RB DERRIUS GUICE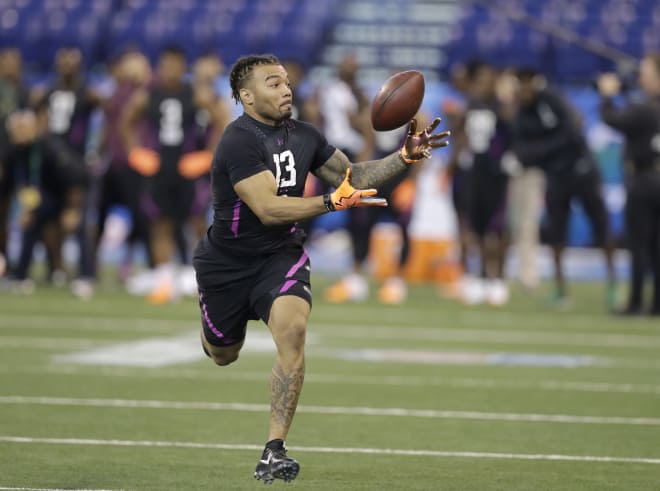 Recruiting: Guice committed to LSU in the spring prior to his senior season as the Tigers were always considered the favorite. Alabama, Texas and others were also involved.
Combine buzz: Battling to be the second running back taken after Barkley, Guice turned in a strong combine performance, even if his bench press reps were surprisingly low. With his size, power and athleticism, Guice could be taken in the first round.
Farrell's Take: I was surprised when Guice ran a sub 4.5-second 40-yard dash, and I was pleasantly surprised because I like him a lot as a player. He runs hard, very hard, reminding me of Eddie Lacy when I saw him out of high school. Has he moved into Round 1 now? Time will tell.

WR D.J. CHARK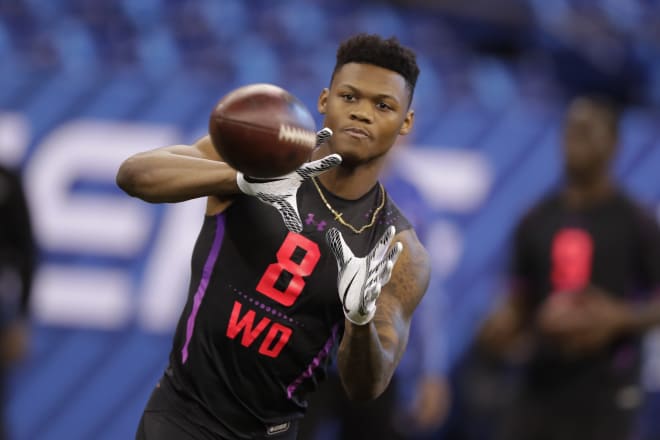 Recruiting: In the summer before his senior season, Chark committed to LSU while on a visit to Baton Rouge. Texas A&M was also getting more involved. Memphis, Oklahoma State, Southern Miss and some other local schools had offered.
Combine buzz: Because of his outstanding 40-yard dash time (4.34 seconds) and his 40-inch vertical (tops at the receiver position in both categories), Chark could quickly become one of the top receivers taken off the board. One concern is his route-running ability, but his testing numbers will intrigue a lot of teams.
Farrell's take: Chark killed the combine and raised his stock, perhaps moving to the No. 2 receiver spot behind Calvin Ridley. Chark was a high three-star who had to earn his offer from LSU at camp. He was tall enough, but he needed to fill out and get stronger and add a little more speed for college. However, he had a great frame to build on and showed solid hands in the rare opportunities we had to scout him. He turns the corner very well and his last two seasons in a weak passing offense have scouts very enamored. He now might be a Round 1 option.
WR D.J. MOORE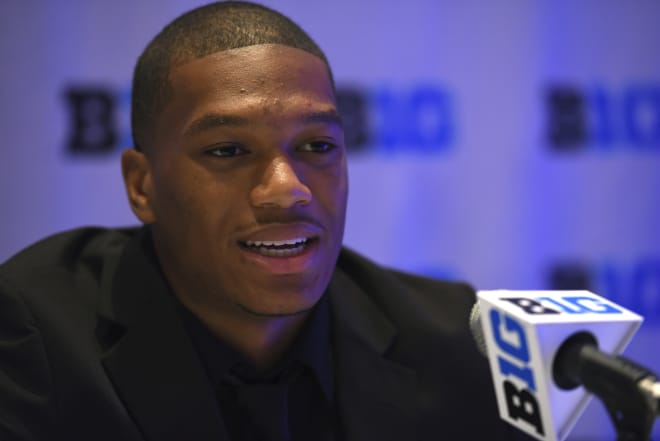 Recruiting: In the summer before his senior season, and shortly after a visit to Maryland, Moore committed to the Terrapins over Indiana, Illinois, Pitt, Rutgers, Virginia and others.
Combine buzz: Moore blazed in the 40-yard dash at 4.42 seconds, which proved to NFL teams that he can stretch the field and be a dynamic pass-catcher. In a draft class that is not filled with high-end talent, Moore could move up the list pretty quickly.
Farrell's take: Moore quietly had a very good combine and has slid ahead of a few other receivers in the draft. We liked him out of high school as a four-star, but he didn't have great size and wasn't very strong, so he didn't crack our Rivals250. I remember he dominated at a few events and showed great hands and his film was solid, but he has clearly taken his game to the next level.
TE MIKE GESICKI 
Recruiting: Gesicki took official visits to both Penn State and Ohio State, and he decided to pick the Nittany Lions. Duke and many others were also involved in his recruitment.
Combine buzz: The tight end class is not loaded, so with Gesicki's testing numbers he could move to No. 1 on many boards at his position. He's not a good blocker, but as an athletic pass-catching target Gesicki could be tops at tight end.
Farrell's take: Not a huge surprise here, as we knew Gesicki was an athletic freak. In fact, we underestimated his athleticism coming out of high school a bit, although we did have him as a four-star. He started off in our database as a wide receiver and he played a lot from the flex position and even outside. The NFL loves tight ends that can stretch the field and he can do that as well as anyone.

TE MARK ANDREWS 
Recruiting: Andrews committed to Oklahoma during a trip to Norman in the summer before his senior season. A bunch of Pac-12 schools, along with Alabama, Ohio State and others were involved.
Combine buzz: Based solely on combine numbers, Gesicki has the edge over Andrews, but the Oklahoma tight end is a phenomenal pass-catcher who put up big numbers for the Sooners. He's right there to be taken as the No. 1 tight end.
Farrell's take: Still my No. 1 tight end, despite Gesicki's numbers, Andrews helped himself quite a bit. He is a massive target and showed more athleticism and better footwork this past season. A tight end with size but wide receiver skills, Andrews was always right up there when it comes to athleticism at the position and he took his game to the next level this year. He slid in the final high school rankings because he was a bit underwhelming during U.S. Army Bowl week and didn't use his size properly, but he has clearly learned to do that as he transitioned from wide receiver to tight end in college.

OL WILL HERNANDEZ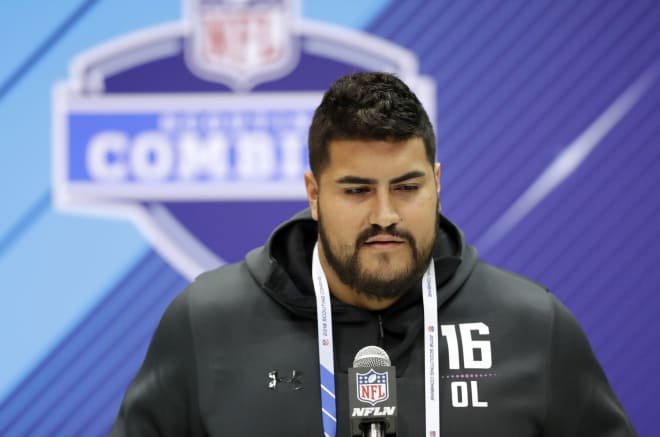 Recruiting: Shortly before National Signing Day, Hernandez committed to UTEP. The Miners were the only school to offer him.
Combine buzz: Not only is Hernandez a tough, hard-nosed interior lineman, but he proved to have phenomenal strength by pumping out 37 reps on the bench press, more than any other offensive lineman.
Farrell's take: Hernandez wasn't even in our database and wasn't on our radar at all. He showed off his power and sneaky athleticism at the combine and will be a Day 2 consideration now.
OL KOLTON MILLER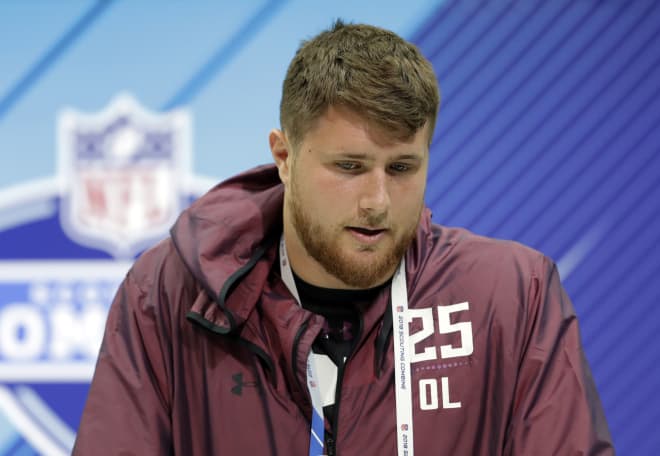 Recruiting: Miller committed to UCLA shortly before National Signing Day and shortly after a visit to Westwood. Oregon, Oregon State, Cal, Arizona and Arizona State were also involved.
Combine buzz: Miller is huge at 6-foot-9 and 309 pounds. That's intriguing enough. Then Miller set the combine record for the broad jump at 10 feet, 1 inch. There are some on-field things MIller needs to clean up, but he looked good at the combine.
Farrell's Take: He had a nice combine, but I'm not a huge fan of his film and think he's too erratic with his footwork. But at his size, scouts are intrigued and he could end up being a second- or third-rounder now after showing off solid athleticism for a massive lineman. Out of high school we had him as a four-star outside our Rivals250 because of his size and ceiling.