The Helmholdt Awards from Rivals 3 Stripe Camp Columbus
LOOKS LIKE TARZAN, PLAYS LIKE TARZAN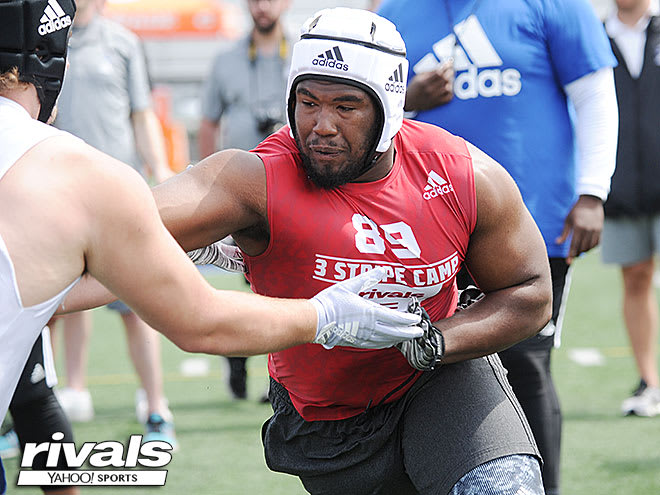 There's no "plays like Jane" here, though. Four-star defensive tackle Jowon Briggs is one of the most intimidating-looking prospects in the 2019 class. A real-life Incredible Hulk. He's also a walking contradiction, throwing around 300-pound-plus offensive linemen one day, singing in his school choir the next. A true renaissance man, Briggs will be heading to his second straight Rivals100 Five-Star Challenge after Sunday's MVP performance.
Honorable Mention: Four-star Kentucky safety commit Moses Douglass measured a really solid-looking 6-foot-1 and 204 pounds, and is the reason wide receivers get scared to go over the middle.
LIGHTNING IN A BOTTLE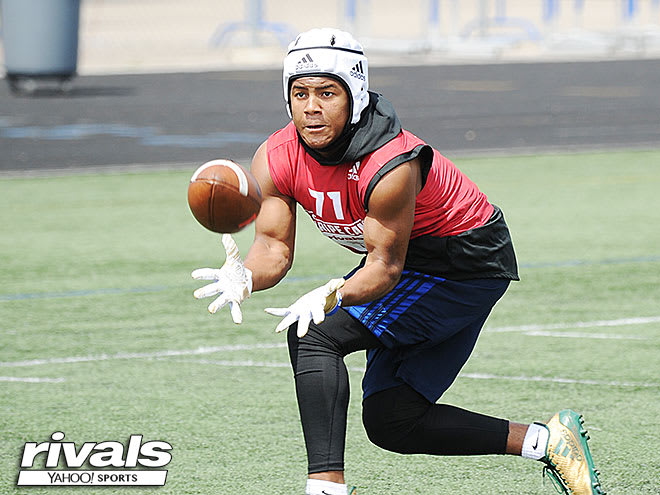 It was a close battle between the wide receiver and defensive back position groups on Sunday, but eventual wide receiver MVP Wandale Robinson frustrated the defensive backs he ran against from the beginning to the end of the session. A compactly-built 5-foot-9 and 180 pounds, Robinson is ideally-suited for the slot receiver role. He is explosive off the line, and pops in and out of his breaks in a flash.
Honorable mention: Walled Lake (Mich.) Western 2020 wide receiver Abdur-Rahmaan Yaseen is a bigger receiver at 6-foot-1 and 184 pounds, but he has that same explosive ability to pop in and out of his breaks.
FUTURE PHENOM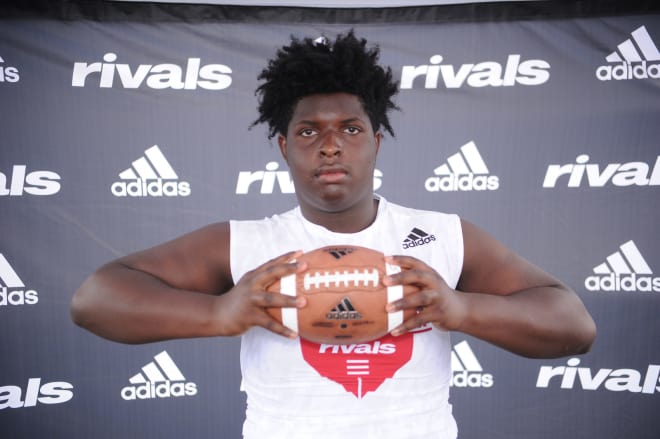 Detroit Cass Tech is a Division I factory, and Sunday's Rivals 3 Stripe Camp confirmed it is stocked for many more years to come. One of the most impressive Technicians was class of 2021 offensive center Raheem Anderson. Measuring 6-foot-2.5 and 308 pounds, Anderson is well ahead of the curve from both a strength and fundamentals standpoint, and it's no surprise the freshman already holds Iowa State and Michigan offers.
Honorable mention: South Charleston, W.Va., class of 2021 defensive end Zequi Lawton earned his way in at Saturday's combine, then more than held his own at Sunday's camp.
RISING STAR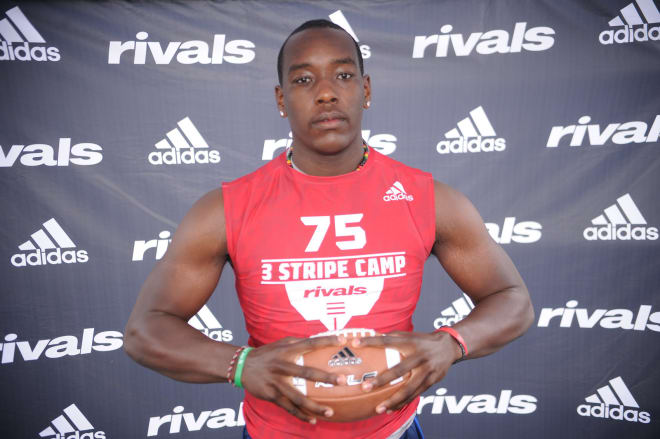 It looked like Canton, Mich., three-star defensive end Darius Robinson had gained 25 pounds from when we last saw him in February, and his play took a big step up as well. Now 6-foot-5 and 254 pounds, Robinson was much stronger at the point of attack, which was an issue for him just a couple months ago. He has not lost any of his explosiveness with the added weight, though.
Honorable mention: Parkersburg, W.Va., tight end Brenton Strange, the Gatorade Award winner, is about to see his recruitment take off. Rutgers offered last week. More will follow soon.
BALL HAWK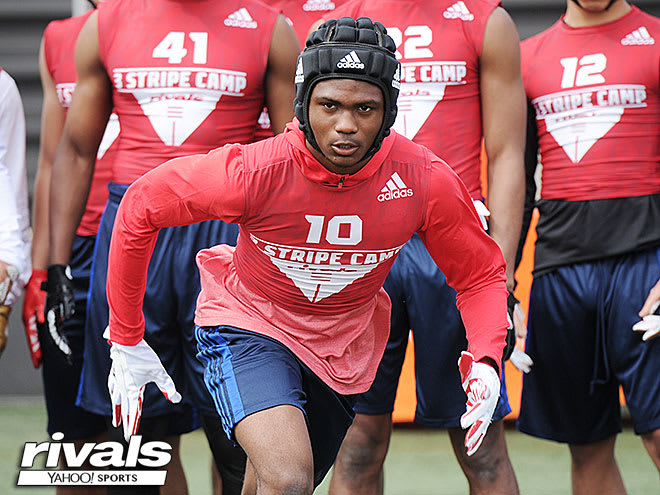 Marlin Devonshire came into the Rivals 3 Stripe Camp with a four-star rating and backed it up with his play. The Defensive Back MVP eventually separated himself from a deep group at his position by consistently batting down footballs because he was always in great position. He plays longer than his 5-foot-11, 171-pound frame suggests and is quick and fluid.
Honorable mention: Southfield (Mich.) A&T cornerback Nic Jones had multiple interceptions in one-on-one play and showed he may be a player to watch on the college camp scene this summer.
YOUNG GUN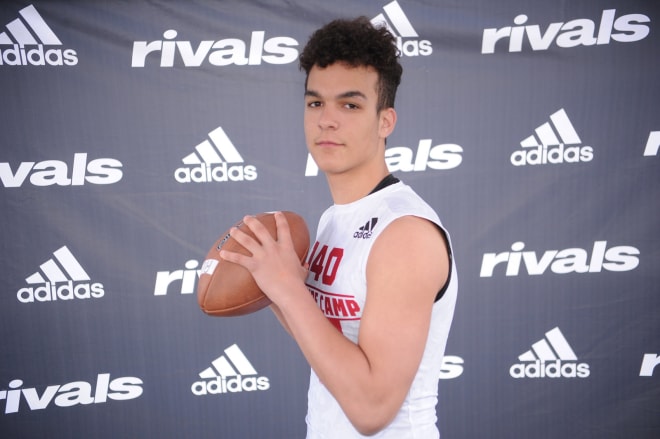 Centerville, Ohio, QB Chase Harrison is still just in the eighth grade, but you would not have known that by watching Sunday's action. The 6-foot-1, 180-pound passer was able to go throw-for-throw with the top arms at the camp. His older brother is now running the Flexbone offense at Navy, but Chase has the arm that should attract spread and pro-style offenses in the coming years.
Honorable mention: Westerville (Ohio) Central freshman Judah Holtzclaw has plenty of size and plenty of arm talent. It will be fun to watch his game grow in the coming years.
ROAD GRADER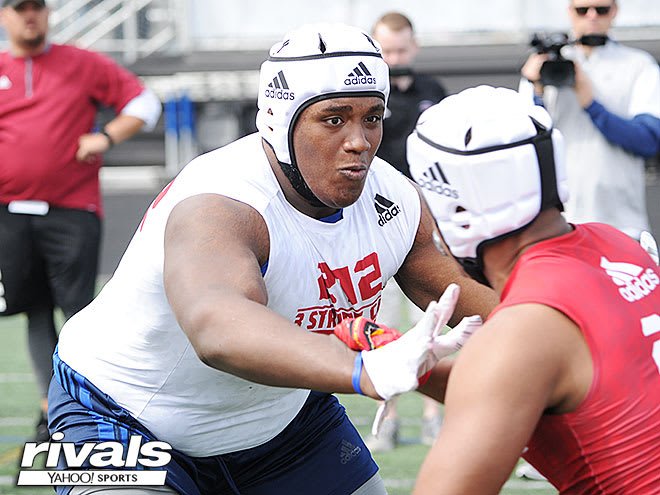 There was a really solid half dozen or so players at the top of the offensive line group, and three-star Jaquay Hubbard earned the MVP award by displaying a healthy level of aggression from the position. He pancaked the first defensive end who tried to cross his face. He is a big-bodied kid who can play tackle because of his feet, but it is his strength that sets him apart.
Honorable mention: Four-star 2020 offensive guard Justin Rogers anchors so well that even the biggest and nastiest defensive linemen had trouble moving him.
CANADIAN SENSATION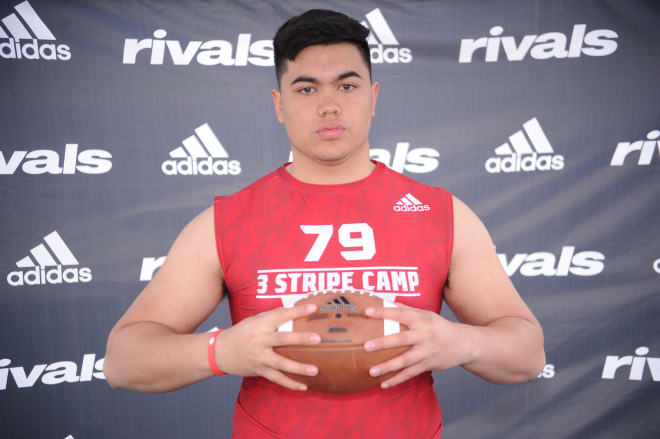 It was a small but talented group of prospects coming down from Ontario to take part in Sunday's event, but the Canadian who had the most impressive performance would not have been the one we predicted before the day started. Defensive tackle Kail Dava is an intriguing combination of size, strength and athleticism who won the vast majority of his reps and looked good doing it.
Honorable mention: This will go to a pair of prospects, as offensive tackle Liam Dick and cornerback Ayo Ajayi both had strong days.
HIGH FLYER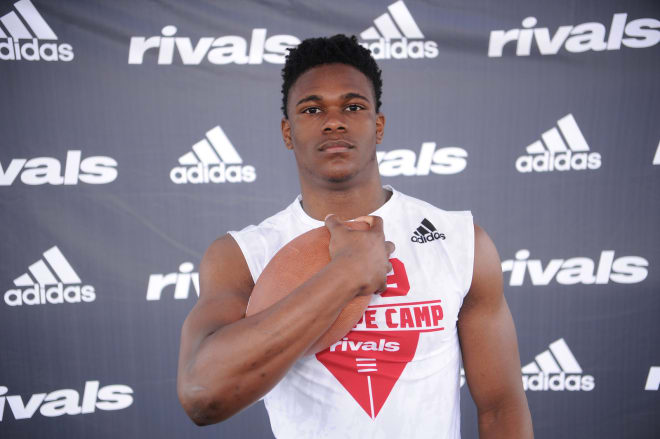 Combining a 6-foot-2.5, 204-pound frame with body control and an excellent pair of hands, Morgantown (W.Va.) University athlete Amir Richardson produced some of the best aerial acrobats and highlight-reel catches on Sunday. An impressive athlete, who some schools are recruiting for defense, Richardson was in the MVP discussion for wide receivers until the very end.
Honorable mention: The one-handed snag by Aliquippa, Pa., athlete Will Gipson almost won this award all by itself.
ANGER MANAGEMENT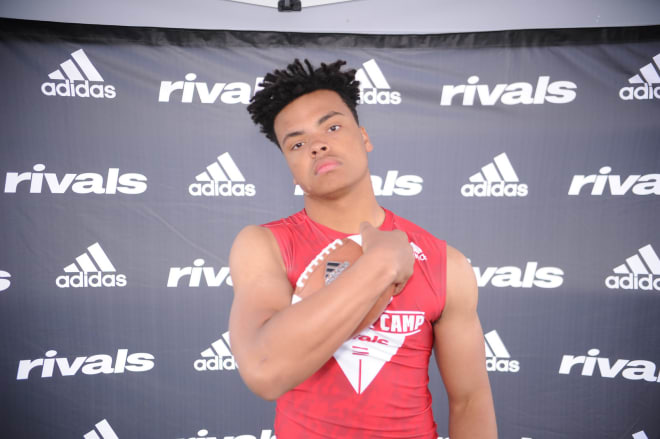 Cincinnati (Ohio) Wyoming defensive end James Smith was very gracious and appreciative when he received his invite to Sunday's camp out of Saturday's combine, but when the whistle blew a switch was flipped. Smith immediately turned into a raging cauldron of intensity and looked ready to rip the head off of opposing offensive linemen.
Honorable mention: Huntington, W.V. offensive guard Max Howell needed three people to hold him back after he took exception to an over-aggressive defensive tackle.