Michigan, Ohio State dominate list of Big Ten's top five-star signees
Mark Pszonak contributed to this report.
A conference's ability to lure top five-star prospects can often correlate not only to recruiting momentum, but also a rise in the level of recruitment for the league as a whole. The best positive example of this has to be the Big Ten in recent years. In our weeklong series, we take a look at the top five-stars signed by each Power Five conference since 2013.
Today we open with the impact of Urban Meyer, Jim Harbaugh and others in the Big Ten.
MORE: Is St. Brown the next superstar WR? | Recruiting notes from Powerade 7-on-7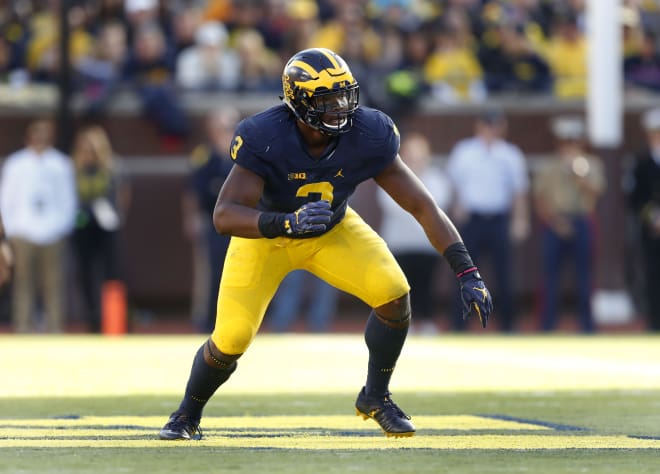 The Skinny: Gary took official visits to Michigan, Clemson, Auburn, Ole Miss and USC before committing to the Wolverines, which was seen as the favorite for several months. As a true freshman, Gary showed flashes of what made him the top-ranked recruit in the nation in 2016. And now, after an extremely impressive offseason, expectations are through the roof for him this fall.
Farrell's Take: Gary is the first No. 1 prospect to commit to Michigan in Rivals.com history, and he's a program-changing talent who has the physical abilities to be a potential No. 1 overall pick in the NFL Draft. This one was close down the stretch between Clemson and Michigan with Gary reportedly changing his mind often, but in the end Jim Harbaugh and Gary's former high school coach/current Wolverines assistant, Chris Partridge, won the day. Gary is the most athletic and versatile defensive tackle I have ever scouted, which is saying something.

The skinny: Peppers committed to Michigan over Penn State, Stanford and others in May of his junior year. Stanford was actually the early front-runner, but since the Wolverines were his childhood favorite, they were difficult to overcome. At Michigan, Peppers became one of the top all-around players in the country; he impressed on defense, offense and special teams. This led to his selection with the 25th overall pick in April's NFL Draft by Cleveland, where he still has not signed his rookie contract.
Farrell's Take: Peppers was a massive win for former Michigan head coach Brady Hoke in New Jersey. Peppers' versatility was evident even in high school, as I scouted him as a cornerback, safety and running back, and saw him show off exceptional ball skills on offense and the hitting ability of a linebacker on defense. Peppers was polarizing nationally as Michigan haters felt he was very overrated, but as a Heisman candidate and first-round pick, there is no doubt he was a home run recruit.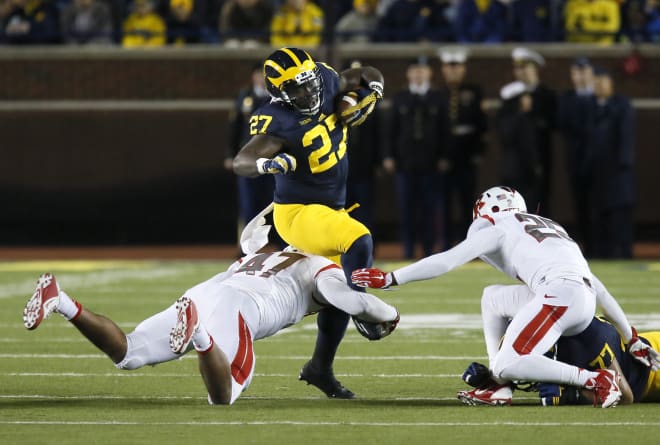 The skinny: Green took official visits to Michigan, Auburn and Tennessee before making his commitment to the Wolverines in late January. Green's college career never took off, however. He rushed for 898 yards and seven touchdowns during three seasons in Ann Arbor before transferring to TCU, where he rushed for 141 yards and two touchdowns during his one season. After going undrafted earlier this year, Green has yet to hook up with an NFL team as training camps quickly approach.
Farrell's Take: Ugh, this one stings. We, especially myself, bought into Green as the perfect fit in a power offense and a guy who could be a workhorse at the next level and beyond and wear down defenses. Early injuries and especially conditioning hurt his chances, and he never gained the confidence needed to be that go-to-guy. Speed was never his strength out of high school, and he reminded of Malcolm Brown, who signed with Texas and had a very average career in college. However, Brown's accomplishments dwarf those of Green, and hopefully this will be a lesson for us when it comes to big running backs who lack explosive speed.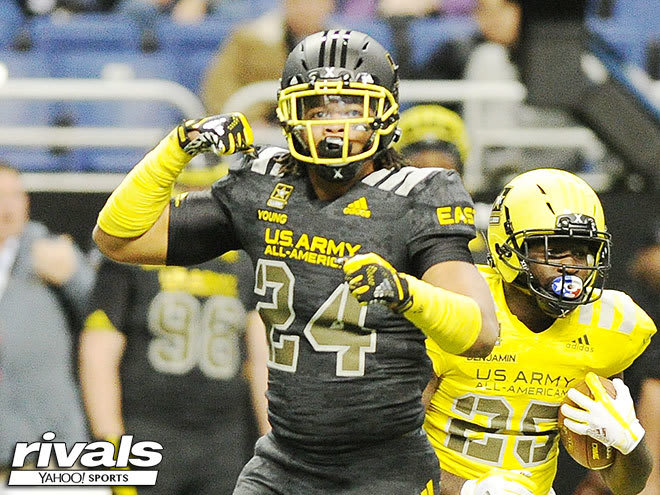 The skinny: Ohio State, Maryland and Alabama were the three favorites at the end, but with the family having a great relationship with Ohio State assistant Larry Johnson, Young committed to the Buckeyes in August. Young didn't arrive in Columbus until the summer, so he will have to work overtime to earn significant playing time in 2017. However, the future is extremely bright for the athletic defensive end.
Farrell's Take: Young is the first of many 2017 prospects on this list, which shows the emergence of the conference as a power when it comes to recruiting. The Maryland native's athleticism is off the charts and the sky is them limit when it comes to his potential. It's hard to imagine that Young will struggle with the success of defensive linemen at Ohio State and under Johnson overall.

The skinny: Browning took official visits to Ohio State, UCLA, Michigan, Alabama and Florida State during the fall before committing to the Buckeyes in late November. He was an early enrollee at Ohio State, but a shoulder injury during the spring slowed down his progress. Look for him to get plenty of time on special teams as a true freshman and likely back up Chris Worley at inside linebacker, but it likely won't be until 2018 that he truly gets his opportunity to shine.
Farrell's Take: Browning reminds me a bit of Curtis Grant, the No. 2 player in the 2011 class who essentially busted out at Ohio State, and that could be a good thing or a bad thing. The good part of that comparison is that Browning, like Grant, is a big, long and rangy linebacker who destroyed people in high school. The bad part? Grant began thinking too much in college and not reacting like he did in high school. Time will tell if Browning follows suit or emerges as the star we expect.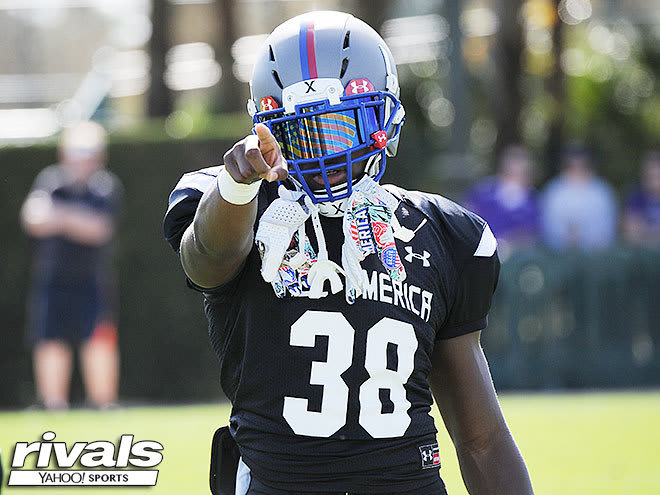 The skinny: Wade took official visits to Penn State, West Virginia and Tennessee, but it was the Nittany Lions staff's relentless pursuit of Wade that put them over the top. The in-state defensive back enrolled for the spring semester and impressed from day one. Early playing time was likely, but that became more of a guarantee when cornerback John Reid went down with a knee injury.
Farrell's Take: James Franklin's recruiting ability makes an appearance on this list with Wade, as the talented defensive back was kept in state despite being recruited by everyone. Wade may not be the tallest cornerback, but he's a dynamic athlete who could also contribute on offense and is always around the football. He's also a constant ball of energy similar to Jamal Adams, and he could play corner, safety or nickel when needed. His leadership will do wonders for Penn State's defense.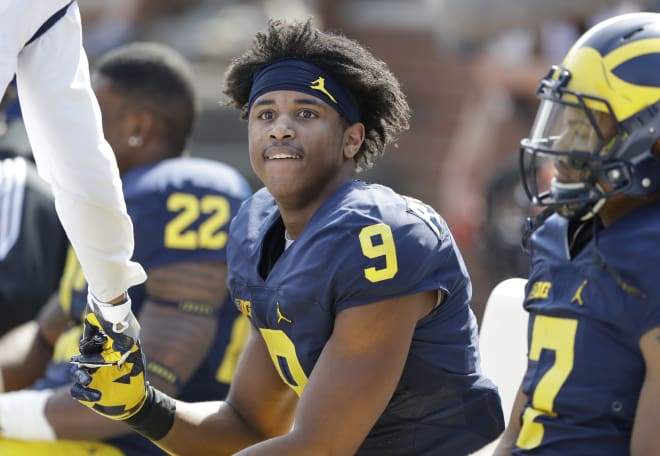 The skinny: Peoples-Jones took official visits to Michigan, Florida State, Nebraska, Florida and Ohio State during his senior season before committing to the Wolverines in mid-December. With Michigan's passing game lacking any game-breaking receivers last fall, look for Peoples-Jones to get thrust into the limelight very early during his collegiate career. This became even more clear due to his early enrollment and impressive spring despite injuries that slowed him down a bit.
Farrell's Take: Yet another 2017 prospect, Peoples-Jones has good size, sneaky speed and great hands. He should be a star from the start of his career. He's a downfield threat, much needed in the Michigan offense, and a matchup nightmare. The biggest question mark is about his health, as he's been banged up here and there over the last couple of years.

The skinny: Despite heavy pressure from several other top programs, Texas native Okudah signed with the Buckeyes. With a majority of the Ohio State secondary moving onto the NFL, there is plenty of opportunity for Okudah to make an early impact, especially since he has the ability to play both cornerback and safety.
Farrell's Take: His versatility is off the charts and he's a safety-sized prospect who can line up at corner, and that's usually a recipe for success. Okudah, like Wade, is in constant motion and always seems to be around the football. I expect big things from him and for him to continue the amazing recent tradition of elite defensive backs at Ohio State.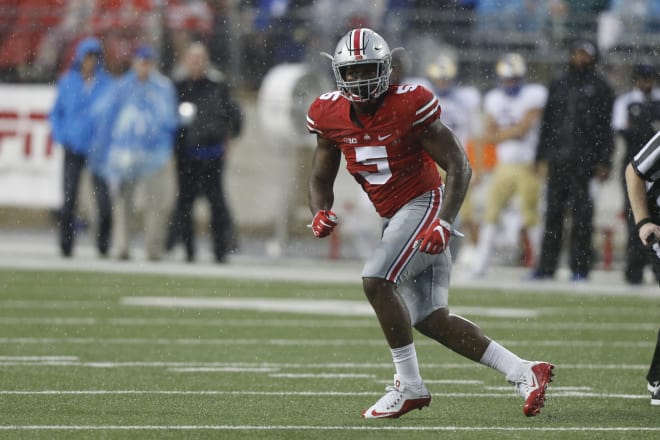 The skinny: McMillan took official visits to Ohio State, Alabama, Auburn, Clemson and Georgia before committing to the Buckeyes in mid-December of his senior year. McMillan saw the field immediately as a true freshman and quickly turned into one of the defensive leaders for the Buckeyes. After three very productive seasons in Columbus, he was selected in the second round of the 2017 NFL Draft by Miami. He has impressed thus far with the Dolphins and has positioned himself to start at inside linebacker.
Farrell's Take: McMillan was one of the rare prospects who earned a fifth star, lost it and gained it back, as he had one stretch during his high school years where he added too much weight and it slowed him down. Once he re-dedicated himself to conditioning, he became a star, and it's no surprise he had a great college career and fell just short of the first round in the NFL Draft. This was one of Urban Meyer's biggest Southeast grabs when he arrived at Ohio State.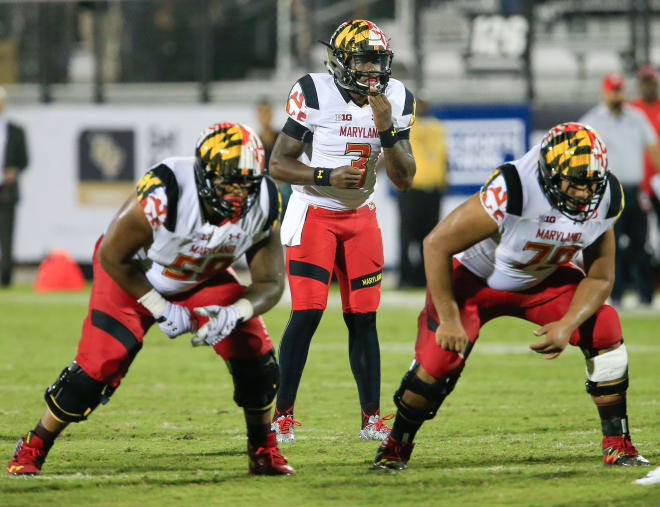 The skinny: Prince took official visits to Maryland, South Carolina, Florida State and Florida before committing to the home-state Terps over the Gators. After redshirting during his freshman season, Prince has played at both tackle and guard, but guard seems to be his position of the future. While he has shown flashes of potential to this point, he needs to play at a higher level consistently this fall.
Farrell's Take: While he signed with Maryland when it was in the ACC, this is a Big Ten five-star as the Terps moved to the conference. He hasn't panned out as expected but still has time to develop and emerge, and he will be counted on greatly by the Terps this season. His footwork as a massive lineman has always been special, and he can play with power, as he showed in spurts last season.