Rival Views: Is Amon-Ra St. Brown the next Antonio Brown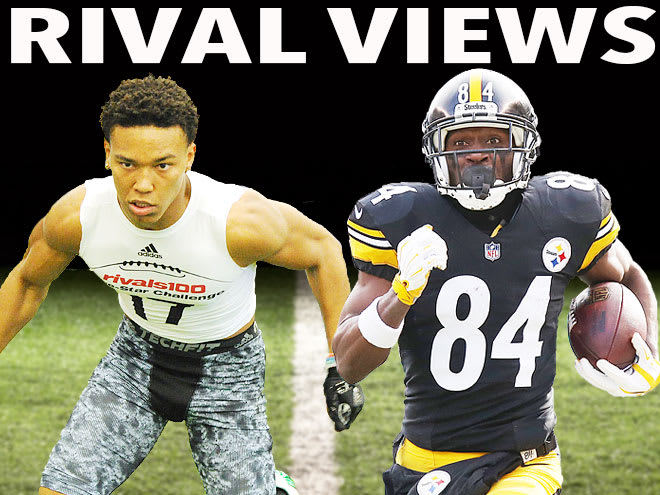 Rivals.com National Recruiting Director Mike Farrell and National Recruiting Analyst Adam Gorney don't always see eye to eye. In this edition of Rival Views, the two debate whether Amon-Ra St. Brown is the next Antonio Brown.
MORE RIVAL VIEWS: Best 2018 quarterback
FARRELL'S VIEW: No
Five-star wide receiver Amon-Ra St. Brown had drawn comparisons to NFL great Antonio Brown of the Pittsburgh Steelers, and those comparisons seem to be more frequent each time St. Brown balls out. But as talented as he is, I don't see the same similarities.
Remember, we are comparing St. Brown to the Antonio Brown we see today and not the overlooked, part-time quarterback that no one wanted out of high school. And yes, that's a tough and perhaps ridiculous comparison, but I'm always asked which NFL player a big-time high school prospect reminds me of, so in my world it's not that odd.
I see more of a Golden Tate talent in St. Brown, which is also a very flattering comparison. St. Brown is fast, but not as sudden as Brown nor does he have the same elusiveness. And St. Brown fights for the ball as well as any receiver I've seen in recent years and has great hands. He outmuscles people more than Brown does.
Tate is the proper comparison based on build, sneaky power, the ability to fight for the football and make big plays. St. Brown would have to be quite a bit quicker and shiftier to be the next Brown. Hines Ward is another name that has been thrown around, ironically another high school quarterback, and I can see that more than comparing him to Brown. Tate and Ward, that's lofty company, but don't tell me Antonio Brown just yet.
GORNEY'S VIEW: Yes
It sounds almost ridiculous to compare Amon-Ra St. Brown to arguably the best receiver in the NFL, but it does make a lot of sense for numerous reasons.
The five-star receiver from Santa Ana (Calif.) Mater Dei cannot be defended in one-on-one situations by anybody in this class – as he's proven time and again at the biggest events this offseason -- the Rivals100 Five-Star Challenge presented by adidas and at The Opening.
St. Brown just looks like Brown on the football field. He's incredibly elusive, can separate from anybody, plays with a tremendous amount of want-to and confidence and makes big play after big play even when facing double teams.
Some coaches at the Five-Star Challenge compared St. Brown to another Steelers great – Ward – which is another tremendous compliment. Odell Beckham Jr. could be another good comparison. The scary thing? St. Brown is already taller than both Brown and Beckham and in just as good physical condition.