Rival Views: Who is the best 2018 quarterback?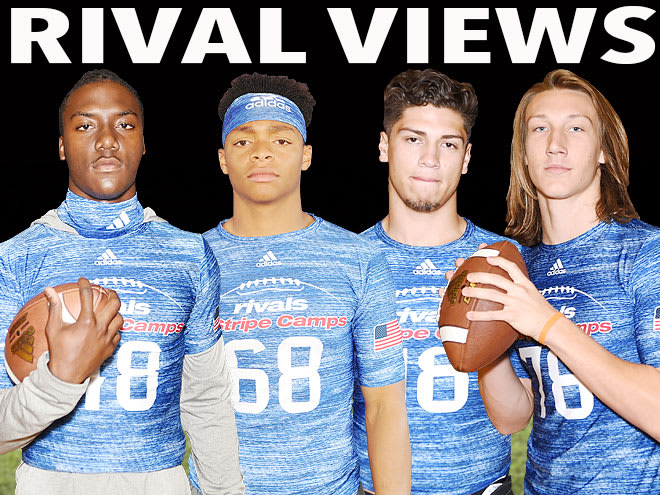 FARRELL'S VIEW: Trevor Lawrence
I'm still going with Trevor Lawrence despite the momentum Justin Fields has in the industry from his spring and summer performances. Why? Because I look back on the body of work, in addition to Lawrence's excellent spring and summer, and think he's a slight notch better.
Now don't get me wrong. Fields is an exceptional talent and in the college game, a dual-threat quarterback tends to be more valuable than a pocket passer, but in the long run, Lawrence will have the more successful college and NFL career. There is still a senior season to be played and all-star performances to judge. After seeing both quarterbacks this summer, we could be talking about the No. 1 and No. 2 players in the country here, but Lawrence is one of the best pure passers I've seen. His touchdown to interception ratio is off the charts, he has completed more than 60 percent of his passes every year of high school and he's not exactly an immobile statue in the pocket either.
It's harder to defend a running quarterback, especially one that can move like Fields, but Lawrence gets better as the pressure mounts and had a knack for making big plays when it's the biggest moment. There's a solid drop-off after these two guys to Emory Jones, who is another five-star talent from Georgia, and after that there's another drop-off, but the 2018 class is loaded at quarterback and Lawrence is the best.
GORNEY'S VIEW: Justin Fields
It is hard to bet against Lawrence because he's such a phenomenal talent, but Fields could be emerging as one of the best quarterbacks in recent memory and his outstanding performance at The Opening is just another sign.
According to people there, the five-star from Kennesaw (Ga.) Harrison was the best player at the event, including Lawrence, and had one of the best performances possibly in the history of the event. That is coming off what I'd call a draw with Lawrence at the Rivals100 Five-Star Challenge presented by adidas.
Lawrence really has done nothing to get booted from the No. 1 spot this offseason and he's been excellent at every single event. But Fields has been a touch better and he could definitely be nipping at Lawrence's heels in this next round of rankings.
Matt Corral has had an up-and-down offseason as another five-star quarterback and we haven't seen much of Jones. There are some four-stars like Dorian Thompson-Robinson, Justin Rogers and Tanner McKee who belong in the conversation, but really Lawrence and Fields are in a class by themselves.