Texas Spotlight: Latest news on state's biggest names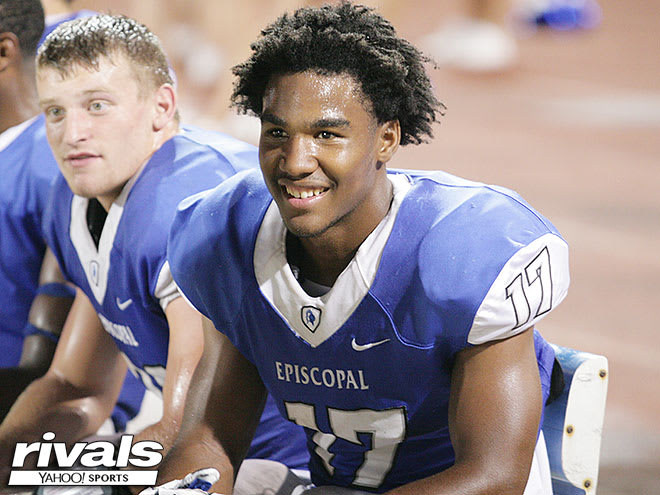 High school playoffs are beginning in Texas, and some of the state's top prospects saw a renewed interest in their recruitments as offers were plentiful over the past few weeks. With most of the top prospects in the state having been spoken for since the beginning of the season, there isn't quite the same level of drama that there was last year. Still, there are some interesting names to continue to keep an eye on over the next few weeks.
RELATED: Midwest spotlight | Southeast | Mid-Atlantic | West | Florida
WADDLE RECAPS ALABAMA VISIT, LOOKS AHEAD
Jaylen Waddle played his final high school game last Saturday night, and despite all of his big plays, Episcopal fell to Kinkaid, 38-21. Waddle opened things up early for his offense, scoring on a 93-yard touchdown run with his first touch, but recruiting was the furthest thing from his mind after the game. Later in the week, he opened up a bit about his recent official visit to Alabama and what's to come in his recruitment via messaging through Twitter.
"Overall it was great, but I've been up there a lot and so it was hard for them to show me [something new]," he said. "I got to hang out with my position coach and he really tried to impress with me with the atmosphere of the town."
Waddle also recently set up an official visit to Oregon for the end of the month. That leaves him with one last official visit to take, which as expected, he said would come down to Texas or Texas A&M. He wasn't interested in dropping any hints about upcoming events, either, saying that he hasn't eliminated anyone and still isn't close to choosing a commitment date.
Waddle had been in Oregon in the summer and has been one of the Ducks' biggest targets. Offensive coordinator Marcus Arroyo stayed through Waddle's entire game on Saturday, and will hope he can make a strong case when the Rivals100 wide receiver makes his return to the Pacific Northwest.
"I'm not looking for anything special," Waddle said. "I just think they're going to try and show me a good time."
UPCOMING COMMITMENTS
Though specific dates have not been publicly announced for either, five-star cornerback Anthony Cook and high three-star defensive end Joseph Ossai are expected to announce any time. At Cook's recent Army All-American jersey presentation on Nov. 9, he said that he planned to commit within the next two weeks. Cook was originally planning on committing on Oct. 30, but pushed things back when he couldn't choose among LSU, Ohio State, or Texas. Much of the speculation works in Texas' favor, but Cook came to this point following his official visit to LSU and the staff making a big follow-up push. Either way, it seems as though the Buckeyes have lost the most ground with him.
Ossai took his official visit to Texas A&M when the Aggies hosted Auburn. While the result of the game wasn't ideal, he was given a keen look at the school and its college of engineering. Whispers have been floating that he's been close within the past few weeks of committing to A&M, but publicly, things are still in a holding pattern. Ossai has widely been thought to be a lean to A&M for much of his recruitment, but this seems to add to the smoke.
Four-star Fort Worth wide receiver Erik Ezukanma has released a commitment date of Nov. 25, and will choose among Texas Tech, SMU and Utah. The real race is between Tech and Utah, even with the Red Raiders seemingly loaded in this class with pass-catchers. The expectation is that not all of those receivers currently committed will make it to National Signing Day, and there is room for him, should he choose Tech.
BOISE STATE'S TEXAS CONNECTION
Boise State has been one of the out-of-state programs finding a little bit of success in recruiting Texas this year. The Broncos had summer commitments from three-star defenders Brandon Hawkins and Scale Igiehon, but also found a gem in wide receiver Stefan Cobbs, who has certainly outplayed his current Rivals ranking this season.
Hawkins took his official visit to Boise earlier this month for a decisive win against Nevada. Also on the trip was fellow Texas prospect and standout receiver Ke'Von Ahmad. Ahmad is expected to be deciding between Boise State and San Diego State, and from Hawkins' perspective, the Broncos appear to have done their job on the trip.
"I'm not sure," Hawkins said. "(Ahmad) was kind of quiet at some points. I do know that he liked it, for sure."
Hawkins said that he's ready to sign in December and enroll early. As far as his experience on his official, he had nothing but high marks.
"It was good - it was great seeing the game atmosphere and hanging out with the coaches and players," he said. "That was the first game that I've been too. Even though it was cold, the fans were there, staying strong and supporting the program. It was cool just seeing basically the whole state of Idaho just supporting Boise State."
BALDWIN STOCK SOARING
In the wake of the latest decommitment from four-star quarterback Jarren Williams, Kentucky promptly offered Austin-Lake Travis quarterback Matthew Baldwin. It might be too late, as the current Colorado State commit has also received a recent offer from Ohio State. Baldwin likely would have been due to receive such offers sooner had Charlie Brewer not been so successful as the Cavaliers' incumbent quarterback heading into last season. This season, Baldwin has thrown for more than 3,500 yards and 44 touchdowns, and has made the most of his opportunity to lead the high-powered offense of one of the state's top programs.
OU PICKS UP 2020 ATHLETE COMMIT
In one of the most anticlimactic recruitments of a 2020 prospect, Colleyville Heritage offensive do-it-all star, Drew Sanders, committed to Oklahoma over the weekend. Sanders had a handful of other offers from some big-time programs, but Oklahoma has been the school he's visited most and the first to truly make him a priority. Sanders hit the scene as a dual-threat quarterback prospect, but even just since the spring, it's clear that he's going to grow into a very dynamic tight end/H-Back type of prospect. While commitments from most underclassmen are taken with a grain of salt, this one seems unlikely to create much drama.

ARIZONA SECONDARY GETS BOOST
Outside of Khalil Tate, the story of the season when it's come to Arizona has been its soft defense. Christian Young, who decommitted from Iowa State earlier this fall, gives the Wildcats a heavy assist in that category with his commitment. Young is a big-bodied player that can line up anywhere in the secondary. Although he has the look of a player more inclined to rely on his physicality, he has enough in the way of ball skills and ability in coverage to make some surprising plays on opponents' passes.

THREE-STAR RUCKER COMMITS TO PURDUE
The number isn't real high, but there are a handful of players in Texas that have held offers from Purdue since before the start of the season. The Boilermakers have been one of the surprises of the college football season, and perhaps now will start being considered more seriously by out-of-state recruits. Like Young, Jordan Rucker is a thicker defensive back and takes advantage of as much. Other notable uncommitted Texas players that hold Purdue offers include: Maureese Wren, Millard Bradford, Trenton Kennedy and Tyrese Heard.