Texas Spotlight: Five prospects with booming recruitments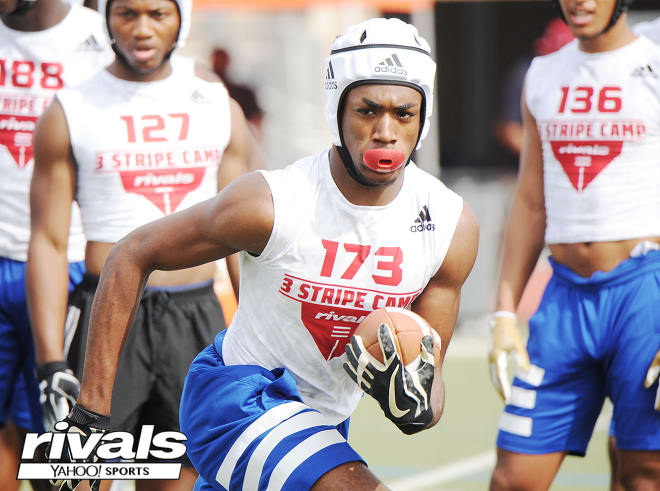 College assistants have been making the rounds in Texas during spring football and getting a great look at some of the players they have been targeting - and offers have been plentiful. Several key prospects in the Lone Star State have been particularly successful picking up offers in bunches, and have put themselves on the map as names to know not just heading into this fall, but beyond as well.
RELATED: Mid-Atlantic players trending upwards | Florida | Southeast | Midwest | West
Ellis has been a long-time commitment to Baylor, but at the rate he's been picking up big-time offers from Michigan, Oregon and TCU, it feels more like he's just announced that he's re-opened his commitment. At this point, it does look as though he's started to open his eyes to more options as of late, even though he's still maintaining his status with the Bears. His production doesn't always equal the sum of his parts as a prospect, but there is no doubt that he has elite-level speed and can certainly be a supremely dynamic player at his position. He's also picked up offers from Colorado, Iowa State and UCF within the last few weeks.

The days this spring that have passed without Lindberg picking up an offer have seemed more rare than the days in which he has. Since May 3, he's picked up offers from Alabama, Arizona, Florida, LSU, Mississippi State, Notre Dame, Ole Miss, Vanderbilt and Wisconsin. A quick survey of his film from last season makes it easy to tell what it has been that has captured the imagination of coaches from across the country; he's quick, powerful, often blocks more than one defender on many plays and finishes his blocks. He took visits to Arkansas, Oklahoma and Oklahoma State in March, but will be a prospect that is highly recruited by many for the next few seasons.
Hudson hype is in full force this spring as he looks to take over as the starting quarterback at Lake Travis, presumably, for the next two seasons. His athletic ability, potential, and opportunity within a program that is a proven quarterback factory all explain the eagerness to offer him this spring - and after seeing what he was able to do in the Cavaliers' state championship appearance last year when 2018 Ohio State signee Matthew Baldwin went down with injury, essentially with the entire game to play, iced Card's reputation heading into this offseason. Since May 3, he's picked up offers from Arizona, Arizona State, Boston College, Michigan, Mississippi State, Ole Miss, Oregon and Tennessee.
Young quarterbacks in the state of Texas have been all the rage this spring, and Stone has been arguably the most popular. Like Card, he's been picking up offers at a breakneck pace, but Stone is still a 2021 prospect. Through 17 days in May, Stone has racked up 15 offers from programs including Georgia, Notre Dame, Ohio State and Texas. For such a young player, he's remarkably cool under pressure and almost seems more comfortable dodging a defensive end before loading up to sling the ball downfield. Stone now has more than 25 FBS offers and is already one of the nation's most in-demand quarterbacks in his class.
Jackson is another offensive lineman from the Houston-area that already looks the part of a dominant left tackles as a 2021 prospect. After closing out April with an offer from Alabama, he since picked up offers from Baylor, Florida, Houston, Kansas, Syracuse and Vanderbilt. Jackson had plenty of top offers heading into last season, but there is no keeping him a secret at this point, and he's sure to follow Lindberg's lead as one of the most-offered offensive lineman in the country when everything is said-and-done. He checked-in at a very solid 6-foot-4, 290-pounds at the Houston Rivals 3 Stripe Camp presented by adidas, and is already a very confident blocker for such a young player.