Florida Spotlight: Five prospects with booming recruitments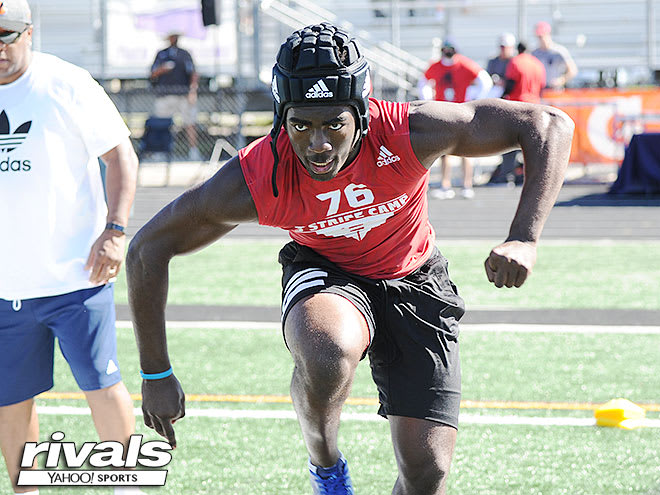 Scholarship offers are never in short supply in Florida, and that goes doubly for the spring evaluation period. These days, players are starting to see their recruitments gain serious steam as their exposure increases. Today, Rivals.com takes a look at five Sunshine State prospects that have helped themselves in the eyes of college coaches this offseason.
RELATED: Can Miami dominate 2020s? | Mid-Atlantic players trending upwards | Southeast | Midwest | West
Davis has an incredible frame and has showcased impressive coverage skills on the offseason camp circuit. His combination of size and athleticism is certainly special. He's impressed at every event he's attended this spring and has an expanding recruiting profile to show for it. Davis now holds nearly 40 offers from schools that span the country. An Orlando-area prospect, Davis has a wide-open recruitment but Georgia, Clemson and Ohio State are heavily involved as things stand.
Akporoghene started his spring by capturing offensive line MVP honors at the Rivals Camp Series presented by adidas stop in Orlando and he's rode that wave of momentum into the spring. In the last six weeks, schools such as Arkansas, Washington State, Iowa State, Mississippi State, Rutgers and Arizona State have offered the IMG Academy lineman. Originally from Nigeria, Akporoghene could be in for a rankings bump and even more recruiting attention. Florida and Oregon seems like schools to watch for Akporoghene, but his recruitment remains unpredictable.
Belton, a Tampa-area safety, has been on a roll when it comes to offers as of late. Louisville, UCF and Minnesota have all joined the fray in recent weeks. And while he now holds more than 20 offers, there's a feeling that more heavy hitters may get involved this fall. Belton's recruitment remains wide open, as he anticipates his offer list's continued growth.
A large defensive back with incredible range, some thought Battle would eventually grow into a linebacker. That hasn't quite happened, and that is probably a good thing for his stock. Battle recently received an offer from Clemson. Battle has taken a number of unofficial visits in recent months, including one to Ohio State. The Buckeyes are thought to lead his recruitment but Miami, Clemson and others remain heavily involved. Battle attends powerhouse St. Thomas Aquinas High School, so it's not as though he'll lack for exposure this fall.
Cook has been the victim of a great year at running back in the state, so his offer list would be even longer in some other years. That said, the Ocala-based running back recently backed away from his pledge to Louisville and has seen new schools come into the picture since. Kansas recently offered and schools such as Miami, Arkansas and Missouri have been kicking the tires on the tailback.