Texas' Drew Mehringer named Rivals.com Recruiter of the Year
Stars are great. Five of them beside a name and signature as they arrive through the fax machine -- that's even better. But that's only a part of the scouting report at Texas.
Drew Mehringer, who just put a bow on his second season as the Longhorns' wide receivers coach, led the charge for five wide receiver signees in the team's 2019 recruiting class. Three, by trade, are technically classified as athletes, but that's a testament to Texas' strategy of finding ideal fits for multiple roles on offense.
The second part of that equation centers on each prospect's fit in the locker room. Are they OKGs? In other words, "Our kind of guys" – players who will thrive in a competitive environment, take well to coaching and also possess an elite skill-set.
Mehringer oversaw the signatures of five OKGs in 2019, which earned him the honor of being the 2019 Rivals.com Recruiter of the Year. He landed five-star Bru McCoy after he signed his paperwork with USC in December, added two more out-of-state receivers from different regions in the country and kept two more sought-after prospects home in the Lone Star State.
"Coach (Tom) Herman stole a term from coach (Chris) Petersen at Washington -- the OKG, our kind of guy. It's hard on us as assistants -- to bring in our kind of guys – but I think we found five good players that are also great people," Mehringer said. "Where our program is at right now, in terms of OKGs, all five of those guys are as good of people, great character kids as they come. I'm excited about that as a position coach. They love football, they're tough, they do things the right way and they're coachable. It makes the development process faster and the experience as a coach so much fun to come to work.
"As we looked at a bunch of different guys out there, we tried to find the best players we could find that could also match our system. We have a lot of guys leaving the program or will at some point in the near future, and these are guys that can not just step in but challenge for those roles this year. We tried to recruit guys that can play and create competition, and all five of those guys we expect to come in and do that."
McCoy is the crown jewel of Texas' 2019 receiver haul, which also included four-star athlete Jordan Whittington, four-star athlete Jake Smith, four-star wide receiver Marcus Washington and three-star wide receiver Kennedy Lewis. McCoy is Rivals' top-ranked athlete, and Whittington and Smith are each inside the top 50 of the Rivals100. Washington finished as the No. 16 receiver and No. 105 overall.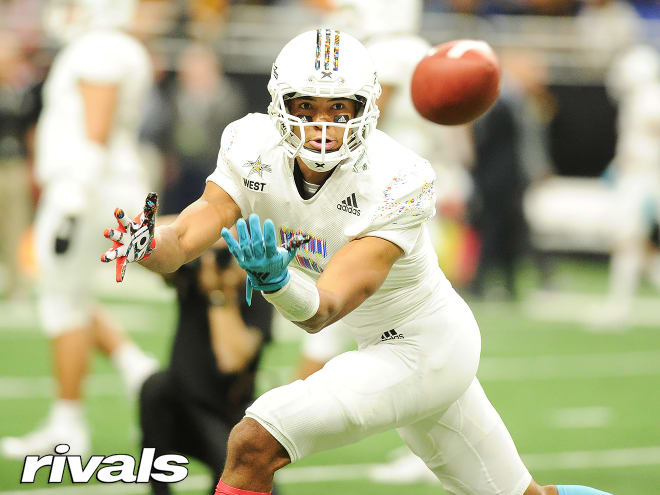 Mehringer looked out-of-state -- into the Midwest and to the West Coast -- to find OKGs such as McCoy in California, Smith in Arizona and Washington from St. Louis.
"Out-of-state recruiting is going to be key for Texas to take the next step and Mehringer did an outstanding job," said Mike Farrell, Rivals.com's National Recruiter Director. "He's the main reason McCoy decided to make Texas home and his approach to recruiting is a great combination of aggressive and understanding. He knows the ins and outs of every recruiting situation he's involved in and is a great closer. Luring prospects out of state to Texas isn't easy but he makes it look that way."
McCoy inked his letter of intent with the Trojans during the Early Signing Period, but after some staff shakeup in Los Angeles, he entered the transfer portal and was on Texas' campus in January. The team announced McCoy as part of its 2019 class on National Signing Day.
Mehringer led the charge for the five-star California athlete and did so by chatting him up about anything but football. When it came to the sport, not much needed to be said. That led to bonds being forged between the Longhorns' wide receivers coach and McCoy, as well as his parents and sisters.
When McCoy informed Mehringer he was staying home and signing with USC, he didn't hold back.
"I was heartbroken," Mehringer told him.
So when McCoy suffered a change of heart days after signing with the Trojans and enrolling on campus, he knew exactly where to turn.
"We rarely talked about ball because you didn't need to with Bru. It was easy with Bru. Our conversations were a lot of fun," Mehringer recalled. "I cared about him outside of football and that mattered in the long run. He was a great personality fit and a great skill-set fit for the longevity of my position group. He mattered a lot. He brings a lot of added depth and talent in our room. It was a talented room already, but now with Bru coming in I feel like it fortified us for a few years to come. He walks into a room full of really good, competitive people, and he fits that mold. He's a special one, a super talented one, but a special one because as talented and highly rated as he is, he's also a great kid."
Mehringer labeled McCoy as a prospect similar to Lil'Jordan Humphrey, someone who could line up in the slot and create mismatches, especially with his speed. Humphrey is a little bigger, but McCoy has the edge when it comes to speed.
"The work Mehringer did this recruiting cycle has been terrific, including his role in landing McCoy in what was one of the wilder recruiting storylines I've ever covered," OrangeBloods.com's Jason Suchomel said. "In talking to McCoy and his family over the course of his recruitment, he was described as being their favorite recruiter and a person who related well with all of them, both in recruiting and in life lessons. Texas' wide receiver haul overall is extremely impressive with elite talent and depth, and Mehringer was instrumental in all five signings."
What binds this group together is its elite traits. It's a theme in Texas recruiting -- to be an OKG with at least one outstanding skill set -- and each of Mehringer's signees possesses just that.

"All five have very different skill sets, which is great," Mehringer said. "You're gonna create a lot of unique characters. As (Director of Player Personnel) Derek Chang says, 'Each does something elite.' We've got five guys I think can do one thing or multiple things at an elite level."
The Longhorns closed out their class with 24 signees, good for No. 4 overall in the Rivals rankings. Their three highest-rated recruits were all courted by Mehringer.
With a Sugar Bowl win to cap last season and these reinforcements on their way to Austin, particularly in the receiver room, there's even more confidence in the future of the Longhorns.
"Coach Herman has made it really clear to our team that we've moved on. No one cares we won the Sugar Bowl, and although it was a tremendous accomplishment for our team, that team is gone," Mehringer said. "The 2019 class will help us moving forward and help us solidify who we want to be as a team. We're gonna have to go back to work.
"We're a team with really high expectations for ourselves. We brought in a talented group to help us go achieve some of those goals."
Rivals Recruiter of the Year
| Year | Name | School |
| --- | --- | --- |
| 2019 | Drew Mehringer | Texas |
| 2018 | Dell McGee | Georgia |
| 2017 | Kerry Coombs | Ohio State |
| 2016 | Brent Venables | Clemson |
| 2015 | Mario Cristobal | Alabama |
| 2014 | Tommy Thigpen | Auburn |
| 2013 | Mike Groh | Alabama |
| 2012 | D.J. Durkin | Florida |
| 2011 | Frank Wilson | LSU |
| 2010 | Josh Lupoi | Cal |
| 2009 | Larry Porter | LSU |
| 2008 | Lance Thompson | Alabama |
| 2007 | Larry Porter | LSU |
| 2006 | Larry Johnson | Penn State |
| 2005 | Kevin Steele | Florida State |