Take Two: Will Trevor Lawrence have a chance to start in 2018?
Take Two returns with a daily offering tackling a handful of issues in the college football landscape. Rivals.com National Recruiting Analyst Adam Gorney lays out the situation and then receives takes from Rivals.com National Recruiting Director Mike Farrell and a local expert from the Rivals.com network of team sites.
MORE TAKE TWO: J.T. Barrett | Mason Rudolph | Anthony Cook | Georgia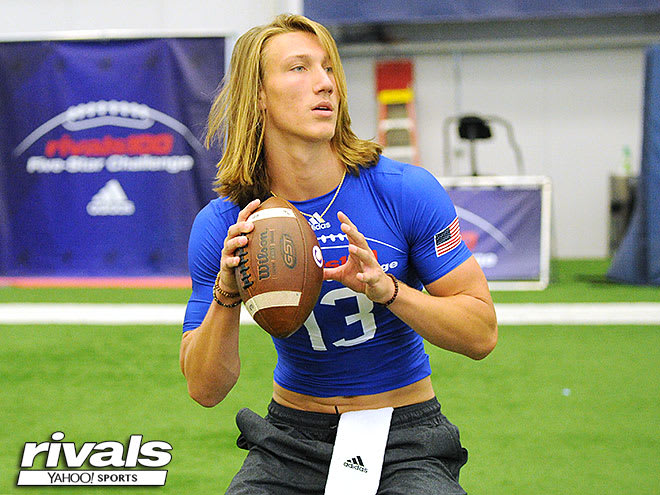 STORYLINE
Trevor Lawrence is the top-ranked prospect in the 2018 class, a five-star quarterback with special skills who does not come around very often. He is a phenomenal recruit who picked Clemson over many others.
And now he might have to wait to get on the field for the Tigers because the quarterback situation at Clemson is so strong.
That does not mean Lawrence will look at other programs – he fully understood the glut of quarterbacks at Clemson when he committed there – but the question becomes can the Tigers unseat their starting quarterback, Kelly Bryant, and pass over five-star backup Hunter Johnson if Lawrence proves to be the best quarterback when he arrives on campus? Let's no forget backup Zerrick Cooper, either.
The quarterback game at Clemson is unbelievably deep.
It is definitely a tricky and delicate situation and often when two five-star quarterbacks – Johnson and now Lawrence - commit to the same school, one ends up transferring out.
So the question is: Will Lawrence be fine with waiting his turn at Clemson or will the quarterback job be wide open once he gets to campus because he's so special even if Bryant continues to lead the Tigers to more wins – and possibly another College Football Playoff run?
FIRST TAKE: PAUL STRELOW, TIGERILLUSTRATED.COM
"There's a long way to go this season, so it's premature to render that judgment quite yet. Bryant has performed pretty well out of the gate, but we're looking at a small sample size and are just starting to see how opposing defensive coordinators are responding to what they see on film.
"He's the definitive starter for the extended season future, yet it's not as if this story is written. If he leads Clemson to a stellar season, then odds strongly favor Dabo Swinney affording him clear-cut starter status next spring. Swinney and staff are big on rewarding investment and returns, and Bryant is a locker room favorite.
"Lawrence reports in January, and the evidence from this past spring suggests Clemson will give the young players ample reps and opportunity to state their case for the starting job. You let the results speak for themselves, and one would think if Bryant were that good, he should be able to hold his spot. The more compelling battle would figure to be how things shake out between Lawrence, current second-stringer Zerrick Cooper and Johnson. Lawrence knew the competition that resided on Clemson's roster before he made his decision, and I don't believe depth chart was the factor in his recruitment that observers assumed it would be. He wouldn't have picked the Tigers if walking into a starting job steered his thinking. Clemson's culture and coaching staff personality were the deciding elements. Those likely aren't changing, nor is the strength of Lawrence's commitment. The main question is how long until will we see Lawrence in a leading role at Clemson, not if."
SECOND TAKE: MIKE FARRELL, RIVALS.COM
"I don't think Trevor is the type of kid who's insisting on playing right away. He's a better prospect than Johnson. We all know what happens with two five-star quarterbacks – one is going to transfer out, so if I had to guess it would be Johnson. Kelly Bryant is still a work in progress. He did not look very good against a bad Boston College team, so it's not like he's been anointed as a Heisman candidate.
"All this talk about Deshaun Watson tweeting out that Bryant is better than him is nice, but I don't see a guy that Trevor Lawrence can't beat out. He might have to sit a year, which is fine."