Take two: Is Georgia a legitimate College Football Playoff contender?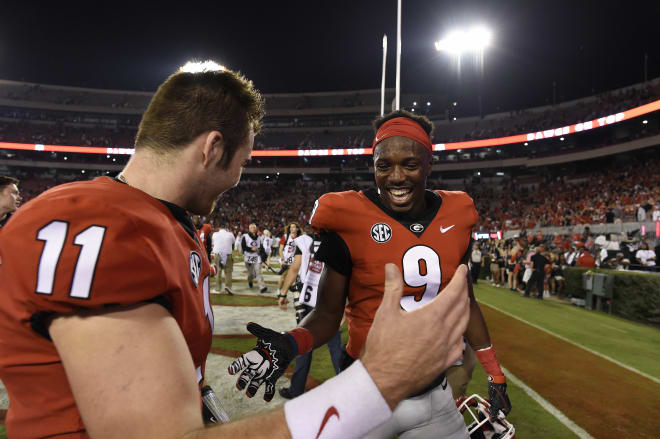 Take Two returns with a daily offering tackling a handful of issues in the college football landscape. Rivals.com National Recruiting Analyst Adam Gorney lays out the situation and then receives takes from Rivals.com National Recruiting Director Mike Farrell and a local expert from the Rivals.com network of team sites.
MORE TAKE TWO: Clemson or Georgia for Salyer? | Anthony Cook
STORYLINE
Georgia has outscored opponents this season by nearly 20 points per game. The three-headed rushing attack of Nick Chubb, D'Andre Swift and Sony Michel has been difficult to slow down.
While teams have posted slightly better passing yards, the Bulldogs have only given up two passing and two rushing touchdowns this season. Meanwhile, freshman quarterback Jake Fromm, a former five-star, has looked fantastic after taking over for the injured Jacob Eason, another former five-star.
Georgia's defense is playing scary good. So how far can this go? Can the Bulldogs be a sleeper pick to make the College Football Playoff?
The schedule seems to be setting up relatively well with away games at Tennessee and Vanderbilt coming up. Either of those games might be tricky, but they're certainly winnable. Then there's Missouri and a bye week.
The annual Georgia-Florida rivalry matchup is after that, followed by South Carolina, at Auburn, Kentucky and at Georgia Tech. It's a tough stretch for sure, but with Georgia playing so well, all winnable contests.
The real question is if the Bulldogs make it to the SEC Championship Game, do they have a realistic shot at dethroning Alabama? Only one SEC team is expected to make the playoff, and almost everybody expects that team to be the Crimson Tide. Not a shocker if that happens.
But with a defense playing so lights out – basically making a good Mississippi State team say uncle this past weekend – and an outstanding running game coupled with enough in the passing department, can Georgia beat Alabama on one Saturday to make the playoff if that's the matchup in Atlanta? Or are the Bulldogs still a year away from that national level?
FIRST TAKE: ANTHONY DASHER, UGASPORTS.COM
"I'm probably a little leery when it comes to labeling Georgia a national contender just four games into the season, but there is certainly plenty for the Bulldogs and their fans to be excited about.
"Freshman quarterback Jake Fromm hasn't been overwhelmed after being thrust into the starting role and has gotten better each week. The running back room, led by Nick Chubb and Sony Michel, has received an additional shot from freshman D'Andre Swift, while Georgia's special teams is night and day better than last year with the performances of punter Cameron Nizialek and kicker Rodrigo Blankenship.
"But it's the defense that has been Georgia's calling card and the biggest reason why the idea of the Bulldogs being a national contender may not be so far-fetched after all. With Lorenzo Carter, Davin Bellamy, Roquan Smith and company, this is the fastest Georgia defense I've seen in at least 10 years. Mel Tucker and Kirby Smart have the group playing with a ton of confidence, so if the offense can continue to improve, the Bulldogs could certainly be a team to watch." - Dasher
SECOND TAKE: MIKE FARRELL, RIVALS.COM
"I don't know if they're a playoff contender yet because one team will come out of the SEC and I still think Alabama will absolutely drub them. They're a year away for me. I know they're losing both running backs (Chubb and Michel), but Swift looks good, Fromm is the guy at quarterback for now and the roster of talent is getting better and better. They're a year away, so I can't say playoff contender but I can say second best team in the SEC. If Alabama didn't exist, then they'd be a surefire playoff contender." - Farrell