Take Two: Who will take over Daniels' spot atop 2019 rankings?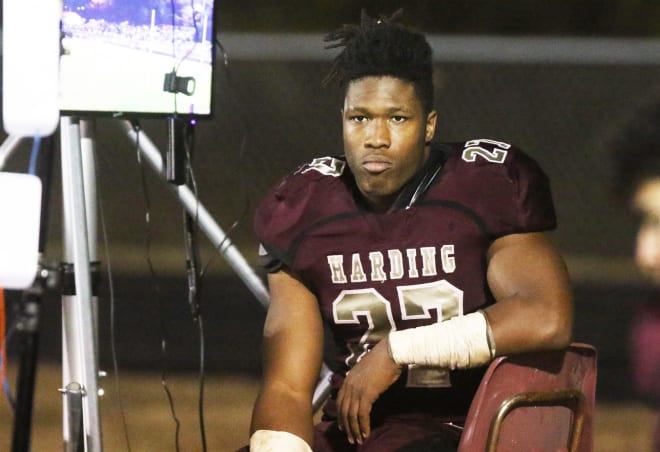 THE STORYLINE 
Five-star quarterback JT Daniels has reclassified to the 2018 class, so that leaves the No. 1 spot open in the 2019 group.
Ranked second at this juncture is Charlotte (N.C.) Harding University five-star running back Quavaris Crouch, so there is some sensible thinking to believe he will take over the top spot long term.
But that is completely up for debate, especially after seeing so many top prospects at the Under Armour Future 50 event and the Army National Combine last week.
Third overall is Amite, La., five-star defensive tackle Ismael Sopsher, but he was incredibly limited at the Future 50 workout. Huntington, W.Va., offensive tackle Darnell Wright could be in the discussion. Then there are a bunch of talented receivers, including Georgia commit Jadon Haselwood, Arjei Henderson and Theo Wease.
Could five-star defensive end Kayvon Thibodeaux from Westlake Village (Calif.) Oaks Christian have a chance to move up from eighth to No. 1? Or is a complete surprise in store?
With Daniels gone, Crouch is the logical choice to take over the top spot. However, with important events now concluded and a bunch of evaluation opportunities taken care of over the holidays, who has proven to be the No. 1 prospect in the 2019 class?
It could be a heated debate especially since no one has stepped up and completely commanded top billing.
FIRST TAKE: ADAM FRIEDMAN, RIVALS.COM MID-ATLANTIC RECRUITING ANALYST  
"Crouch is one of the most physically gifted players in the country and produces at a high level on both sides of the ball. As a running back, he is very similar to Leonard Fournette or Bo Scarbrough, but his skills on the defensive side of the ball need some refinement (although he does make a lot of plays). Crouch will be the first to tell you he doesn't know which side of the ball he will play in college and that he is working to become better on defense so he has the option to play running back or linebacker in college.
"It would be a little surprising if Crouch didn't move up to the top spot, because versatility is valuable and at this point he is probably the best skill position player in the country. It also doesn't look like there is a player at a premium position that is charging up the rankings to replace Daniels."
SECOND TAKE: MIKE FARRELL, RIVALS.COM NATIONAL RECRUITING DIRECTOR  
"It's going to be a tough one. The 2019 class does not look like an elite one. We have Crouch at No. 2, and by default he's likely going to bump up to No. 1 with Daniels reclassifying to the 2018 class.
"Sopsher was at the Under Armour Future 50 and he got injured in the first drill - not the first rep, but the first drill. Haselwood was there, Darnell Wright looked good at the Army Combine and we have some talented receivers. Thibodeaux looked good as well.
"There is nobody jumping out to me in this class that says they have to be No. 1. There is a lot of talent here, but that's going to be a very interesting debate because I don't know if Crouch is the No. 1 player in the country. Right now, I don't know who is."