Take Two: How surprising is Texas' recruiting momentum?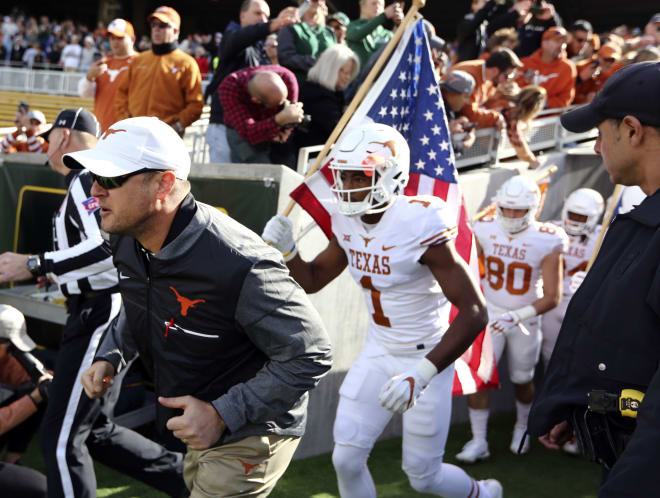 THE STORYLINE
Texas finished 7-6, hardly a phenomenal first season for coach Tom Herman. But he and his staff have done a fantastic job recruiting the state, selling the vision and accomplishing some things in Austin no staff has done before in the Rivals.com era.
The top-rated prospect in Texas committed to the Longhorns for the first time since 2011 when five-star cornerback Anthony Cook signed. The top six recruits in the state pledged to Texas for the first time in the Rivals.com era dating back to 2002.
And many of them had been committed for months, locked in from the get-go as Herman tries to make Texas nationally relevant again.
Cook and five-star safety B.J. Foster could be a dynamic duo in Texas' defensive backfield. Four-star defensive backs Jalen Green and Caden Sterns are excellent additions as well. Four-star receivers Brennan Eagles and Al'Vonte Woodard could be fantastic in the Longhorns' offense.
Those six, among many others, could be the start of something special in Austin as Texas currently has the third-best recruiting class nationally .
So has this early recruiting success been a surprise? Texas lost close games to USC, Oklahoma, Oklahoma State and Texas Tech. This season could have gone in a very different direction. But even with a 7-6 finish, is Herman's ability to lure top in-state prospects so quickly a shock to anyone closely watching the program?
FIRST TAKE: JASON SUCHOMEL, ORANGEBLOODS.COM
"I guess I should be surprised when I take a step back and take a look at what Texas was able to accomplish in the Early Signing Period, but most of the top players in the state have been committed so long it's kind of been expected. Herman and the entire Texas staff did a tremendous job of establishing early recruiting momentum, before they ever played a game, and selling prospects on their vision, their plan and what they're planning to build in Austin.
"After his success at Houston, guys bought in. Cook was the lone holdout and Texas had to recruit him aggressively all the way to the finish. It really was a remarkable recruiting effort to not only get so many of the state's top players to commit, but to keep them locked in despite some struggles on the field this year."
SECOND TAKE: MIKE FARRELL, RIVALS.COM
"I'm not surprised at all. When Charlie Strong was fired, I figured they got their guy in Herman, who has recruited the state of Texas well, who came from Texas, who learned under Urban Meyer. I thought recruiting was going to take off.
"Texas sells itself in a lot of ways. We saw with Strong, if you're not a great recruiter with a lot of connections, things can go astray a little bit. With Herman, everything was there. Regardless of the season they had on the field, everything was there for success. When he was hired I figured they'd start locking up the state."