Take Two: Where will DT Rick Sandidge choose?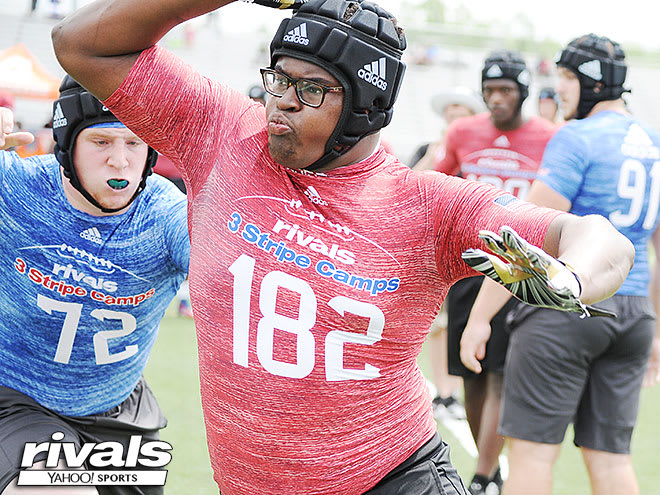 Take Two returns with a daily offering tackling a handful of issues in the college football landscape. Rivals.com National Recruiting Analyst Adam Gorney lays out the situation and then receives takes from Rivals.com National Recruiting Director Mike Farrell and a local expert from the Rivals.com network of team sites or one of Rivals' regional analysts.
MORE TAKE TWO: Did JT Daniels make the right call?
THE STORYLINE
Rick Sandidge is the second-best defensive tackle nationally and the top uncommitted prospect at his position, sandwiched between Ohio State pledge Taron Vincent and USC commit Trevor Trout.
So where will the Concord, N.C., standout end up?
South Carolina seems to be the frontrunner heading into January as Sandidge has plenty of family connections to the school and the Gamecocks' coaching staff has made him a top priority. Georgia is making a serious push and the Bulldogs have basically landed every single top prospect it has wanted, at least in the Early Signing Period. North Carolina and Michigan are also expected to receive official visits in January.
The Gamecocks could be tough - if not impossible - to beat. The four-star defensive tackle will visit Columbia in early February right before National Signing Day and the sense is that South Carolina could win out for the talented four-star who could have an early impact in the SEC.
MORE: Position rankings
FIRST TAKE: ADAM FRIEDMAN, MID-ATLANTIC RECRUITING ANALYST
"South Carolina has been the leader for Sandidge pretty much since it offered. The coaches have made him a priority and he's really enjoyed the numerous visits he's taken to campus. The Gamecocks have a huge need at defensive tackle and on top of all of that, his family has a lot of connections to the university. North Carolina and Georgia are the only other two contenders but defensive line coach Tray Scott has the Dawgs in a better position than the Tar Heels. In the end, I expect the choice to be South Carolina on National Signing Day." – Friedman
SECOND TAKE: MIKE FARRELL, NATIONAL RECRUITING DIRECTOR
"It's hard to bet against Georgia at this point and it might be foolish to do that but there has been a lot of talk about South Carolina for a long time. South Carolina has been recruiting pretty well itself. Right now, if I had to pick, I would probably say South Carolina but after what's happened with Georgia in the Early Signing Period, it's tough to bet against it. I would say 51 percent South Carolina, 49 percent Georgia." – Farrell