Take Two: How will Clemson handle QB situation going forward?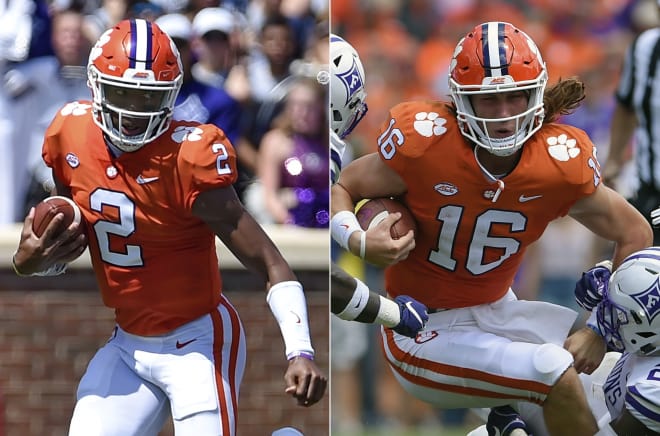 Take Two returns with a daily offering tackling a hot topic in the college football landscape. Rivals.com National Recruiting Analyst Adam Gorney lays out the situation and then receives takes from Rivals.com National Recruiting Director Mike Farrell and a local expert from the Rivals.com network of team sites.
BEST AVAILABLE: QBs | RBs | WRs
PREDICTIONS: Midwest | Southeast
MORE: Farrell's Three-Point Stance | Wommack's Five-Star Checkup
THE STORYLINE
Clemson was tested on the road this weekend and when things got tight against Texas A&M, coach Dabo Swinney chose to play veteran quarterback Kelly Bryant instead of five-star freshman phenom Trevor Lawrence.
As the game got closer in the second half, Bryant got the call and he delivered. After the Aggies closed the lead to 21-13, Bryant came in and led the team down the field for a touchdown to put Clemson ahead, 28-13. Earlier in the third quarter, Bryant threw a touchdown pass to extend the Tigers' lead to 21-6.
Texas A&M rallied in the fourth quarter to 28-26 but could not convert a two-point conversion to essentially force overtime.
Lawrence, the No. 1 player in the 2018 class, shined early as well, throwing a nice pass that Tee Higgins high-pointed and then turned and ran for a 64-yard touchdown. But when it came down to crunch time, Swinney leaned on the veteran leadership of Bryant.
Will the two-quarterback system continue at Clemson through this season or has Bryant emerged as the one who will earn the majority of playing time after his strong performance in College Station?
FIRST TAKE: LARRY WILLIAMS, TIGERILLUSTRATED.COM
"I'm not surprised at all. Lawrence had two series to start the second half and the offense didn't move the ball. Bryant came back in and he provided perhaps the biggest spark of the game by guiding the offense on two long touchdown drives.
"It makes total sense to continue to ride Bryant for the rest of the game in that situation. Bryant made a major statement at Texas A&M, but they'll continue to play them both."
SECOND TAKE: MIKE FARRELL, RIVALS.COM
"They will continue the on-again, off-again with Bryant and Lawrence. Dabo was looking for the hot hand and the veteran leadership Saturday against A&M and Bryant was it. They'll continue to do that throughout the season and both of these guys will play a lot."