Take Two: Florida State or Georgia for Justin Fields?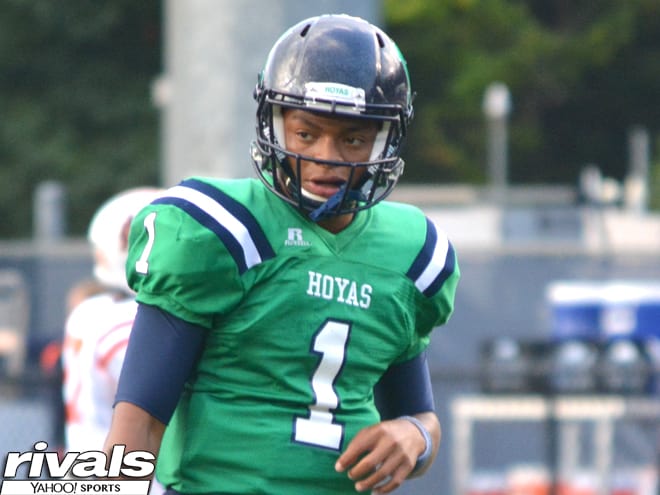 Take Two returns this week as a daily offering tackling a handful of issues in the college football landscape. Rivals.com National Recruiting Analyst Adam Gorney lays out the situation and then receives takes from Rivals.com National Recruiting Director Mike Farrell and a local expert from the Rivals.com network of team sites.
RELATED: Take Two: Bama's 2018 class | Fields moves to No. 2 in Rivals100
Storyline: Georgia feels confident. Florida State feels confident. Auburn and USC don't seem to be out of the running.
That is the situation when it comes to the recruitment of five-star quarterback Justin Fields, who moved up to No. 2 in the rankings this week behind only Clemson quarterback commit Trevor Lawrence.
What makes Fields' recruitment even more interesting is that the Kennesaw (Ga.) Harrison phenom, who had six touchdowns in his season-opener, is not talking much about recruiting these days.
And there are so many rumors: He's a silent commit to Georgia; he's told Florida State he's coming; he's going to surprise people by heading to USC. No one seems to know what Fields is thinking at this point but there could be some indications on what's going to happen. Breaking it down even further, it seems like a Georgia/Florida State battle right now and there are unsurprisingly different opinions on where the five-star quarterback will end up.
First take: "The state of Georgia has never had as many highly touted quarterbacks in the Rivals era as it does for the class of 2017. Such a crop may be unprecedented. To search the archives for a comparable athlete to Fields, one needs go back 10 years to his mentor, Cam Newton. Newton's recruitment was the stuff of legends, and the recruitment of his protégé is similarly unreal.
"With countless requests for interviews, Fields has understandably stopped speaking with the media at a time when multiple college coaching staffs appear confident that he'll be wearing their colors. From where I sit in Athens, we've long heard the whispers about Fields sticking close to home, silently recruiting for the Bulldogs and stepping into an offense custom-built for his skill set.
"I can only go off of what my sources tell me, so Georgia is my pick. But with a kid this smart, deliberate, and savvy, I'm not surprised there is conflicting information. If there's anything Fields does better than look off coverages or scramble his way to a first down, it's ignoring pundits and their opinions." – Jake Reuse, UGASports.com
Second take: "It can be Georgia but my guess is Florida State. I don't think anybody has a really good read on this. If you talk to people in and around the Georgia program, he's been silently committed to them since May. If you talk to people in and around Auburn, they're going to get him. If you talk to people in and around USC, they think they're going to pull him across the country. If you talk to people at Florida State, they feel very confident with their track record of producing quarterbacks that they're going to get him.
"He said it's a business decision. If it's a business decision, most likely he goes to Florida State. If it's a family decision, most likely he's going to go to Georgia. Safe bet right now because family always wins, is Georgia. He says over and over again he and his father are going to make a business decision and that's why I'm picking Florida State." – Farrell