Take two: Alabama's slow start to 2018 recruiting
Take Two returns this week as a daily offering tackling a handful of issues in the college football landscape.
Rivals.com National Recruiting Analyst Adam Gorney lays out the situation and then receives takes from Rivals.com National Recruiting Director Mike Farrell and a local expert from the Rivals.com network of team sites.
MORE: Rivals QB Week analyst roundtable | Recruiting takeaways from Georgia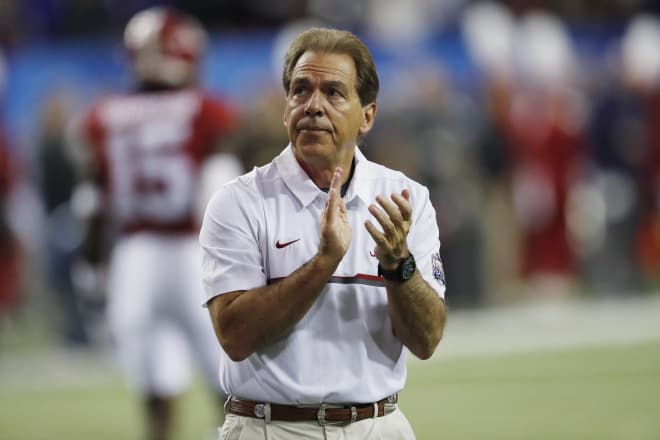 Storyline: For eight of the last 10 years, Alabama has won the Rivals.com team recruiting title. It's been an incredible run as the Crimson Tide have absolutely dominated the recruiting landscape.
That streak could be in serious jeopardy this cycle if current trends continue.
Alabama is currently No. 31 nationally in the team recruiting rankings and ninth in the SEC rankings ahead of only Auburn, Vanderbilt, Missouri, Arkansas and Ole Miss. Other than the Rebels, Alabama, with 10 pledges, has the fewest commits in the conference.
No team ranked ahead of Alabama in the national team rankings has as few commits as the Crimson Tide. And that number increased dramatically just in the last few weeks for Alabama with half of its class committing since July 1. No five-stars are currently pledged to Alabama.
So what's going on? Are players choosing other programs for a specific reason? Or is this really a sign of Alabama's strength, that coach Nick Saban and his staff can wait until later in the recruiting process and then pick and choose – even if top prospects are committed elsewhere – to fill out the Crimson Tide's recruiting class?
First take: "Alabama is expected to have a small class this year. The slow start is more about waiting for top targets to decide instead of taking guys who are ready to commit to Alabama. The Crimson Tide also have a few major targets who are committed elsewhere who may jump on board down the road. There is zero concern in Tuscaloosa at the present time. Alabama will get several of its top targets down the road. Nick Saban has always been known as the ultimate closer. He will close on big targets during official and in-home visits." – Andrew Bone, BamaInsider.com
Second take: "It's not an issue, and I'm not concerned. They are recruiting a lot of guys and they don't want to go to Plan B. Whether the guy is committed and they're going to try to flip him or whether they want to take their time, Alabama is going to get theirs in the end. I don't think Saban is in any hurry or gives really a bit of care what anybody thinks about the start of this recruiting class, because we know they'll probably finish in the top five." - Farrell