Super Bowl Rewind - Five two-stars who will play big roles Sunday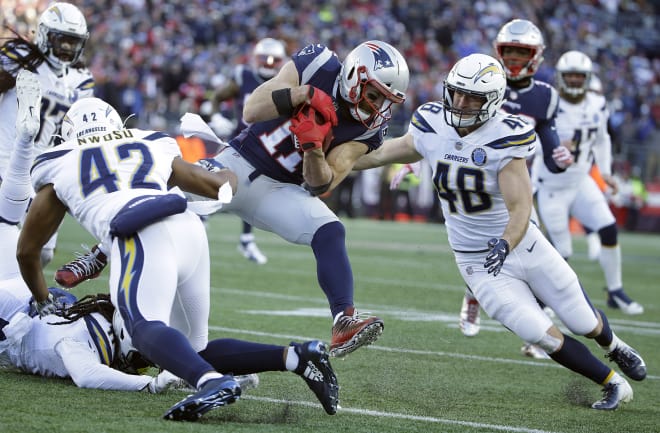 Super Bowl LIII is less than a week away in Atlanta and while most of the focus is on the Patriots and Rams and how they will match up on Sunday, we here are Rivals.com like to take a look back into the rankings of the team's current stars. Today, we focus on five former two-star rankings who have more than outperformed their rankings and should also play key roles in Sunday's game.

MORE SUPER BOWL: Breaking down rosters by where players were ranked in high school

RAMS
Recruiting/College: Saffold didn't garner much major recruiting interest, landing only three Power Five offers and taking official visits to Illinois and Indiana before committing to the Hoosiers in January 2006. It only took until halfway through his freshman year for Saffold to see the field for Indiana and once he stepped into the lineup he never looked back, starting 41 career games in college. He was drafted by the then-St. Louis Rams with the first pick of the second round in the 2010 NFL Draft.
In the NFL: In his first season, Saffold was the only rookie in the NFL to start all his team's games at left tackle. He allowed only three sacks that season. Saffold signed a five-year deal with the Oakland Raiders in 2014 but after a disagreement, he returned to the Rams and inked a five-year, $31.7 million dollar deal. He has started in 111 pro games so far in his career.
Why we missed: Saffold did not have an extensive offer list nor did he make the rounds on any camp circuit to get noticed that way. His recruitment was slow and deliberate and a few weeks before National Signing Day, Saffold picked the Hoosiers over only a few other Power Five offers. His father, Roger, Sr., played offensive tackle at Iowa but the Hawkeyes never offered.
Recruiting/College: Talib's recruitment came down to a pair of schools, Kansas and Wyoming, and he committed to the Jayhawks following an official visit after his senior high school season. Once in Lawrence, Talib established himself as a star, recording 162 tackles and 13 interceptions in his Jayhawks career. He capped off his time at the school by being named a unanimous All-American as a junior while leading the team to the 2008 Orange Bowl. He was selected in the first round of the 2008 draft by the Tampa Bay Buccaneers.
In the NFL: Only two cornerbacks - Troy's Leodis McKelvin and Tennessee State's Dominique Rodgers-Cromartie - were taken in the 2008 NFL Draft before Talib at No. 20 overall. Talib made some questionable decisions off the field but he moved into the starting lineup early in his career in Tampa and excelled at cornerback for years. Into his fifth season in Tampa Bay, he was traded to the Patriots. Talib then played for two seasons in New England before going to Denver for four seasons. In March, the Broncos traded Talib to the Rams for a fifth-round pick.
Why we missed: Talib was simply overlooked in the 2004 recruiting class even as his high school coach praised his star player and said Talib was further along at the same stage than Marcus Coleman, who started for the Houston Texans. But there were only two total stories written by Rivals.com on Talib, who had only five offers. Kansas State was trying to set up a late visit but then-Kansas assistant coach Dave Doeren, now the head coach at NC State, did all the leg work to land Talib at Kansas.
PATRIOTS
Recruiting/College: Chung's recruitment didn't have much drama as he chose Oregon, his only Power Five offer, over Wyoming and Colorado State. After redshirting his first year with the Ducks, Chung became an immediate force, earning Freshman All-American honors for his efforts in 2005. Chung went on to set a record for defensive starts with the Ducks (51) and was also a second team All-American in 2007. Chung was drafted by the Patriots in the second round of the 2009 NFL Draft.
In the NFL: Chung has already won two Super Bowls. He has totaled more than 700 tackles in his career so far along with 11 interceptions. After a short stint with the Philadelphia Eagles, Chung has been back with New England for the last four seasons and in 2018 he signed a new two-year $7.8 million dollar contract.
Why we missed: Chung was undersized, so there were questions about whether it was even possible he could play safety or whether he'd be a project at cornerback. Plus, this was in the days before 7-on-7 and Chung just didn't get much exposure in the Inland Empire. Oregon, Colorado State and Wyoming were his only offers and the Ducks considered redshirting and possibly grey-shirting Chung as well.

Recruiting/College: Edelman didn't receive any recruiting interest as a high school prospect so he ended up going the JUCO route, where he was identified by the coaches at Kent State and signed in 2006. In his three years with the Golden Flashes, Edelman was a bonafide star, throwing for nearly 5,000 yards while also rushing for nearly 2,500 yards. Despite catching just one pass for 11 yards in college, Edelman transitioned to wide receiver prior to the draft and was selected in the seventh round by New England in 2009.
In the NFL: Not invited to the NFL Scouting Combine, Edelman reportedly ran the short shuttle in 4.01 seconds, faster than anybody at the combine. Ever since, he's been quieting critics and dominating for the Patriots. Edelman missed the 2017 season due to injury but in nine seasons, he has totaled 5,390 receiving yards and 30 touchdowns. He's had two seasons (2016 and 2013) where he had more than 1,000 receiving yards and was the Patriots leading receiver this season with 850 yards despite a four-game suspension.

Why we missed: He was a 5-foot-10 dual-threat quarterback from Northern California before it became fashionable to be that size to play that position in spread offenses. Edelman had to go the junior college route to get a shot and even then Kent State was the school to give him an opportunity. As Edelman's career has played out, a two-star ranking is obviously a miss, but what else could have possibly been expected with how his college career played out?
Recruiting/College: The McCourty brothers get lumped together for this exercise since both were colossal misses as recruits back in 2005. Jason was the more highly-regarded recruit, netting offers from Boston College and a few others, while Devin received only an offer from Rutgers. Wanting to stay together, the two committed following their senior high school seasons.
Once in college, Devin became a starter as a redshirt freshman and a star as his career moved along. He capped things off with an All-Big East selection as a senior in 2009. He went on to be drafted by the Patriots in the first round in 2010. Jason had a less spectacular but still solid career, totaling 150 tackles and two interceptions. He was drafted by the Tennessee Titans in the sixth round of the 2009 NFL Draft.
In the NFL: In his first eight seasons with the Patriots, Devin McCourty totaled 138 tackles, 20 interceptions and eight forced fumbles. McCourty had seven tackles and two pass deflections in last season's Super Bowl loss to the Philadelphia Eagles. He had an 84-yard Pick Six against the Buffalo Bills earlier this season. This was the first season the McCourty Bros. reunited on the same NFL team as Jason McCourty was traded from the Cleveland Browns. He has 70 tackles and an interception so far this season for the Patriots. In his career, mainly with the Tennessee Titans, Jason McCourty has 114 tackles and 17 picks.
Why we missed: As Rivals.com National Recruiting Director Mike Farrell explains it, Devin McCourty basically received a late offer from Rutgers in an attempt for the Scarlet Knights to land his more-coveted brother, Jason, or otherwise he would've been headed to FCS. Devin McCourty had size and strength issues and it looked like he would be outmatched at the FBS level, but instead he developed into a Super Bowl champion.

Other two-stars on the rosters:

Los Angeles: OL Jamil Demby (Maine, 2014), DB John Johnson (Boston College, 2013), LB Bryce Hager (Baylor, 2010), OL Robby Havenstein (Wisconsin, 2010), P Johnny Hekker (Oregon State, 2008), TE Tyler Higbee (Western Kentucky, 2011), WR KhaDarel Hodge (Prairie View A&M, 2013, Alcorn State transfer), LB Justin Lawler (SMU, 2013), WR Bruce "JoJo" Natson (Akron, 2012), DL Tanzel Smart (Tulane, 2013)

New England: DB
LB Ramon Humber (North Dakota State, 2005), DL Ufomba Kamalu (Miami, 2013, JUCO), LB Albert McClellan (Marshall, 2005)