Super Bowl LIII: Where the players ranked as high school prospects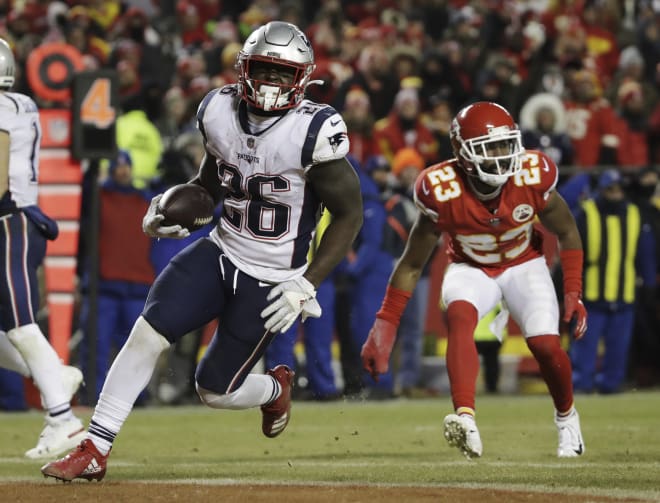 Super Bowl week kicks off in earnest on Monday, as the New England Patriots and Los Angeles Rams prepare to square off in the 53rd playing of the game. Each year, plenty is made of how the players in the game ranked as high school recruits. This year is no exception, with plenty of former elite recruits taking key roles.
Today, we take a closer look at the former five-stars playing in the game and break down the rest of the roster by star rankings.
*****
NEW ENGLAND PATRIOTS
Recruiting/College: Brown's recruitment came down to four schools -- Texas, Texas A&M, Oklahoma and TCU -- and he pledged to the Longhorns during the spring of his junior year. His career in Austin was up and down, but he still finished with finished with 165 tackles, 8½ sacks, 29 tackles for loss, two forced fumbles, two fumble recoveries and six passes defensed in three seasons at Texas. He went to to be drafted with the last pick of the first round by New England in 2015.
In the Pros: Brown has easily lived up to his five-star billing in the NFL, eclipsing his career college stats each of his first three seasons in the NFL. A versatile player who can move from defensive tackle to defensive end when needed, he has started 51 of 60 careers games and has 186 career tackles as well as 8.5 sacks.
Farrell's Memories: "Brown was a very athletic defensive tackle out of high school who could not only stuff the run and hold the line of scrimmage but who could get after the passer as well. Mario Edwards was the big name in Texas along the defensive line that year but Brown moved to five-star status after a great performance at the Army Bowl. There were some who thought he had a higher ceiling than Edwards, which is saying something and he's off to a great start in his NFL career."

*****
Recruiting/College: A South Florida legend before he finished his high school career, Michel had options from coast-to-coast before limiting his choices to Georgia, Notre Dame and Miami. The Dawgs ended up beating out both programs to land Michel's commitment during the spring of his junior year and he never wavered on that pledge. Michel teamed with Nick Chubb to make quite the 1-2 punch in Athens, and he finished his college career with 3,613 yards and 33 touchdowns. He was selected by the Patriots with the No. 31 overall pick in the 2018 NFL Draft.
In the Pros: Michel struggled with injuries through parts of the 2018 season but he has come on strong down the stretch run of the season and in the playoffs. He finished the regular season with 931 yards and six touchdowns and has rushed for 242 yards and five more touchdowns in two playoff games this postseason.
Farrell's Memories: "Michel was a star in eighth grade and was a man among boys for much of his high school career. He had good size, excellent speed and he could catch the football. I remember being surprised by his pass catching ability at more than one camp and almost made him an all purpose back because of it. It's no surprise he went onto a very good career at Georgia and was a first rounder and key contributor for the Pats."

*****
LOS ANGELES RAMS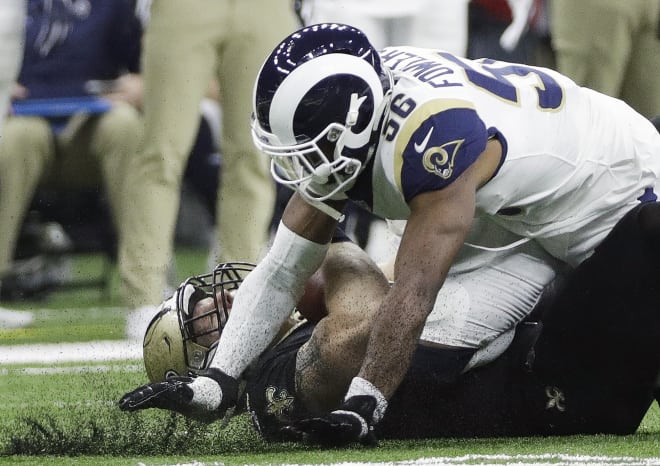 Recruiting/College: Fowler initially committed to Florida State but continued to get interest from several other programs, mainly Florida. After a long flirtation with the Gators, he finally flipped on National Signing Day in 2012. Once in Gainesville he worked his way into the lineup and by his sophomore year he was an All-SEC selection and following his junior season he was off to the NFL Draft. He finished his UF career with 140 total tackles and 14.5 sacks. He was selected No. 3 overall in the 2015 NFL Draft by Jacksonville.
In The Pros: Fowler's NFL career began with a torn ACL that forced him to miss his entire rookie season. After returning to mixed results in 2016, he had a big year as a pass rushing specialist in 2017, recording eight sacks. After a slow start to the 2018 season, Fowler was traded to the Rams, where he more than doubled his output over the second half of the season. For his career, Fowler has 83 total tackles and 16 sacks.
Farrell's Memories: "Fowler Jr. was one of the few prospects that lost his fifth star only to gain it back after a great all-star performance at Under Armour. He was a dynamic pass rusher from the outside but had a rough senior season where he underperformed. Then he went out at Under Armour week and destroyed everyone. Fowler had one of the quickest first steps I've seen from a defensive end when he was on his game."

*****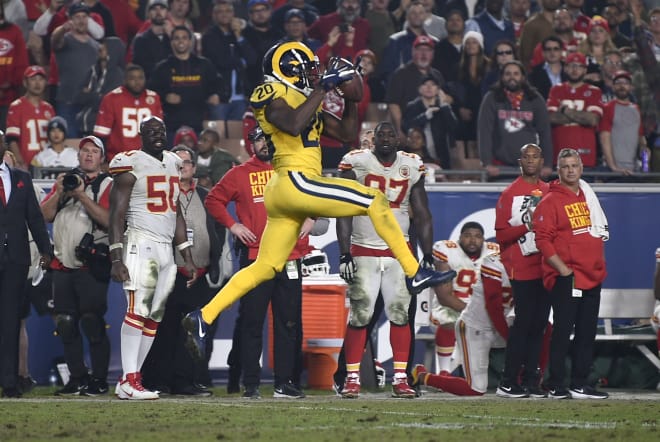 Recruiting/College: Joyner's recruitment came down to Florida State, Notre Dame and Ohio State and after visiting all three programs, he committed to the 'Noles following his senior season. Once at Florida State, Joyner didn't take long to make an impact, playing in 14 games as a freshman and never looking back. Joyner played a key role in Florida State's national championship season in 2013 and finished his career with 197 total tackles and eight interceptions. He was drafted by the Rams in the second round of the 2014 NFL Draft.
In The Pros: Despite some initial hiccups early in his career, Joyner has emerged as a consistent playmaker in the Rams' secondary over the past few seasons. He had one of his best years in 2018, setting a career mark in tackles with 78. In five seasons, he has 305 total tackles and four interceptions.
Farrell's Memories: "Joyner was a controversial five-star because he was so short but he had very long arms for his size and played much bigger. His instincts and willingness to be physical were off the charts and he played like a 5-11 safety who could also play corner. Joyner could also have been a great offensive player with his ball skills. I remember how he handled a few huge receivers at some of the bigger 7on7 tournaments his junior year and was convinced he could be a very good one."

*****
Recruiting/College: USC was the leader pretty much from the beginning of Woods' recruitment and despite the best efforts of schools such as UCLA and Stanford, he committed to the Trojans just prior to the start of his senior season. Once at USC, Woods was a star, finishing with 2,930 receiving yards and 32 touchdowns in three seasons at the school. He was a second-round selection by the Buffalo Bills.
In The Pros: Despite showing promise in his first four seasons with the Bills, Woods didn't truly break out, never recording more than 699 yards receiving in a season. That all changed once he arrived in Los Angeles for the 2017 season, when he had career highs in yards (781) and touchdowns (five). This year, he has taken his game to another level, finishing the regular season 1,219 yards and six touchdowns.
Farrell's Memories: "A dynamic athlete in high school, Woods was a can't-miss kid with speed, excellent route running ability and great hands. He set up defensive backs very well, could cut on a dime and was sneaky strong for his size. He's one of the few USC wide receivers who was a five-star and lived up to the hype over the last decade and he's turned into one of the best receivers in the league."

*****
FOUR-STARS
Los Angeles: OL Brian Allen (Michigan State, 2014), LB Mark Barron (Alabama, 2008), OL Austin Blythe (Iowa, 2011), DL Michael Brockers (LSU, 2009), WR Brandin Cooks (Oregon State, 2011), DB Blake Countess (Michigan 2011, Transfer to Auburn), RB Justin Davis (USC, 2013), QB Jared Goff (California, 2013), RB Todd Gurley (Georgia, 2012), DB Nickell Robey-Coleman (USC, 2010), DB Sam Shields (Miami, 2006), DT Ndamukong Suh (Nebraska, 2005), OL John Sullivan (Notre Dame, 2003), LB Ramik Wilson (Georgia, 2011)
New England: TE Dwayne Allen (Clemson, 2008), RB Rex Burkhead (Nebraska, 2009), DL Adrian Clayborn (Iowa, 2006), DB Duke Dawson (Florida, 2014), DB Stephon Gilmore (South Carolina, 2009), TE Rob Gronkowski (Arizona, 2007), DL Lawrence Guy (Arizona State, 2008), LB Dont'a Hightower (Alabama, (2008), RB Jeremy Hill (LSU, 2011), J.C. Jackson (Florida, 2014, Transfer Maryland), WR Cordarrelle Patterson (Tennessee, 2012, JUCO), DL Danny Shelton (Washington, 2011), LB Kyle Van Noy (BYU, 2009)
THREE-STARS
Los Angeles: RB C.J. Anderson (California, 2011), DT Aaron Donald (Pittsburgh, 2010), DB Troy HIll (Oregon, 2010), DT Sebastian Joseph-Day (Rutgers, 2013), RB John Kelly (Tennessee, 2015), LB Micah Kiser (Virginia, 2013), LB Cory Littleton (Washington, 2012), TE John Mundt (Oregon, 2013) OL Joseph Noteboom (TCU, 2013), LB Ogbonnia Okoronkwo (Oklahoma, 2013), DB Marcus Peters (Washington, 2011), WR Josh Reynolds (Texas A&M, 2014, JUCO) OL Trevon Young (Louisville, 2014, JUCO)
New England: OC David Andrews (Georgia, 2011), OL Trenton Brown (Florida, 2013, JUCO), OL Adam Butler (Vanderbilt, 2012), OL Marcus Cannon (TCU, 2006), WR Phillip Dorsett (Miami, 2011), OL James Ferentz (Iowa, 2008), DL Trey Flowers (Arkansas, 2011), DB Duron Harmon (Rutgers, 2009), QB Brian Hoyer (Michigan State, 2004), DB Jonathan Jones (Auburn, 2012), OL Ted Karras (Illinois, 2011), LB Brandon King (Auburn, 2013, JUCO), OL Shaq Mason (Georgia Tech, 2011), DE John Simon (Ohio State, 2009), Matthew Slater (UCLA, 2003), OL Joseph Thuney (N.C. State, 2011), OL LaAdrian Waddle (Texas Tech, 2009), RB James White (Wisconsin, 2010), DL Deatrich Wise (Arkansas, 2012)
TWO-STARS
Los Angeles: OL Jamil Demby (Maine, 2014), DB John Johnson (Boston College, 2013), LB Bryce Hager (Baylor, 2010), OL Robby Havenstein (Wisconsin, 2010), P Johnny Hekker (Oregon State, 2008), TE Tyler Higbee (Western Kentucky, 2011), WR KhaDarel Hodge (Prairie View A&M, 2013, Alcorn State transfer), LB Justin Lawler (SMU, 2013), WR Bruce "JoJo" Natson (Akron, 2012), OL Rodger Saffold (Indiana, 2006), DL Tanzel Smart (Tulane, 2013), DB Aqib Talib (Kansas, 2004)
New England: DB Patrick Chung (Oregon, 2004), WR Julian Edelman (Kent State, 2006, JUCO), LB Ramon Humber (North Dakota State, 2005), DL Ufomba Kamalu (Miami, 2013, JUCO), DB Devin McCourty (Rutgers, 2005), DB Jason McCourty (Rutgers, 2005), LB Albert McClellan (Marshall, 2005)
UNRANKED
Los Angeles: DB Marqui Christian (Midwestern State, 2012), LB Samson Ebukam (Eastern Washington, 2013), TE Gerald Everett (South Alabama, 2012, Bethune-Cookman, UAB transfer), DE John Franklin-Myers (Stephen F. Austin, 2013), LB Matt Longacre (NW Missouri State, 2010), LS Jake McQuaide (Ohio State, 2006), DE Ethan Westbrooks (West Texas A&M, 2011, JUCO), DB Darious Williams (UAB, 2013), K Greg Zuerlein (Missouri Western, 2006)
New England: P Ryan Allen (Oregon State, 2008, Walk-on), TE Stephen Anderson (California, 2011, Walk-on), LS Joe Cardona (Navy, 2010), DB Keion Crossen (Western Carolina, 2014), DT Keionta Davis (Chattanooga, 2012), FB James Develin (Brown, 2006), DB Nate Ebner (Ohio State, 2008, Walk-on), K Stephen Gostkowski (Memphis, 2002, Walk-on), WR Chris Hogan (Monmouth, 2010, Grad Transfer), DB Obi Melifonwu (UConn, 2012), DE Derek Rivers (Youngstown State, 2013), LB Eladon Roberts (Morgan State, 2012)
PRE-RIVALS
Los Angeles: OL Andrew Whitworth
New England: QB Tom Brady