{{ timeAgo('2022-07-20 10:16:54 -0500') }}
football
Edit
Sting Factor: QB Chris Parson backs off Florida State pledge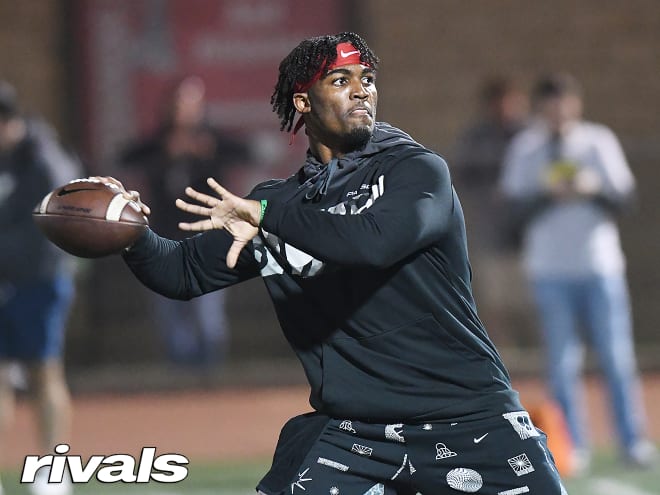 THE STORYLINE  
Chris Parson said all the right things recently when asked about his Florida State commitment.
The three-star quarterback said he wants to be a Seminole, that Florida State is home, that it has been his favorite school since he's been a kid, that it's been a dream of his to play for FSU and that he believes in coach Mike Norvell.
All that can still be true, but the Brentwood (Tenn.) Ravenwood standout has now backed off his pledge to the Seminoles as Mississippi State, SMU, Cal and others have gotten involved.
Parson is officially back on the market and Florida State is without a quarterback in this recruiting class, although the Seminoles are heavily pursuing four-star Brock Glenn out of Memphis (Tenn.) Lausanne Collegiate Academy, Purdue commit Rickie Collins and possibly others.
The Brentwood Ravenwood prospect had been committed to Florida State since July 2021, but he's now open again and the Seminoles are looking to lock up at least one quarterback for this recruiting class.
*****
  LOCAL REACTION  
"This was pretty expected ever since Parson seemed to not like FSU taking two QBs. He seemed to open communication up with other schools, and then when things picked up with Glenn that seemed to speed it up even more.
"Certainly when you lose a QB committed for 355 days it stings, but as long as Glenn jumps onboard I don't see it being a massive blow. Glenn looks good for FSU. Still, it's a sting when FSU put in that much on a recruitment. But overall - as long as Glenn is there for FSU - the loss is minimal to me as both are great talents." - Michael Langston, Warchant.com
Sting Factor: 6
*****
NATIONAL REACTION
"If Florida State lands Glenn or Collins then the Sting Factor here is minimized. Parson is a talented quarterback with a lot of dynamic, dual-threat traits, but Glenn has proven over time he is a more talented thrower, even though he did struggle a little at the Elite 11. Collins has a lot of abilities and in some ways might be a touch less thrilling, but is taller than Parson with usually better accuracy.
"Either of those two quarterbacks would salve the loss of Parson for the Seminoles. But keeping him in this class was important, too, because he does have special abilities and skills that are rare at the QB position and he seemed to fit what FSU wants to do on offense.
"At this point he's not looking at any other ACC teams, so the Sting Factor is not crushing, but losing a longtime QB commit isn't ideal, either. - Adam Gorney, Rivals national recruiting director
Sting Factor: 6