Sting factor: Penn State, Rivals250 DE Dorian Hardy part ways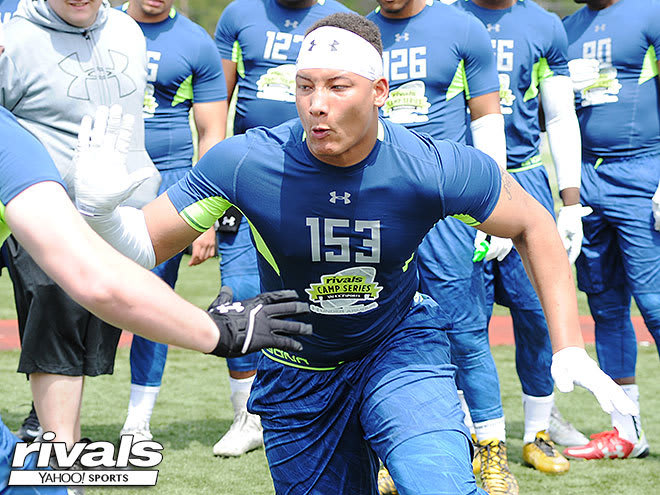 Rivals250 defensive end Dorian Hardy committed to Penn State in June after a series of visits to Happy Valley. Of the four defensive linemen committed to the Nittany Lions, Hardy, a stand out at Paramus (N.J.) Paramus Catholic, was the second highest-ranked but after a widely publicized fight at high school it appears Hardy will no longer be attending Penn State after he graduates. Hardy is now enrolled at Elizabeth High School in New Jersey, his third high school in two years.
MORE STING FACTOR: Kenyon Jackson decommits from LSU | Tyler Shough's flip
LOCAL REACTION
"Penn State is an excellent position with multiple defensive lineman, most notably DE Micah Parsons, DE Jayson Oweh and DT Tyreke Smith. Both Parsons and Oweh visited earlier this season and Oweh is scheduled to take an official visit next month for the game against Nebraska. The Nittany Lions will also host Smith this upcoming weekend for an unofficial visit, then again in December for an official visit. Since this wasn't a true decommitment, there's no reason for fans to not trust what the staff is doing here. I expect them to fill Hardy's spot with another quality prospect." - Ryan Snyder, BlueWhiteIllustrated.com
Sting factor: 1
REGIONAL REACTION
"Reloading on the defensive line was already a big priority for Penn State heading into this recruiting class and Hardy, a longtime commit, was somebody the Penn State coaches were planning to rely on for the next few years. Losing a big piece of their recruiting class at this point in the recruiting process hurts, regardless of the circumstances." - Adam Friedman, Rivals.com
Sting score: 6
NATIONAL REACTION
"Everyone needs talented defensive linemen and Hardy was a big part of this class but off-field issues can supersede talent many times and I think PSU will replace him with someone of similar talent or double down in 2019." - Mike Farrell, Rivals.com
Sting score: 3
AVERAGE STING SCORE: 3.33
What happens now: Penn State a handful of major defensive line targets left on the board and this additional (unexpected) scholarship could end up helping them in the long run. Five-stars Micah Parsons and Tyreke Smith as well as Rivals250 defensive end Jayson Oweh are very high on the Nittany Lions and odds are at least one of them ends up with Penn State. Other targets like Rivals100 defensive lineman Rick Sandidge, Tyler Friday and Eyabi Anoma could see an uptick in their contact with Penn State too.