Sting Factor: Kenny Minchey's decommitment from Pitt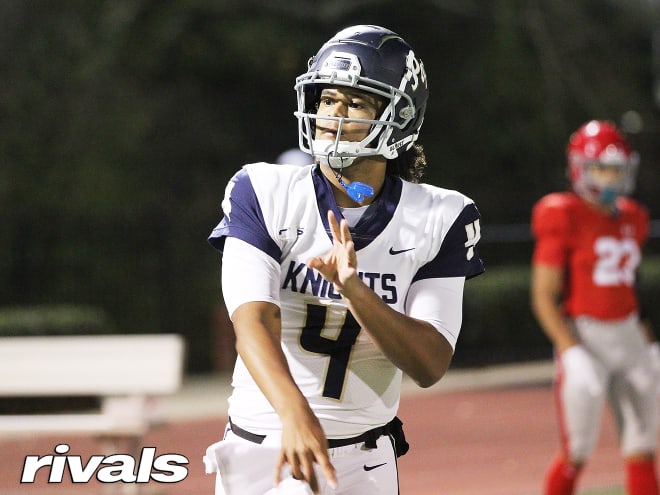 When a major program loses a key recruit, Rivals.com takes a look at how big of a blow it is to the respective school, analyzing it from a local and national level. To quantify the "sting" of each decommitment, we assign a score from one to 10, with one being no big deal and 10 being a catastrophic hit.
THE STORYLINE
Pitt's coaches cast a wide net, offering a bunch of 2023 quarterbacks early in the recruiting process. They narrowed that down to less than a handful who visited this past offseason and then landed a commitment from Kenny Minchey in April.
The Hendersonville (Tenn.) Pope John Paul II high three-star quarterback said he "fell in love" with Pitt and he stuck with the Panthers through the summer and through his senior season. But on Monday, Minchey backed off his pledge to the Panthers.
This could have nothing to do with Pitt after all and more to do with Minchey landing an offer from Notre Dame in late July. Since that time there has been chatter that the Irish could end up with Minchey's commitment and that now looks likely with him back on the market.
Minchey has to do what he feels is best for his future. That's completely understandable. But Pitt is in a tough spot now with four offensive line commitments, four receiver commits, a running back committed but no quarterback pledged.
And not many out there remaining unless the Panthers can flip one or use the transfer portal to cover Minchey's spot.
*****  
LOCAL REACTION
Kenny Minchey's decommitment is a considerable blow for Pitt's 2023 recruiting class. Minchey was arguably one of the top two or three overall prospects in the class, with an impressive performance at the Elite 11 and an even better senior season demonstrating his potential.
Beyond that, Minchey was the quarterback in the class, leaving Pat Narduzzi and his staff scrambling for a new signal-caller with five weeks to go until signing day. - Chris Peak, Panther-lair.com
Sting factor: 10
*****
NATIONAL REACTION
This is a very tough decommitment for Pitt because Minchey was so good at the Elite 11 this summer and is definitely someone who could be in line for a bump in the rankings when we redo things after the season. It looks very much like Minchey will end up in Notre Dame's class as well as the Irish definitely have moved way up since the summer.
I don't think this is a complete disaster though since the transfer portal will have so many opportunities in the coming weeks, even before the Early Signing Period starts. Kedon Slovis was a transfer and many QBs will be in the portal soon. I'm not sure Pitt could upgrade from Minchey in the high school ranks but there are other ways to attack this problem. - Adam Gorney, National Recruiting Director
Sting factor: 8