Sting Factor: Dylan Lopez's decommitment from USC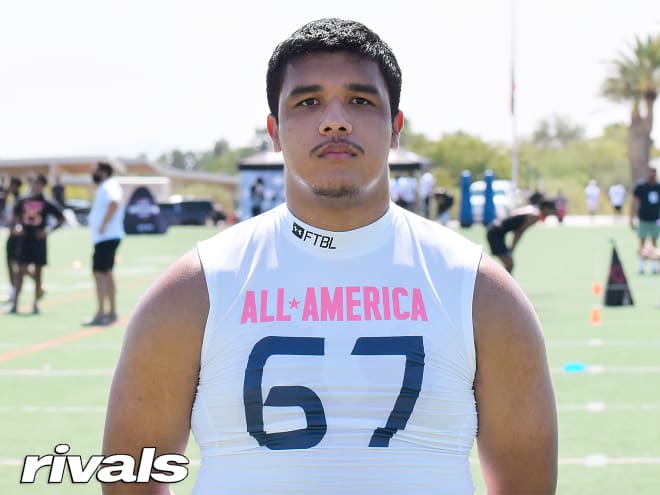 When a major program loses a key recruit, Rivals.com takes a look at how big of a blow it is to the respective school, analyzing it from a local and national level. To quantify the "sting" of each decommitment, we assign a score from 1-10, with one being no big deal and 10 being a catastrophic hit.
THE STORYLINE
Dylan Lopez was one of the earliest commitments in USC's 2022 class but in the last few days the three-star interior offensive lineman has backed off his pledge to the Trojans.
It has been a time of change for Lopez, who recently transferred to Bradenton (Fla.) IMG Academy from Moreno Valley (Calif.) Rancho Verde along with four-star teammate A.J. Duffy.
USC has also changed offensive line coaches since Lopez's commitment and that could have played a factor in Lopez's decision as well.
It is never good to lose a commitment especially when trying to add depth across the offensive line but the Trojans are actually loaded at center and have other targets on the board as well.
Brett Neilon, Justin Dedich, Andrew Milek and Jonah Monheim all can be utilized at center and so Lopez's decision to back off his pledge should not have an immediate or significant impact along the offensive line.
The three-star standout said Cal, Oregon State, Colorado and Michigan State have all been in contact especially since Lopez has decommitted.
LOCAL REACTION
"USC was happy to land an early commitment from Lopez, but ultimately center is not a position of pressing need, especially with 2020 four-star prospect Jonah Monheim getting some looks there this spring. With incumbent starter Brett Neilon still having a couple years of eligibility left, experienced backup Justin Dedich having years left, 2020 signee Andrew Milek already moved to center and Monheim a potential future keystone there, USC won't feel the impact of this much.
"And that's no knock on Lopez, who has elevated the spotlight on his recruitment by making the move from Rancho Verde HS in California to IMG Academy in Florida. USC has a new offensive line coach since Lopez committed, and maybe that came into play here one way or the other. Ultimately, the Trojans need offensive tackles in this class." - Ryan Young, TrojanSports.com
Sting factor: 3
NATIONAL REACTION
"I'm considering Lopez a local prospect even though he's at IMG because he played at Moreno Valley (Calif.) Rancho Verde and mainly all the schools recruiting him are in the Pac-12. But I don't consider this a major loss for the Trojans. Lopez is definitely a talented and physical interior lineman but at center, USC is loaded and didn't really need to take someone there during this recruiting cycle.
"If USC wants to be in the market for centers and guards there are many high-level ones interested in the Trojans. If Lopez comes back and plays at a Pac-12 school then this number could be a little higher because he has a lot of skill but I don't see this hurting USC much moving forward." - Adam Gorney, National Recruiting Director
Sting factor: 2