Southeast Spotlight: Superlatives for top quarterback prospects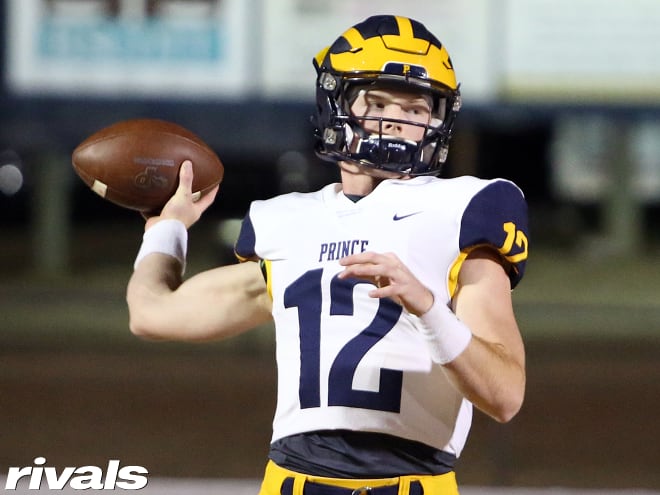 The high school football season sits at different stages across the Southeast, with some states just getting started, while others have already progressed to the post-season. There is no better time, then, to take a look at quarterbacks throughout the region. Who is hot, who is emerging, and which prospects are worth greater attention?
THE FRANCHISE: Brock Vandagriff
The Prince Avenue quarterback, who lives just a few miles from the Georgia campus, decommitted from Lincoln Riley and Oklahoma on New Year's Day and committed to Kirby Smart and the local Bulldogs shortly thereafter. Vandagriff has become the leader of this recruiting class for Georgia. Not only is he recruiting at a high level, and targeting some many elite prospects, he is having an outstanding senior season.
Through five games, Vandagriff is 81-for-119 for 1,274 yards, 14 touchdowns and three interceptions. He also has 272 yards rushing and eight more touchdowns on the ground. His quarterback rating through the first half of the season is 132.1.
The five-star is a very smart player with a live arm and great leadership qualities. He is going to make that quarterback room much stronger the minute he gets to Athens in January. Vandagriff is a competitor, he is in constant contact with Todd Monken and he is on track to be that next star signal caller to play between the hedges.
THE FUTURE STARS: Ty Simpson and Gunner Stockton
This pair knows the game. This pair can spin the football. This pair can run. This pair is smart. This pair leads. This pair has been in that five-star discussion.
Stockton is already committed to South Carolina, and he chose the Gamecocks over Georgia in the end, but he had well over 20 offers on the table. He has a smooth delivery, clean mechanics and can make all the throws.
Some feel Tennessee is the favorite to land Simpson with it being the in-state program, but Alabama, Auburn, Clemson and many others are still being considered. Simpson's father is Jason Simpson, the head coach at Tennessee-Martin, so he has been around the game, and he has ties to both Mississippi State and Ole Miss.
THE NEXT BIG THING: Dylan Lonergan
He still has two and a half high school football seasons left to play, but Lonergan is a name to know. The sophomore has played five games this season, and he has completed 77 percent of his passes for 1,524 yards and 14 touchdowns. He has added 225 yards and two more scores on the ground. Lonergan has a big arm, he is mobile and he has a very bright future. His arm is so talented that has also has baseball offers, so that sport will be something he considers as well.
His father played at Penn State and the Nittany Lions have offered. Auburn, Florida, Georgia, Georgia Tech, LSU and Tennessee have also offered.
THE LATE RISER: Riley Leonard 
Leonard is a very intriguing athlete. He has some offers from smaller schools to play basketball, but is committed to David Cutcliffe and Duke to play football. We all know how Cutcliffe develops quarterbacks, and Leonard could be next in line.
This one is a natural athlete who is still learning the quarterback position. Leonard is just over halfway through the 2020 season and has completed 70 percent of his passes for just over 1,200 yards and 13 touchdowns. He has rushed for over 300 yards as well.
He is about upside, and he is one who could be a steal for the Blue Devils when we look back four to five years from now.
THE OVERLOOKED: Lamarcus Brown
Brown is an athletic quarterback that can hurt defenses with his arm and legs. The playmaker out of Eight Mile (Ala.) Blount is known for his arm strength and his ability to extend plays. Not being in front of coaches this spring and able to hit the camp circuit in 2020 has hurt his recruitment some. He still has offers from Florida Atlantic, Grambling and Southern Miss, but it is still unclear who will pursue the talented signal caller and what other offers could come. His talent is better than the offer list and he is one somewhat flying under the radar.
THE YOUNG GUN: Ethan Crawford 
Crawford is a sophomore, and he is a gunslinger that throws with ease. Kentucky, Maryland and Southern Miss have offered. Georgia is showing major interest. Oklahoma State and Oregon have started reaching out to his coach. His film is strong and it is only a matter of time before Crawford's recruitment takes off.
He has played seven games this season, and he has completed almost 70 percent of his passes for 1,671 yards and 19 touchdowns. On the ground, he has added another 260 yards and six touchdowns. As more programs see his film and put their eyes on him in 2021, the more you will hear Crawford's name.
THE ATHLETE: Jacurri Brown
The quarterback position is so much different today than it was just five to six years ago. It used to be all about game-management and who could make the throws in the pocket. Both of those things are still very important, but being athletic, being able to extend plays, being able to make plays with your legs and being able to create have become much higher on the board when evaluating quarterbacks.
Brown is a big athlete. He is still improving as a passer, and that will get better, but what stands out about him most now is his size and the way he moves. Multiple coaching staffs that have coached against him this season were shocked at his speed at 6-foot-5, 220 pounds. He is a physical runner, he is tough to tackle and he is a big athlete with a live arm.
Georgia is the most recent program to offer. Auburn was on him early, Florida is in heavy pursuit, and the Gators could be the early favorite. Clemson and Ohio State are showing a lot of interest, and Brown has interest in both of those schools.