Southeast Spotlight: Biggest remaining 2023 storylines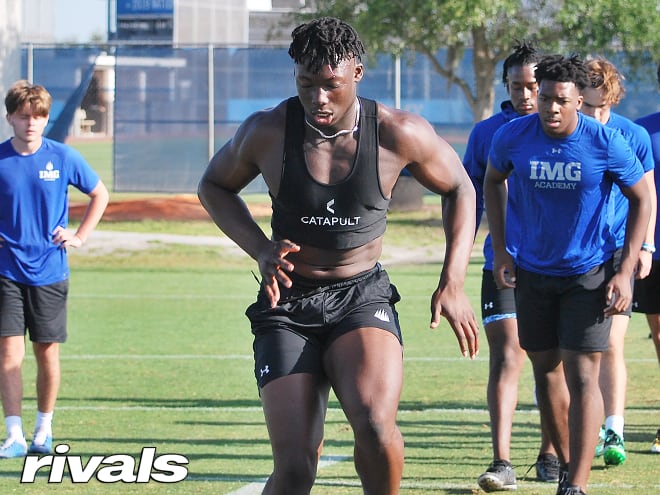 How many defensive ends will Georgia sign?
The prevailing feeling is Georgia is the leader for IMG Academy end Samuel M'Pemba, but the five-star has taken an official with Tennessee and still has upcoming trips to LSU and Miami. Another high-profile end the Bulldogs are seemingly leading on is Venice High School (Fla.) four-star Damon Wilson, with Ohio State in the mix. M'Pemba, Wilson and North Carolina four-star Daevin Hobbs were on campus for the Bulldogs' feather-in-the-cap win against Tennessee. Hobbs, who has a top three of UGA, Alabama and Tennessee, reportedly enjoyed the time in Athens.
How many of the three will join commit Gabriel Harris in Athens? Prediction: at least two of their targets.
*****
Are James Smith and teammate Jaquavious Russaw a lock for Alabama?
There's been a lot of talk around the Carver teammates and what the duo may do as a possible packaged deal. Russaw is a difference-maker on the edge who can collapse the pocket in a heartbeat. When Smith wants to turn it on, he is on another level. Together or separately, they have their pick of top schools.
The pair have taken official visits to Georgia, Auburn and Florida, with unofficial stops made this fall to Auburn, Alabama and Georgia. Speculation is Alabama is the leader, especially after the uncertainty on The Plains with Bryan Harsin's dismissal. Could Florida or Georgia sneak in and steal two prized in-state players away from the Crimson Tide?
*****
What will newly reclassified cornerback Desmond Ricks do?
When 2024 corner Desmond Ricks reclassified to the 2023 class it made waves among the recruiting universe. The five-star went from the top-rated player at his position to the second-rated among the seniors. With his jump in grades came a top-three of Alabama, Florida and LSU.
Alabama has been a frontrunner, but Ricks was big on LSU, thanks to the recruiting efforts of assistant coach Corey Raymond, who is now at Florida with Ricks' former IMG teammate DB Kamari Wilson.
If the decision is based off need in the 2023 class, Alabama has three DB commits, Florida has five and LSU has six. Alabama is a known commodity, but both LSU and Florida have recruiting enthusiasm being generated under first-year head coaches.
*****
Can Georgia flip top-rated in-state RB Justice Haynes away from Alabama?
The Bulldogs made no secret that they wanted Justice Haynes as a big part of their 2023 class, but the nation's top-rated tailback verbally committed to Alabama on July 17. Going to an SEC counterpart has not stopped UGA from going after Haynes. Georgia had a prolific amount of talent on campus for the big when over then-No. 1 Tennessee last weekend and Haynes was in attendance, creating a stir.
The pitches are straightforward for the Bulldogs legacy: You can stay home, play in front of your friends and family, and win SEC and national championships at Georgia. Will those pitches work?
*****
Where will defensive tackle Jordan Hall go?
Before Rivals re-ranks the 2023 class, an argument could be made that Jordan Hall is one of the best four-stars out there. Hall is the nation's 13th-rated defensive tackle, but a monster senior season should see him rise in the rankings. The big man out of Jacksonville (Fla.) Westside High is down to Georgia and Florida, with Alabama as an outside contender. The Bulldogs are wanting him so, head coach Kirby Smart came by helicopter to his high school to see him.
On the need front, Alabama has one defensive tackle commit (Edric Hill), Georgia has one (Jamaal Jarrett) and Florida also has one (Will Norman). Florida is actively trying to flip UCF commit John Walker. The need is there for the Gators, but the Bulldogs may have a slight edge.