Southeast Spotlight: Biggest fall rankings questions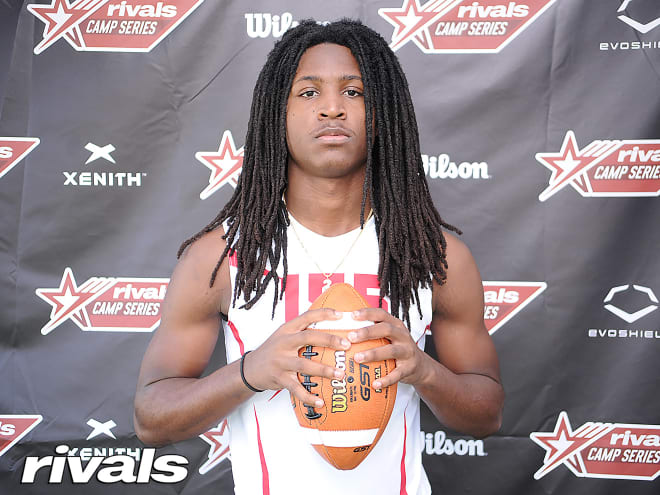 Whether there is a football season next fall and what that looks like continues to be debated and discussed at high school athletic associations across the country. If a season does take place, it will be the first time seeing the majority of the top college prospects since the end of last season. Here are five big questions we are looking to get answered in the Southeast this fall.
MORE: Midwest ranking questions

CLASS OF 2021 RANKINGS: Rivals250 | Position | Team | State
CLASS OF 2022: Top 100
1. Can Corey Collier keep his fifth star?
Corey Collier burst on to the scene as a sophomore and there's no doubt that he remains an elite prospect. His combination of size and athleticism gives him a massive ceiling. That said, he was awarded five stars because of his elite upside. Since then, his trajectory has varied. Collier shows flashes of reaching his sky-high potential at times but has yet to become as consistent as coaches would like. How he looks on game days this fall will be all important, as the five-star defensive back is front and center under the microscope.

2. What do we make of James Williams?
A one-time five-star, safety James Williams possesses what is possibly the most impressive build in the 2021 class. His 6-foot-5 frame combined with incredible athleticism lends itself to versatility and also draws comparisons to Clemson standout turned first-round pick Isaiah Simmons. That said, some worry he'll grow into a linebacker and lose some of the speed that makes him special. There have also also been questions surrounding his tackling ability and physicality.

There's no doubt that the South Florida-based standout is one of the top prospects in the 2020 class, but whether or not he should be a five-star remains a debate. Williams didn't participate in the camp circuit before it was shut down by the Covid19 crisis, so his senior season will do a lot to answer any lingering doubts. He's expected to commit to either Georgia or Miami in the weeks ahead.
3. Is there another five-star in Georgia?
The state of Georgia has two five-stars, offensive tackle Amarius Mims and quarterback Brock Vandagriff (Georgia commit), at this time, and that is how it will look entering the 2020 season. In the 2020 cycle, there were seven five-stars in Georgia. There likely won't be that many in the Peach State in one season in the foreseeable future, but in 2019, there were three and in 2018 there were five. There is always talent in Georgia, and two seems a little low these days, so could there be a third, even a fourth to emerge this cycle as a five-star prospect?

There are numerous players that could be mentioned, but the three with the most chatter seem to be four-star linebacker Barrett Carter (Clemson commit), linebacker Smael Mondon and offensive tackle Micah Morris (Georgia commit). The only one we got to see compete early this year was Morris, and he had a very impressive showing in Orlando. He moved up over 40 spots in the last rankings. Will be a new five-star in Georgia later this year? We can't wait to get back out to start evaluating again to find out.
4. Who is No. 1 in Mississippi?
This is a battle, and it likely won't be decided until the final rankings in early 2021. Wide receiver Isaiah Brevard is the top player to begin the season, and he is followed by two other wideouts, Deion Smith (LSU commit) and Antonio Harmon. All three are four-stars.
Quarterback Luke Altmyer should also be in the conversation. Smith and Brevard have each been the top player in the state at different times and Altmyer has been creeping up. He was one we really wanted to see compete live this spring.

If you want to look a little further down the list, athlete MJ Daniels is the top three-star in the state, and No. 6 overall, and he is a player generating a lot of buzz this off-season. It is always a big time for evaluations during the season in Mississippi, and there will be a lot riding on this fall for the best in the Magnolia State.
5. Who in Alabama will add a star?
Ga'Quincy McKinstry is on top in Alabama and he is a top 50 player in the country. He is not far numerically from that five-star range, so the four-star defensive back has been, and likely will continue to be in that five-star conversation. He is a gifted athlete that makes plays all over the field. He is definitely a four-star with that chance to add that coveted fifth. Others could move into that conversation too this fall.
While we don't know if there will be a new five-star in Alabama, it is all but certain that there will be new four-stars. This list is long. Malachi Bennett, Christian Burkhalter, Will Crowder, River Helms, Christian Lewis, Roc Taylor and Jaylin White are just some of the names we like a lot, and have already been in that four-star discussion this off-season.

Some on this list likely would be four-stars now if we would have a regular spring for evaluations, so we will have to wait until later this summer, then into the fall to get an updated evaluation on the strong group of three-stars in Alabama.