Making the Case: Which SEC program will land Smael Mondon?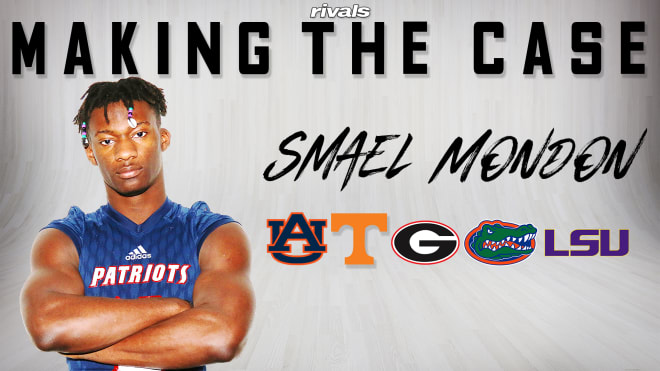 Experts from the Rivals.com network examine where the Rivals100 linebacker Smael Mondon may be headed. The four-star out of Dallas (Ga.) Paulding County has not officially trimmed his list, but most feel he will choose between Auburn, Florida, Georgia, LSU and Tennessee. Which program will land the standout prospect?
THE SITUATION
This one could still go a number of different ways. Some penciled him in to Georgia's class this time a year ago, and the Bulldogs still have an excellent shot, but others have emerged as legit contenders. Alabama looks to be out, but Auburn is very much in this thanks to his connection with assistant Travis Williams. Florida assistant coach Christian Robinson is from Georgia, he played between the hedges and he has really connected with Mondon on a personal level.

Georgia is the in-state program with a need at inside linebacker after not signing one in 2020. LSU had some changeover on the coaching staff, so it took the new guys some time, but Bo Pelini has done a good job in recent months. Tennessee had Mondon on campus before the coronavirus hit, and that visit gave the Vols some momentum. That has continued.
This is a very interesting race, one that still has most guessing, but with a decision likely coming more into focus, we asked our team experts to state the case for the programs they cover and let National Recruiting Director Mike Farrell issue a verdict.
AUBURN
"Auburn has several things working for it in its pursuit of Mondon, but none more important than Williams. Auburn's linebackers coach has developed a very strong bond with Mondon. Williams and Mondon communicate regularly. They relate on a personal level. It's a relationship that has the Tigers in serious contention.

"Mondon also has good relationships with Gus Malzahn and defensive coordinator Kevin Steele. He's visited Auburn at least twice and feels comfortable on campus. Yes, Georgia will be tough to beat. No doubt about that. But Mondon's relationship with Williams gives Auburn a legit shot at the upset." — Jeffrey Lee, AuburnSports.com
FLORIDA
"The Gators have a few things going for them, but it's Mondon's relationship with Robinson that has Florida under serious consideration. Like Mondon, Robinson is a Georgia native who played linebacker at a high level, so their similarities, both on and off the field, have led to the two developing a strong bond on the recruiting trail.

"He's also intrigued by the way Todd Grantham utilizes his linebackers and envisions himself reaching new heights under the defensive coordinator's guidance. The Rivals100 prospect was inside the Swamp for last year's homecoming victory against Auburn, and had planned to attend junior day on March 7 before track forced him to reshuffle his plans. Mondon previously told us he's definitely returning to campus for at least an unofficial visit. It's the presence of Robinson that has really helped push the Gators into a prime spot in Mondon's recruitment." — Corey Bender, GatorsTerritory.com
GEORGIA
"Mondon has always had a place on Georgia's 2021 big board, but his importance to the class was amplified with Barrett Carter selecting Clemson. Now, in a year where the Bulldogs have been strong in-state and are in need of linebackers, Mondon feels all the more important. Keeping him out of the hands of rivals is just as crucial for Kirby Smart and company. Luckily for the Bulldogs, they have had a great deal of success with their backs against the wall. In this case, they need to close, and I like their chances to do so." — Jake Reuse, UGASports.com
LSU
"Is LSU DBU? Sure. WRU and/or RBU? You could make that argument. But LBU? Well, recent history tells us that may apply to the program as well. The success of LSU linebackers over the past eight years have caught the attention of prospective players across the country, including Mondon.

"LSU has a national championship to sell, along with an unproven depth chart at the position. The Tigers don't appear to be Mondon's leader, but they shouldn't be cast aside as a non-competitor for his services, either. LSU needs to get Mondon on campus as soon as possible to have a real shot, but if they do, expect them to make a push for the Rivals100 prospect." — Jimmy Smith, TigerDetails.com
TENNESSEE
"The top linebacker on Tennessee's board, Mondon has developed a great relationship with the Tennessee staff. He is very close with linebackers coach Brian Niedermeyer and is exactly what Jeremy Pruitt and Derrick Ansley are looking for. Tennessee has made big strides inside Georgia the last three years under Pruitt and with three already committed for 2021, Mondon would be the biggest addition to date." — Austin Price, VolQuest.com
THE VERDICT
"This is a hard one to call as Mondon is relatively quiet about the process and has interest in some great programs. Right now, I would say Georgia has the edge as Mondon is an in-state prospect and is such a priority in the class for Smart." — Mike Farrell, National Recruiting Director