SEC Spotlight: Position battles to watch during spring football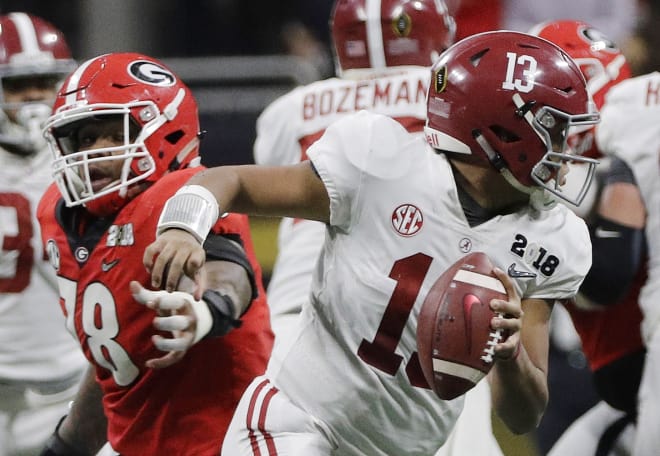 Mark Pszonak contributed to this report.
Spring football has started for some is on the near horizon for many others, so this week we will take a look at some key position battles in each Power Five conference. Today we look at the SEC, where many teams try to find a starting quarterback and one looks to replace an elite running back.
ALABAMA - Jalen Hurts vs. Tua Tagovailoa
The skinny: Heading into the national title game, if anyone would've mentioned a quarterback battle during the spring in Tuscaloosa, they would've been ridiculed. One half of football later, and here we are, with Hurts trying to hold off Tagovailoa for the starting job. There is no doubting Hurts' talents, but Tagovailoa's ability to stretch the field gives the Tide's offense a dimension it has lacked in recent years. It is unlikely that Nick Saban will make a quick decision, so while this lingers until the summer, it will be one of the more watched battles on a college campus this spring.
Farrell's take: All eyes will be on this one as I don't expect Hurts to just roll over and hand the job to Tagovailoa ,but clearly we saw the difference between their passing abilities in the title game. So what will happen? Tagovailoa gets the starting job and Hurts is used in some offensive packages, making the Alabama offense even more dangerous.

FLORIDA - Feleipe Franks vs. Emory Jones vs. Jake Allen
The skinny: Jones is expected to fix Florida's long-time offensive woes, which is a great deal of pressure on a player who has only been on campus for two months. All eyes will be on him this spring as he battles Franks and Allen. Franks definitely brings the most experience to the table, but his on-field performance in 2017 did not instill much faith with Gator fans. Allen recently underwent an appendectomy but should be back in time to compete this spring. It will be interesting to see how hard the new staff pushes Jones this spring and summer, or if they're satisfied with playing Franks and Allen in 2017 while he adapts to the college game.
Farrell's take: This will be an interesting one because Franks hasn't developed that much based on his on-field results, Jones was playing high school football months ago and not many feel Allen is a candidate in this race. I expect the more mobile Jones to be Dan Mullen's favorite, but until he picks up the offense, it will be Franks.

LSU - Myles Brennan vs. Lowell Narcisse
The skinny: It is no secret that LSU has struggled to find a consistent quarterback in recent years. Many think that Brennan will be the answer to those problems, but is he really a sure thing after completing 14 of 24 passes for 182 yards, one touchdown and two interceptions in six games last season? If Brennan is pushed during the offseason, it will likely come from Narcisse, a redshirt freshman. Narcisse was considered raw coming out of high school, but he has the tools to be a special player. The question is how much has he developed over the last year?
Farrell's take: Brennan is the guy here unless LSU wants to move toward a dual-threat. Narcisse has talent and has overcome injuries, but his accuracy has been a problem for quite some time. Brennan sees the field well, is an accurate passer and could have the "it factor" needed to be very good.

TENNESSEE - Jarrett Guarantano vs. Keller Chryst vs. Will McBride
The skinny: When Quinten Dormady announced he would transfer from Tennessee, Guarantano became the heavy favorite to become the starter for the 2018 season. However, that became a little bit murkier when the Vols added Chryst, a grad transfer from Stanford. With a new coaching staff in place, it is anyone's guess what direction they will go in, but Chryst should create more juice at the position. Aside from Guarantano and Chryst, McBride does bring some experience, while incoming freshman JT Shrout is worth keeping an eye on, but he won't arrive until the summer.
Farrell's take: I'm still a believer in Guarantano because he can extend the play and run. I was never a huge fan of Chryst coming out as I didn't see enough competitive desire that I want in my quarterback. I don't see McBride surprising in this battle.

AUBURN – Kam Martin vs. Devan Barrett vs. JaTarvious Whitlow vs. Asa Martin
The skinny: While Kerryon Johnson was a huge part of Auburn's offense in 2017, injuries later in the season allowed the Tigers to get a closer look at some of the younger talent behind him. Kameron Martin embraced the opportunity and is the odds-on favorite to lead the Auburn rushing attack this fall. Barrett should also find a role in the offense, while true freshmen Whitlow and Asa Martin have the talent to contribute early. This may be especially true for Whitlow, who is already turning heads on campus.
Farrell's take: I was a huge fan of Johnson and it will take more than one player to replace him. I like Kameron Martin as a replacement with Barrett also providing a spark as a runner and receiver. Asa Martin is highly regarded and could impact early, but he won't need to with the depth available unless he's just that much better. Whitlow is a big kid and solid athlete and could provide the power back they need.