Big Ten Spotlight: Position battles to watch during spring football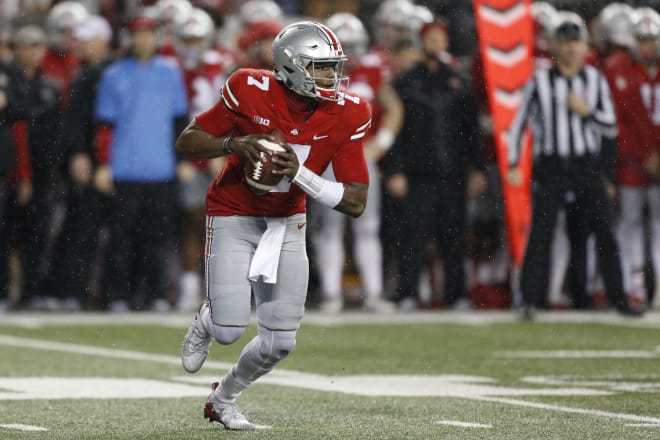 Mark Pszonak contributed to this report.
Spring football has started for some, and it is on the immediate horizon for many others. So this week we will take a look at some key position battles in each Power Five conference. Today, we look at the Big Ten, where it just so happens that all five battles we are focused on are at the quarterback position.
BIG TEN SPOTLIGHT: Who are the "must-get" 2019 prospects for each school?
MICHIGAN - Brandon Peters vs. Shea Patterson 
The skinny: While it is still unknown if Shea Patterson will be eligible for the 2018 season, the Ole Miss transfer will be participating in spring practices. This immediately gives Michigan's spring practices a great deal of drama. Peters started five of Michigan's final six games and went 3-2 while never throwing for over 200 yards in a game. While Peters is the returning starter, and showcased a good amount of potential in 2017, many assume that Patterson will come right in and win the job. Patterson started seven games at Ole Miss before a knee injury ended his season. He was 3-4 with 17 TDs and 9 INTs and had five 300+ yard games. You can be sure that Peters has heard the job is Patterson's, so it will be interesting to see how he respond and how Patterson deals with all of the pressure this spring.
Farrell take: Both prospects were highly regarded out of high school, but it is clear that Patterson is the bigger fish. He was our No. 1 quarterback in the country coming out of high school, he showed great promise in his short time at Ole Miss and it would not be a surprise to see him be the more effective signal-caller despite Peters' advantage of knowing the system. Patterson can extend the play better and has that "it factor," so we'll see how this shakes out and whether Patterson's appeal will be granted. My best guess is that Patterson will be granted the ability to play right away and he wins this battle.

NEBRASKA - Patrick O'Brien vs. Tristan Gebbia vs. Adrian Martinez
The skinny: With new coach Scott Frost looking to implement his offense, this is one of the more interesting spring battles in the country. Sophomore O'Brien, redshirt freshman Gebbia and early enrollee Martinez will all receive ample opportunities to shine. O'Brien brings some experience, but does Martinez have the upper hand, even though he is a true freshman? Frost made Martinez a recruiting priority once he took the job in Lincoln, while both O'Brien and Gebbia will have to prove to Frost that they can run his style of offense. Whatever happens during spring practice, you can be sure that this battle will last until the summer.
Farrell take: Martinez is the best fit overall for what Frost likes to do on offense, but will he be ready? O'Brien and Gebbia both have talent, with O'Brien having the strongest arm of the group and the most experience. Gebbia is a bit more mobile and just needs to fill out a bit. The strongest arm is O'Brien, the best passer is Gebbia and the best runner is Martinez. So who wins the job? My guess is Gebbia, if he can hold up to the punishment and if he's filled out. But long term, I love Martinez. All three prospects were four-stars out of high school.

OHIO STATE - Dwayne Haskins vs. Joe Burrow vs. Tate Martell
The skinny: With J.T. Barrett gone, after what seemed like a 10-year collegiate career, the Buckeyes are looking for a new signal caller. Haskins is the favorite, especially after his performance during the Michigan game when Barrett went down with an injury. He was 6-for-7 for 94 yards in the second half as Ohio State pulled away. But Haskins should receive a push from Burrow. Burrow was actually the backup to start the 2017 season, but suffered a hand injury, which pushed Haskins into the backup role. Martell is also in the picture, but he seems to be on the outside looking in. If Haskins does win the job, look for Burrow to transfer, as he can play in 2018 as a graduate transfer, which would move Martell into the backup position. Long story short: There is a great deal of drama at the position this off-season in Columbus.
Farrell take: Haskins was well thought of out of high school, Burrow was a mid-three-star and Martell would have been a five-star had he been a bit taller. This battle isn't as intriguing as Michigan and Nebraska, because most expect Haskins to run away with the job. But there is a lot of talent here. Burrow won the backup job heading into last season, and Martell has a ton of talent. Three quarterbacks will enter, and if it goes the way many expect, two will emerge and one will transfer. Will it be Burrow who transfers or will it be Martell, who was rumored to be ready to transfer last spring after not winning a top three role? Haskins, a Rivals100 prospect out of high school who is an accomplished passer, should win and make the Buckeyes offense much more dangerous.

RUTGERS - Giovanni Rescigno vs. Jonathan Lewis vs. Artur Sitkowski vs. Jalen Chatman
The skinny: With yet another new offensive coordinator, John McNulty, on campus, the Scarlet Knights offense is once again starting from scratch. This is likely a good thing though, as the offense was inept last fall. So any change should help. With that said, the starting job is up for grabs, with Resigno and Lewis both receiving snaps last season, while Sitkowski and Chatman are both on campus during the spring as freshmen. McNulty will likely install more of a pro-style look, so while he is a freshman, Sitkowski does have the skill set to thrive. While none of the four are likely to win the job during the spring, all of them have the opportunity to put their best attributes forward in the next month leading into the summer.
Farrell take: A four quarterback battle and a new offense means a lot of intrigue on offense for Rutgers. Lewis intrigues me greatly, as he's big, strong and can move. The same can be said for Rescigno, but Lewis has a higher ceiling. Sitkowski has a ton of talent, but really struggled last year at IMG, where we thought he would take the next step. Chatman has a solid skill set, but he's just not that big. I don't think Sitkowski will win the job this year, but down the road he's the guy with the highest ceiling and I'm thinking Lewis will be the guy to watch.

MINNESOTA – Tanner Morgan vs. Vic Viramontes
The skinny: With Conor Rhoda having graduated and Demry Croft transferring to Tennessee State, there is no starting experience left for the Gophers at quarterback. The two to watch are redshirt freshman Morgan and JUCO transfer Viramontes. Morgan was recruited by coach P.J. Fleck at Western Michigan, before following him to Minnesota, while Viramontes initially signed with Cal, then played a junior college season before finding his way to Minneapolis.
Farrell's take: Morgan, a three-star out of high school in 2017, is thick but not that tall. But he has a solid arm and should be interesting to watch. I liked Viramontes out of JUCO last year and he can be an instant-impact guy. Fleck will likely lean toward Morgan because he's a bit more polished, but in the long run watch out for Viramontes.