Rob's Rankings: Five most polarizing NFL Draft prospects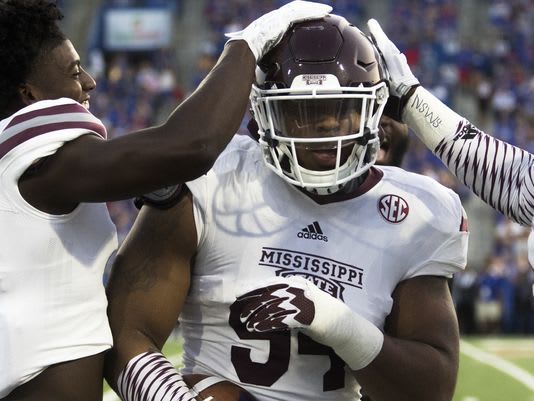 Months of sometimes mind-numbing pre-event coverage will come to a close when the 2019 NFL Draft kicks off on Thursday evening. College stars will be selected, draft-day outfits will be scrutinized, picks will be traded and, most importantly, people will argue. It's why this week Rob's Rankings tries its hands and ranking the draft's most polarizing prospects in order of how much debate each will create.

MORE: Sleeper prospects to keep an eye on | Programs producing NFL talent

1. JEFFREY SIMMONS, Mississippi State
Why he'll create debate: No draft is without a character-concerns debate or two, and Simmons will likely serve as the centerpiece for this year's installment. A video of the Mississippi State star repeatedly punching a woman surfaced in 2016, just before the five-star defensive lineman became a member of the Bulldogs' football team. And while Simmons stayed out of trouble for the entirety of his college career, the act and the video continue to haunt him, as he wasn't invited to the NFL combine because of it.
The debate over Simmons will pit the pro-second chances crowd against those that takes a hard line when it comes to violence. Most visible, however, will be the never-ending argument between fans of the team that selects Simmons against fans of its rivals. It's funny how these debates seem to always split along similar lines, right?

As of now, Simmons, who is nursing a knee injury, is projected as a late first-round or early second-round pick according to most sites. If that's the case, some organization will get a steal. At what cost, however, will dominate the post-draft discussion.

Why he'll create debate: This situation is multifold. The former Oklahoma quarterback threw for more than 4,000 yards last season and won the Heisman Trophy. He's as dynamic and intriguing a player as there is in the draft. He's also 5-foot-11 and has just 17 college starts to his name. Add in the fact that Murray, a two-sport star, could decide to ditch football and play baseball for the Oakland Athletics if things start to go south, and you see why the former OU star is a bit polarizing.
That stuff doesn't even begin to scratch the surface of the storylines surrounding him. There's, of course, the question about whether or not the Arizona Cardinals would trade Josh Rosen, the first-round quarterback they selected a year ago, and turn the reins over to Murray. Doing so would be a sizable risk that one could see blowing up in Arizona's face when the hyper-talented Rosen becomes a star on another roster, thrusting the Cardinals deeper into the role of league laughing stock. Then again, they could decide to pass on Murray and watch him become a star elsewhere, also thrusting them deeper into the role of league laughing stock.
The stakes here are high. Good luck to the Cards, though.

3. NICK BOSA, Ohio State
Why he'll create debate: If there's one thing we know to be true, it's that people are measured and reasonable when athletes take political stance. Enter Bosa, who deleted a handful of tweets expressing fondness for President Donald Trump and aggressively dissing such things as Beyonce Knowles, Colin Kaepernick and the Black Panther movie. I'll let you draw your own conclusions when it comes to how these things fit together.

Needless to say, though, some think the whole situation is a bad look for Bosa. The fact that he explained his decision to delete the tweets by saying that he "might end up in San Francisco" is, at the very least, worth an eye roll. Will the tweets hurt his draft stock? Probably not. Bosa is a tremendous talent that didn't tweet anything outwardly problematic. That won't make him any less polarizing, however, as people will be talking over each other when it comes to him for years to come.

4. ED OLIVER, Houston
Why he'll create debate: Remember when people were discussing Oliver, a defensive lineman at a Group of Five school, as a legitimate Heisman Trophy candidate? It was a real thing. I promise. It actually happened. The guy even had his own bobblehead.

Anyway, none of the buzz ever came close to manifesting. Oliver finished last season with three sacks, as his Houston team went 8-5 before firing its head coach. What the buzz did create, however, was a bit of Oliver fatigue. Some see the former five-star as overrated and his draft stock is beginning to slide a bit because of his limited size. Once projected as a top-three pick, the college star may slip to outside the top ten. Point is, everyone has an opinion on Oliver, who is either wildly overrated or poised to become the steal of the century depending on who you ask.

5. DWAYNE HASKINS, Ohio State
Why he'll create debate: Every draft includes a big-name prospect whose pre-draft stoick slides for reasons people can't seem to articulate. This year, that prospect is Haskins, who had a spectacular season at Ohio State before impressing at the NFL combine and Ohio State's pro day. Yet here we are reading quotes like the following one from longtime NFL analyst Peter King:"[I] Keep hearing Dwayne Haskins is sinking, and may be the fourth passer picked in this draft."
The reasons for this rumored slip seem to be anyone's guess. Some mention the interview process. Others have written that Haskins' lofty early projections were a creation of the media, not NFL front offices. Then, there's something about his dad having an awkward conversation. In the end, Haskins' slide seems silly. It also seems like it could be a smoke screen.

But if the Ohio State star is, in fact, the fourth quarterback taken in the draft, it's a debate in which I don't mind involving myself. Ranking four passers higher than Haskins is an obvious fools' errand. Then again, I've been wrong before. Maybe the dominant Big Ten quarterback that has looked impressive in games and every pre-draft workout is actually bad.