The Rivals250 for 2018; plus players on verge of Rivals100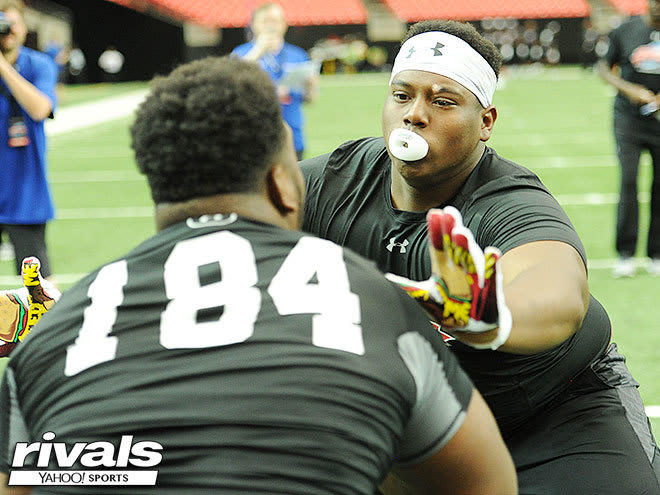 The first edition of the Rivals100 Presented by Under Armour for the class of 2018 was released on Monday with five-star quarterback Trevor Lawrence from Cartersville, Ga., and five-star receiver Jalen Hall out of Los Angeles Augustus Hawkins leading the rankings.
Florence (S.C.) Wilson five-star defensive end Xavier Wilson, Westlake Village (Calif.) Oaks Christian five-star quarterback Matt Corral and Laurinburg (N.C.) Scotland County five-star running back Zamir White rounded out the top five.
The Rivals250 for the 2018 class was released Tuesday and since this is the first round of rankings, there are expected to be many movers up and down over the coming years.
Here is a look at a select group of players who have made an early impression on the Rivals.com recruiting analysts and who are on the cusp of the Rivals100 as the high school football season is about to get underway:
RELATED: Class of 2018 Rivals250 | New No. 1 for the 2018 Rivals100
"Allen can do pretty much everything on the field whether it's taking a short pass, making people miss and getting to the end zone or stretching the field for a deep throw. He has excellent hands, he can out-jump smaller cornerbacks for the ball and he proved this offseason, especially in 7-on-7, that he's going to be a special receiver. In Centennial's fast-paced offense, Allen has a chance to put up huge numbers. Cal, Washington, USC, Nebraska and many others are involved." – Adam Gorney, Rivals.com National Recruiting Analyst
"Jenkins has a host of scholarship offers but is likely to stay in-state when all is said and done. Jenkins has always had the size and power. He's improving his footwork and needs to shed a touch of bad weight. That said, he's already a force at a young age." – Rob Cassidy, Rivals.com Southeast Recruiting Analyst
"Simpson is a mammoth player that is a mean-streak away from being a powerfully dominant tackle prospect. He can be a little tentative at times, but has the strength to redirect pass-rushers with ease. His most recent offer came from Florida in early July, but he hasn't made much noise about any potential leaders in the early going. – Nick Krueger, Rivals.com Texas Recruiting Analyst
"Proctor had a solid off-season, but his game is best showcased in full pads where he can run the alleys and punish ball carriers. He is very solid in coverage, sees the field well and has a really sound all-around game. The in-state Oklahoma Sooners were first to offer and he most recently visited Norman on July 29." – Josh Helmholdt, Rivals.com Midwest Recruiting Analyst
"Campbell has a long list of scholarship offers. Miami, Alabama, Michigan and Florida are all heavily involved. Campbell is solid in coverage and recovered incredibly well due to his impressive length. He's a versatile cornerback that changes directions well." – Cassidy
"Griffin is phenomenal in coverage and the best thing he does is read the quarterback's eyes and then he makes a play on the ball. The four-star isn't afraid to press at the line, he breaks off a receiver easily if he can make a read on the play and he steps in front of passes to pick it off. He's not huge but Griffin can also make the big hit, rattle the receiver and there's no questioning his outstanding athleticism. Michigan, Oregon, Texas A&M, UCLA, USC and many others have offered." – Gorney
"There are few linebackers in the nation that have better film than Mitchell. He is a big-time hitter and does a great job finding the running lanes and pursuing the ball carrier. Mitchel has nearly every major offer out there but Virginia Tech, Florida State, Clemson, Florida, Georgia and many others have caught his eye." – Adam Friedman, Rivals.com Mid-Atlantic Recruiting Analyst
"Green is a great cover guy that could play any position in the secondary. He is long and athletic and is as capable of locking up wide receivers at the line as he is keeping pace with them running long downfield. He had a nice run in the spring of picking up offers from Clemson, Notre Dame and Texas A&M among others and should see things pick up again once the season starts." - Krueger
"Jones has offers from Ohio State, Alabama, Clemson and many others but seems destined to be a Buckeye. He is an excellent prospect on defensive and offensive line but for now he will be listed as a defensive tackle. Jones fires off the ball and physically dominates." - Friedman
"Avery is a wide and strong interior lineman that plays with good leverage and power off the snap. He's an unforgiving tackler and should start tapping into the next level of his potential this season. Avery has some quality offers in his offer list and was a strong performer at Texas' Under the Lights camp a few weeks ago." - Krueger
THREE OTHER MOVERS
"Idaho is not typically the place to go for top quarterbacks, but Yankoff has all the tools to be a special quarterback. The Oregon commit has a live arm, can make all the throws all over the field and he can move around in the pocket to prolong plays. The four-star can also run, dodge defenders and pick up more yards that way." – Gorney

"Cooper is one of the most impressive defensive linemen in terms of his ability to get off the ball and move at his size. He's dedicated himself to dropping weight and it seems as if he gets better and more agile at every event he attends. Cooper is committed to Florida State." – Woody Wommack, Rivals.com Southeast Recruiting Analyst

Oklahoma, West Virginia, Michigan and others have all offered Smith. Smith's calling card is his elite size. He has a college-ready body and is physical at the line of scrimmage." - Cassidy