2018 Rivals100: No. 1 named, new five-stars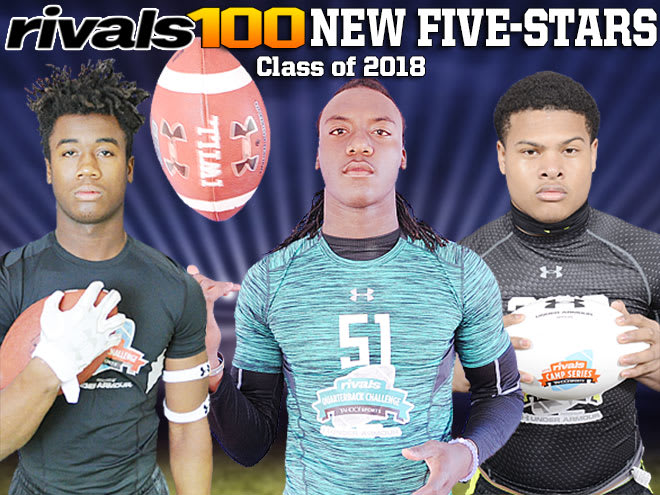 The first numerical Rivals100 for the class of 2018 has been released and with it three additional five-stars from our alpha release back in March. In addition to the three newly minted five-stars, there are many prospects within range of earning that coveted title with a great junior season. Here's a look at some of the top prospects in the new release.
RELATED: Rivals100 for Class of 2018

THE ORDER
There was little debate over the top spot. We think quarterback Trevor Lawrence could be special. He's one of the more advanced pro-style quarterbacks I've seen in my years scouting prospects.
Wide receiver Jalen Hall, a big and rare prospect at his position, checks in at No. 2. He's another of our original five five-stars from our March release.
New five-star Xavier Thomas, a defensive end, shoots to No. 3, while original five-star quarterback Matt Corral (a USC commitment) and running back Zamir White round out the top five. New five-star quarterback Emory Jones, a recent Ohio State commitment, checks in at No. 6, one spot ahead of original five-star safety Tyreke Johnson. The five-stars are rounded out by a new addition in running back James Cook, an FSU commitment and the younger brother of 'Noles star Dalvin Cook.
Physical offensive tackle Cade Mays, a Tennessee commitment, and Florida cornerback Patrick Surtain round out the top 10 at Nos. 9 and No. 10 respectively.
The cornerback position appears to be very strong with Surtain, Asante Samuel, Anthony Cook, Al Blades and Kelvin Joseph all in the national top 25 early.
Quarterback is also strong with three five-stars and Artur Sitkowski sitting at No. 35 in the nation while offensive tackle and defensive end are loaded as well. In addition to Mays, offensive tackles Reuben Unije, Brey Walker and Dylan Wonnum are all in the top 30 while Thomas is joined at defensive end by Greg Emerson, Micah Parsons, K.J. Henry and Tyler Friday in the top 30.
NEW FIVE STARS
These are the new five stars, the guys we felt comfortable enough to go on at this early stage after seeing them in person or watching film. In our first release for the 2016 class, we started off with 16 five-stars. Seven of them ended up falling down to four-star status, so there was a more cautious approach this time around.
"As a dominant defensive end in the state of South Carolina, Thomas has already drawn comparisons to former No. 1 overall pick Jadeveon Clowney. While it's still early for that type of praise, it's clear Thomas is a special talent. He already has terrific size and speed off the edge and moves incredibly well for a player his size. He looks like one of the best talents to come out of the state in recent years. South Carolina appears to have the early lead for Thomas, but Clemson, Alabama and several others are also in the mix." – Woody Wommack, Rivals.com Southeast Recruiting Analyst
"Jones has one of the best sophomore highlight films in his class and he backed it up with one impressive showing after another during the camp season. He's an electric athlete who can make plays, but he's even more impressive as a passer, where his accuracy and deep ball ability are already very developed. Jones also still has room to grow, making him a clear candidate for five-star status. Jones is committed to Ohio State." – Woody Wommack, Rivals.com Southeast Recruiting Analyst
"A Florida State commit, Cook reclassified from 2019 to 2018 but that hasn't hurt his stock as he has the build and quickness of an elite junior. He's bigger that his brother, current FSU star Dalvin Cook, was at this stage of his career, which is something that should make FSU fans happy. James Cook is a truly elite prospect that runs with both quickness and power." – Rob Cassidy, Rivals.com Southeast Recruiting Analyst
OH SO CLOSE
"Mays was heavily debated among the national analysts but in the end didn't quite make the cut. He's a dominant blocker who mauls defensive linemen on film, and he's also shown his ability to go against and beat the best in a camp setting. Mays is committed to Tennessee." – Woody Wommack, Rivals.com Southeast Recruiting Analyst
"Surtain seems to be a special package of size and speed. In a loaded cornerback class in the state of Florida, he seems to be the most complete prospect. He certainly has the physical tools and the pedigree, how he fares in downfield coverage as a junior will determine if he grabs his fifth star. Surtain names no favorites, but appears interested in all three in-state schools. Florida State may hold an ever-so-slight edge, but projecting his landing place now is difficult." - Rob Cassidy, Rivals.com Southeast Recruiting Analyst
"Emerson hasn't been on the recruiting scene as long as some of the early 2018 stars, but he's made up for lost time in a hurry. He's already a huge prospect and while he's raw compared to some others at the position, his ceiling is very high at a position that is at a premium. Tennessee, Alabama and Ohio State are among the schools in the mix for his commitment." – Woody Wommack, Rivals.com Southeast Recruiting Analyst
"Lingard is a true pass-catching threat but also runs with impressive power. His length makes him versatile, but he'll need to show his breakaway speed in the coming year to add another star. Florida State, Miami, Florida Alabama, Clemson and LSU are the schools most involved with Lingard." - Rob Cassidy, Rivals.com Southeast Recruiting Analyst
"The only thing holding Samuel back is his height. He's ranked as highly as he is currently because he is one of the country's elite cover corners. Samuel, who is incredibly physical at the line for his size, has a history of success against top-flight competition and covers as well downfield as any prospect in the 2018 class. Samuel seems to like Alabama, Miami and Florida State. He names no frontrunner in the process." - Rob Cassidy, Rivals.com Southeast Recruiting Analyst
"Anthony Cook is close to a fifth star after stepping up against big-time talent at the Rivals100 Five-Star Challenge. He's a physical corner who can run and is great at jumping routes to break up passes or get interceptions. He is considering numerous national offers, but still seems to be leaning towards TCU and Baylor, where most of his family lives." – Nick Krueger, Rivals.com Texas Recruiting Analyst
KEEP AN EYE ON
These are guys that are at or right near the top of some important position groups that could end up pushing up the charts towards that fifth star before too long with excellent junior years and strong offseason work.
"Parsons has seemingly limitless potential as an edge rusher. The Penn State commit has the frame to add plenty of muscle, but the thing that makes him an exceptional talent is his speed. He can beat almost any offensive tackle to the outside or the inside and has the athleticism to drop into coverage. We will be watching to see if Parsons can consistently perform at the high level we know he can." – Adam Friedman, Rivals.com Mid-Atlantic Recruiting Analyst
"Foster can be a top cover guy in the back of the secondary and has great physical tools. Right now, he's still a naturally gifted player, but when he starts playing with more intensity and shows a commitment to getting better technically, he'll take that next step as a player. Despite collecting a ton of offers this offseason, recruiting hasn't been a major priority for Foster. However, he spent a lot of time with the coaches at Texas' recent Under the Lights camp." – Nick Krueger, Rivals.com Texas Recruiting Analyst
"Any remaining questions we had about Trout's ability to compete with the best in the nation were answered at the Five-Star Challenge in June, where he was one of the best interior defensive linemen, regardless of class. The 300-pounder is explosive off the snap and is effective with his hands. Offers have been surprisingly slow to come, but seven schools have offered, including Missouri, which he has listed as a leader in the past." – Josh Helmholdt, Rivals.com Midwest Recruiting Analyst
"Salyer was also in the conversation for five-star status, mainly because of his dominant play both on film and in camps. He plays with a mean streak and is a true guard, giving him a leg up going to the next level because he's already embraced his future position. Georgia, Clemson and several others are in the mix for his commitment." – Woody Wommack, Rivals.com Southeast Recruiting Analyst
"Gill has been turning heads for a couple years already with his ridiculous ball skills and smooth playing style. The 6-foot, 176-pounder is the prototypical all-purpose back: tough enough to run between the tackles and also a receiving weapon out of the backfield. He has resisted naming a favorite in the past, but Ohio State is viewed as the team to beat in his recruitment." – Josh Helmholdt, Rivals.com Midwest Recruiting Analyst
"It would be disingenuous to call Smith a "big" athlete, because that implies he is not as athletic as smaller-framed prospects. Smith possesses some of the best run-and-jump skills of any player in this class, but the two-sport star could end up playing basketball in college. Alabama, Ohio State and Michigan State are all strong contenders here, but Smith will not decide on his college sport until senior year." – Josh Helmholdt, Rivals.com Midwest Recruiting Analyst