Rivals100 Five-Star Challenge: Top skill performers
INDIANAPOLIS – The 2017 version of the Rivals100 Five-Star Challenge presented by adidas has concluded and, true to the event's name, a quartet of five-stars leads off the top skill position performers from the event.
#RIVALSCHALLENGE: Farrell Awards | Hot teams | MVPs | Complete coverage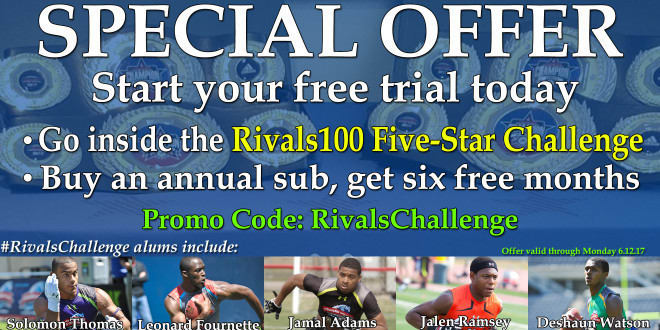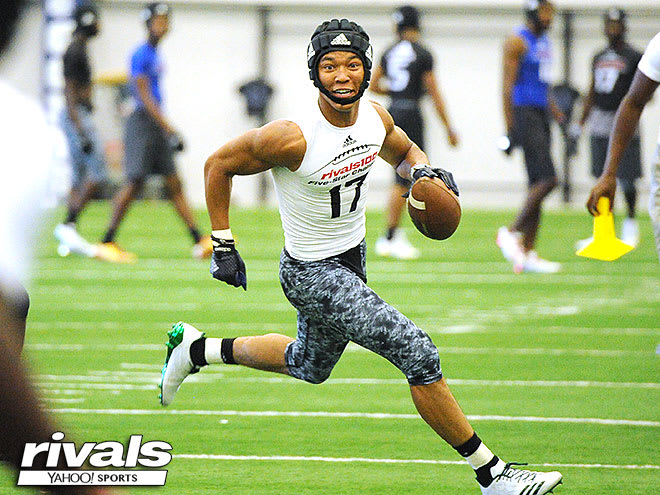 Recruiting wrap: Michigan, Notre Dame, Ohio State, Stanford, UCLA and USC are among the favorites for St. Brown.
Performance: Several Rivals.com analysts predicted heading into the week that St. Brown would emerge as the eventual overall MVP, and he was every bit as good as expected. The weekend concluded with St. Brown making the game-winning touchdown grab in spectacular fashion to earn his team the 7-on-7 title. Throughout the day he showed a knack for the spectacular and an expert command of the position.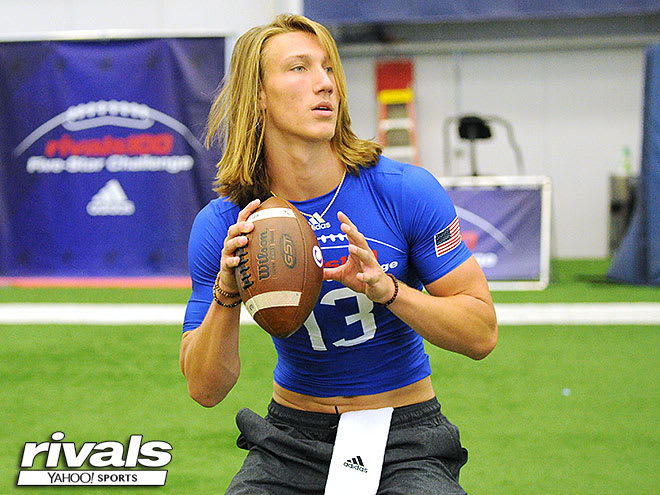 Recruiting wrap: Lawrence is committed to Clemson.
Performance: As the No. 1 overall player in the 2018 Rivals100, Lawrence was another popular pick at the start of the week for eventual MVP. He just missed out on that honor, but did take home the Quarterback MVP award in a close contest. Lawrence led all quarterbacks with 12 touchdown passes in 7-on-7 play, against just one interception, and produced a very consistently impressive showing from start to finish.
Recruiting wrap: Haselwood made an early commitment to Georgia.
Performance: It takes a special underclassmen to stand out in an event as talented as the Five-Star Challenge, and Haselwood solidified his special status with Saturday's performance. Already possessing the confidence and swagger of an upperclassman, Haselwood made big plays throughout the day and flashed impressive speed and run-after-catch abilities for a big wide receiver.
Recruiting wrap: Fields recently decommitted from Penn State. He is now considering Auburn, Florida, Florida State, Georgia, North Carolina and others.
Performance: Fields was just bumped up to five stars in the most recent update of the Rivals100, and he validated that move with his play in Indianapolis. Fields and Lawrence were neck-and-neck down the stretch for the Quarterback MVP award. What stood out on this day about Fields was how quickly he dissected the field and that he was able to thread the football through some tight throwing windows.
Recruiting wrap: Gill is committed to Ohio State.
Performance: At last year's Rivals Underclassmen Challenge in Atlanta, Gill was just edged out by five-star James Cook for the position MVP honors and he made it known going into Saturday's competition he was not going to settle for second-best this year. Gill delivered on that promise with a consistently impressive day which was capped by being a valuable weapon for the victorious 7-on-7 team.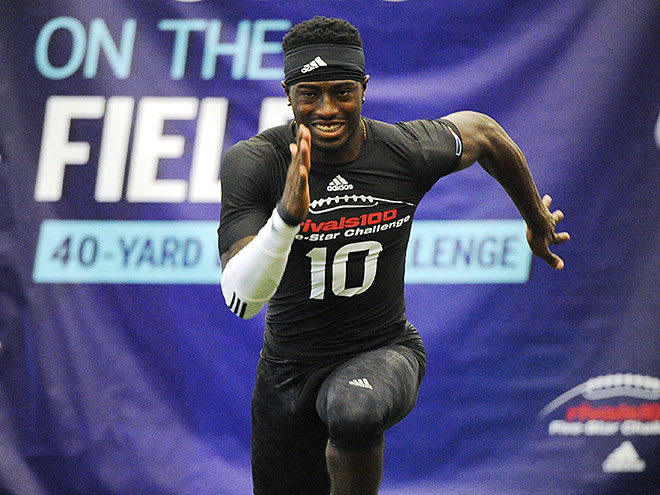 Recruiting wrap: Michigan, Oregon, TCU, Texas and USC are the top contenders for Jamison.
Performance: The Defensive Back MVP winner started his day by posting an impressive 4.59 laser-timed 40-yard dash in the Speed Challenge, then went out and expertly manned the cornerback position. Although he does not have the size of some of the other defensive backs in attendance, what Jamison does have are the most important aspects of the cornerback position: speed, fluidity and awareness.
Recruiting wrap: Duke, Miami, Notre Dame and Tennessee are the top contenders for Austin.
Performance: Austin combined with St. Brown and Haselwood to form a trio of receivers who really separated themselves with their performances. At 6-foot-3 and 185 pounds, Austin may have been the most physically impressive receiver at the event, which is saying something considering the company he was in. On top of that, he is a natural mover who glides across the field and changes direction with ease.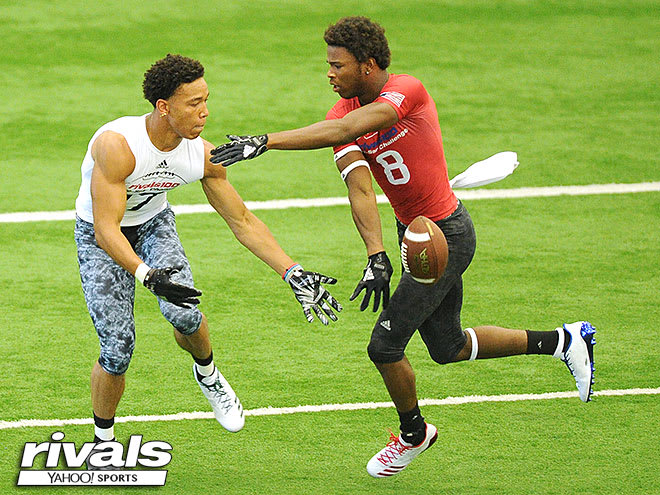 Recruiting wrap: Miami, where he was once committed, is the team to beat for Blades, but Tennessee is pushing its way up his list.
Performance: Blades was one of the top performers in the morning session of position work and one-on-ones, then went out and had a solid showing in the 7-on-7 competition. A good-sized cornerback with a high highly-developed competitive streak, Blades loves to play physical press coverage, but also has the make-up speed to not get beat deep. He regularly tested himself against the top receivers, particularly St. Brown.
Recruiting wrap: Taylor-Stuart is looking to line up visits with Ohio State, Michigan, LSU, Oklahoma and South Carolina this summer.
Performance: Taylor-Stuart earned the title of the 2017 Five-Star Challenge's fastest man after he posted a 4.44 laser-timed 40-yard dash in the Speed Challenge. It's especially impressive considering that at 6-foot-2 and 177 pounds, Taylor-Stuart was one of the biggest DBs in attendance. He also stood out in one-on-one and 7-on-7 play, registering an interception and several pass break ups in the latter event.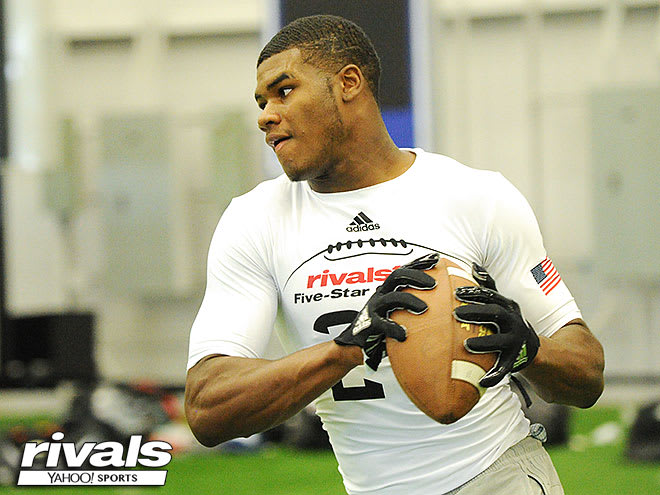 Recruiting wrap: A host of schools in the southeast have offered, but this looks like another Alabama-LSU battle.
Performance: When cornerback Kalon Gervin went down with an injury for Team Five-Stars, Lee was tabbed to fill in on the defensive side of the football and he responded by leading the entire event with three interceptions during 7-on-7 play. We already knew the rising junior had an excellent pair of hands, but he showed he has a nose for the football no matter where he lines up on the field.
Recruiting wrap: Jibunour plans to make a commitment next month. Auburn, Florida, Notre Dame and Tennessee are the contenders.
Performance: The camp setting is not set up to highlight the most important skill sets of the linebacker position, but it does give you a sense for the athleticism players bring to the position. Jibunour was not on many people's radar as an MVP candidate to start the day, but his length and his ability to play in space caught the attention of our analysts throughout the day.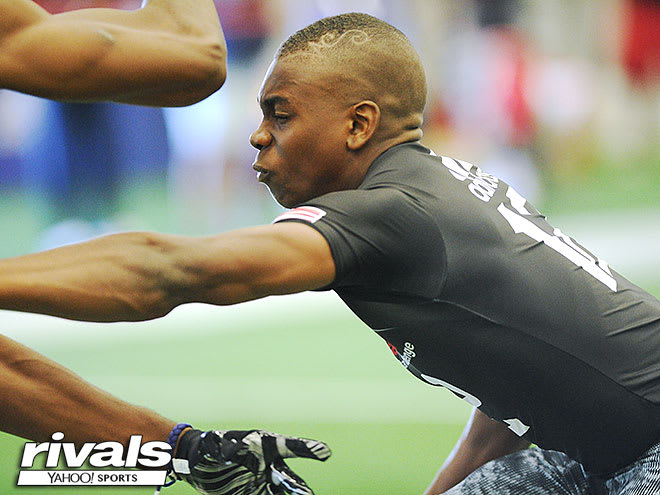 Recruiting wrap: Cook has a top 10, with Ohio State and Texas being two of the top contenders.
Performance: The entire group of Texas defensive backs accounted for themselves well. As the lone five-star of the group, Cook faced the highest expectations and he met them again. The Houston native has good speed, but his calling card is his size and physicality. There are times he gets too handsy with receivers, but the ability to be physical throughout the route takes most receivers off their games.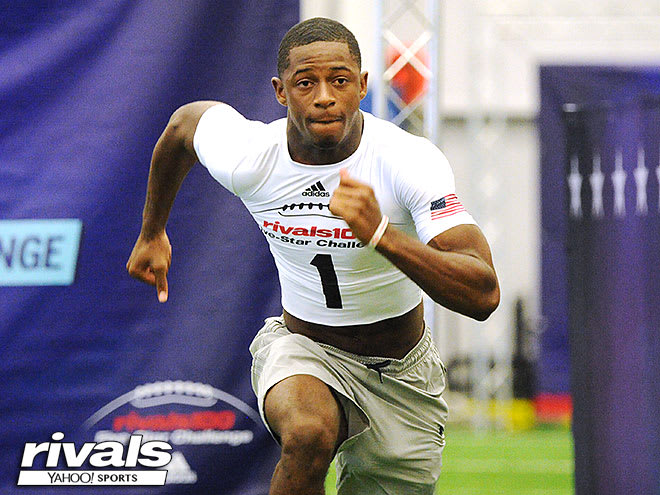 Recruiting wrap: Smith is committed to Georgia.
Performance: Coming in near the back of the 2018 Rivals250, Smith had a lower profile than many of his fellow defensive backs at the start of the day, but proved to be among the position's top performers by day's end. The Georgia commit is not incredibly physical, but his game is more speed and technique. He sees the field well, anticipates receiver's routes and has the explosiveness to close on the football in a hurry.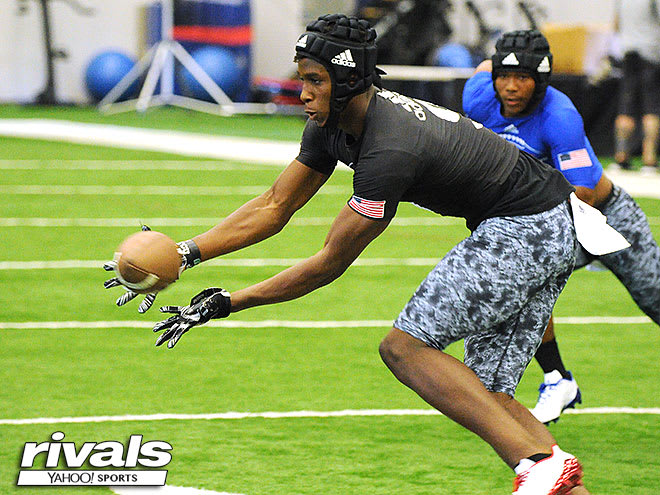 Recruiting wrap: Marshall has a top five that consists of LSU, TCU, Miami, Texas and Texas A&M.
Performance: Marshall is another prospect who was recently upgraded to five-stars, and he lived up to that billing in Indianapolis. One of the bigger receivers in attendance, Marshall has very good speed for his size and glides through his routes. Maybe even more impressive on this day, though, was the large catch radius he showed and strong hands that allowed him to make the tough catches in traffic.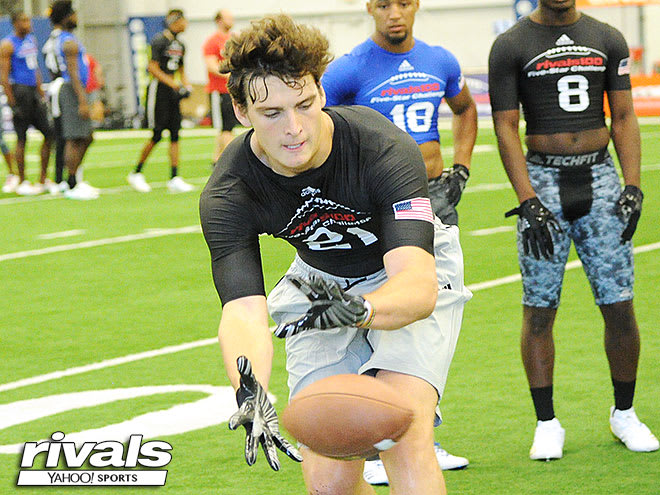 Recruiting wrap: Georgia and Vanderbilt recently hosted FitzPatrick for visits. He will travel to UCLA later this week.
Performance: Fitzpatrick was the most impressive of the four tight ends in attendance. He started a little slow during the morning one-on-one session, but really came on later in the day and had a terrific first couple games of 7-on-7 play. Fitzpatrick has prototypical size for the tight end position. He is a very fluid athlete who gets in and out of his breaks quickly and the football melts into his hands.