Rivals100 Five-Star Challenge: Ranking the offensive linemen
ATLANTA - More than 100 of the top players in the nation participated in the Rivals100 Five-Star Challenge presented by adidas on Tuesday at Mercedes-Benz Stadium. The Rivals team of analysts is breaking down the status of players at the marquee event based on their performance against elite competition. Today, we look at eight offensive linemen.
*****
Parks was one of the most consistent offensive linemen on the day. He won most of his reps, but the one that may have drawn the most attention was when he defeated five-star defensive lineman Bryan Bresee. Not many had success against the Clemson commit, but the strength of Parks showed and he really held his ground. He showed strong hands and the ability to move inside.
*****
Jackson worked at tackle and guard, and he had equal success at both positions. His build would lead you to think he is more of an interior guy long term, but he showed against some top ends that he could play on the outside, too. He was strong with his pass sets, and although he is a 2021 prospect he was one of the best on the day.
*****
Mims is a very athletic offensive tackle. He is still learning the position after playing a lot of tight end and defensive end in the past. Some wondered just how successful he would be in this setting since he has not done a lot of camps, but he answered those questions. He is the No. 16 prospect in the 2021 class and he did nothing to hurt his stock.
*****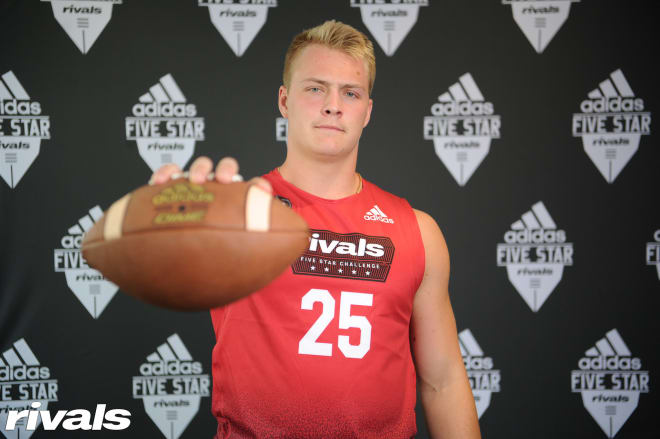 Parks is a country strong offensive tackle. He started off a little slow, going against future teammate Bryan Bresee, but as the day progressed he showed he is one of the top offensive tackles in this class. The Clemson commit has a great frame, and he had success with the faster ends. He just got better rep after rep.
*****
Van Pran worked at center and he was tough on opposing defensive linemen much of the day. He has played all across the offensive line in high school, and he could likely play tackle, guard or center on the next level, but he prefers center. What really impressed were his heavy hands. He would shoot those hands and knock defenders off balance.
*****
Foster is only a rising junior, but he looks like an NFL veteran physically. He is an imposing 6-feet-4 inches tall, 318-pound monster who has legs like tree stumps. He was stoning defensive linemen and was tough to knock backwards. He moves well for his size, and his balance was a strength as well. He was consistently winning reps against linemen a year older than him.
*****
Cohen continues to improve at offensive tackle. He made the All-Lobby Team Monday at check-in, then on Tuesday he went to work between the lines. He is very comfortable at left tackle and turned in a strong, consistent performance. He showed good patience and feet in the one-on-one sessions. The Auburn commit let the defensive ends come to him, then stoned them a few times, which led to his success.
*****
Achumba may not have been flashy, but he was one of the most consistent interior linemen. At his size, he played very much under control and kept his feet underneath him. The Penn State commit used his length to keep defensive linemen off his body and he had a strong showing. Once he was set, he was tough to move.